Salt sold by the sack roadside in Samut Songkhram becomes salty-sweet Fleur de Sel ice cream. A cow's tongue is lifted from Hong Kong noodle dishes and spiced with jellified chili vinegar.
A seven-course meal that leans heavily on childhood memories and regional associations made by one of Thailand's few established female chefs will soon be served behind an aromatherapy shop coming to a new riverside haunt.
Chef Jutamas "Som" Theantae's latest restaurant, Karmakamet Conveyance, takes a menu page from Gaggan by attempting to elevate familiar flavors – affordable street eats, hearty childhood favorites – into the realm of fine dining. Sauces are replaced by jellies, mussels become oysters, and everything gets a dash of foreign flare and paired with wines.
"Food is a vehicle for displaying different cultures. If we withhold our judgement, it's a tool that gets us to accept different cultures and people," Jutamas said.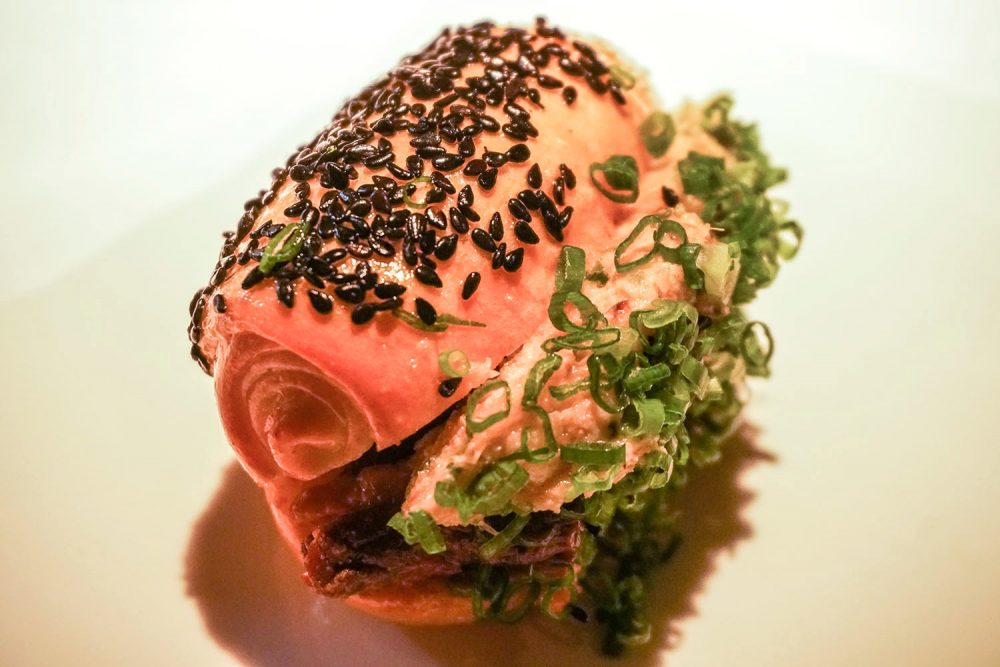 The 47-year-old chef is best known as one of the partners of Karmakamet, an aromatherapy and bath products brand that years ago expanded beyond its original Secret World store with a spacious restaurant/shop behind the Emporium shopping mall and a cafe on Silom.
"For me, no place is more beautiful than any other, if we don't judge," the chef said. "I could be walking in Pahurat, with its urine smell, and it's as beautiful as Paris for me."
Karmakamet Conveyance, which opens Tuesday at Lhong 1919, will serve a set course. Up first will be seven dishes, two amuse-bouches and a palate cleanser, most named after famed Oriental locales.
The journey begins with "Emotional Seascape: Humid Morning by Prachuap Khiri Khan Bay," a curious Kopyor coconut jelly topped with gourami eggs and salted fish. It's intended to distill the beachside market by crossing the boundary between savory and sweet. "East China Sea" is a tiny cup of fish broth spiced with Chinese pickles and tangerines, with a slice of pa tong go donut, a remake of the slop Jutamas said she ate on a boat trip in China.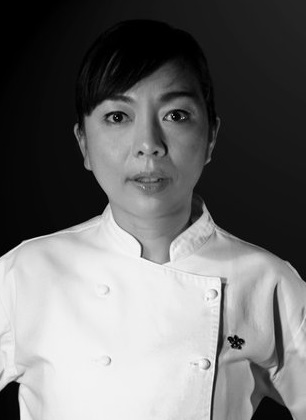 "Bangkok Street No. 1" kicks off the mains with Jutamas' signature fanficied street food established at Karmakamet Diner: Oyster Kiss, a fancy remake of hoi tod, or fried oyster. A ceramic hand cups a mound of ice topped with an oyster, fried pancake and sprouts. It's served with a bowl of pad thai made with pici noodles and Chinese pickles. This is followed by "Philippines," a pork belly adobo covered with crunchy black sesame. Its coconut paste signals arrival in another part of ASEAN. At a recent preview event, it came paired with a 2015 Rosado Cabernet Sauvignon, a rosé heavy on the berry, as if to remind one of a carefree berry smoothie.
The third and fourth courses take one to East Asia: Hainan and Hong Kong, respectively. "Hainan" is a Hainanese chicken rice in a shallow broth that doesn't dilute the braised chicken thigh, zested by lime and a fermented black bean dip. Most remarkable is the small cup of Energy Soup, a chicken soup boiled with Chinese medicinal herbs for three days. It immediately recalls the stuff Chinese amas force their grandkids to drink but is somehow made delicious and even holds it own against the acidic 2012 Dame de Respide red.
"Hong Kong" is a braised beef noodle dish, but with a single cotton-soft piece of braised beef tongue, a single beef ball, a single shrimp pancake and one flat rice noodle to be eaten with jellified chili vinegar. Complain that you just got a portion of a common noodle dish as the palate cleanser, "Memory of Summer Day," arrives to pull you back into the fine dining realm. It's not the tiny spheres of santol, custard apple and sala in rum that will win diners over, it's that "Samut Songkhram Fleur de Sel" ice cream, an enchanting taste of salt and egg that brings to mind the province's roadside salt stalls.
The last three courses end the meal on notes of confusion and possible dissatisfaction. "Emotional Landscape – Petchaburi" is an unhappy looking dish of curry with pork belly and young tamarind leaves served with a fish cake and peanutty kanom jeen rice noodles. One seriously begins to consider if street food on a fancy plate should cost fine-dining prices. "Southern Thailand Coast," a serving of biryani yellow rice enhanced with crab and fried cempedak, a Malaysian jackfruit-alike.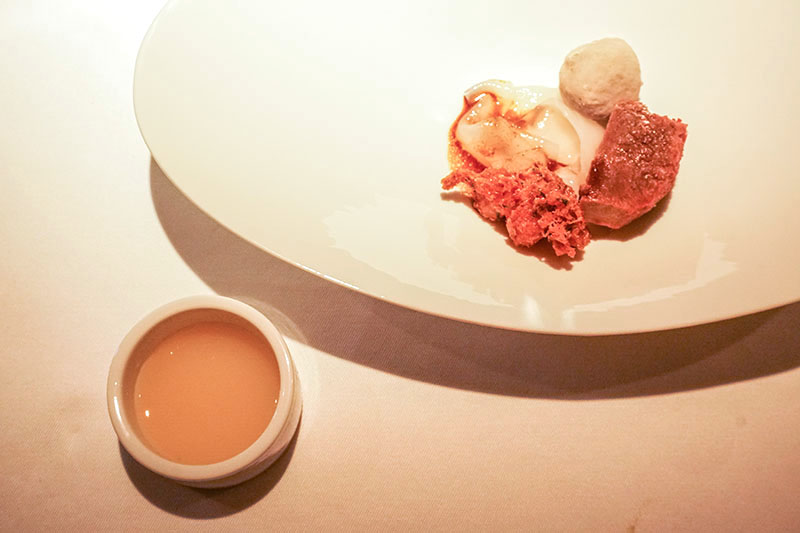 Indian is hinted in the penultimate dessert course, the "Darjeeling Afternoon Tea." An unremarkable frosted donut is served with a shot of lemon tea, and Indian sweets such as gulab jamun made into a pound cake isn't any more memorable than a regular pastry.
The creativity that went into the menu is likely to thrill taste-seekers ready to embark on a virtual food tour of Asia, making it an apt approach for the tourist magnet that is Lhong 1919. Karmakamet Conveyance comes out of the gate with a few wins – the salt ice cream, coconut jelly with salted fish, energy soup and adobo bun are delights – yet falls flat with others. Those familiar with these dishes and places may just be reminded that they can go for the real, full-sized deal in non-jellied form.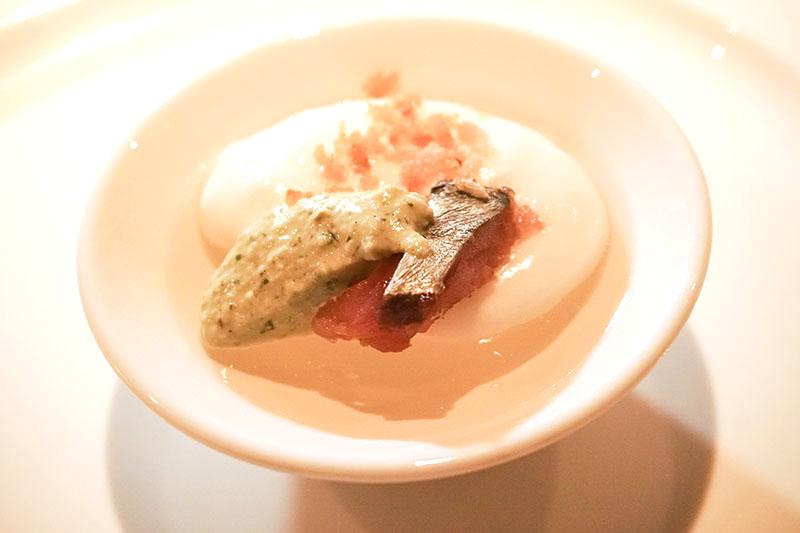 Service starts at 6pm, 6:30pm, 8pm and 8:30pm. A meal without wine is ฿1,800, while one paired with selections is ฿4,300.
Asked if the price point might set some customers up for disappointment, Chef Som said she's prepared to leave final judgment to her diners.
"I'm not arrogant. I don't want to be the chef who says 'I'm the chef, you have to listen to me," Jutamas said. "You don't need to like my food, but I know you can feel the love I put into it. As the shop's motto says, 'Allow things to happen as they are.' I really believe in that."
To find the "hidden" restaurant, look for a golden-mirrored opening at the back of the Karmakamet shop in Lhong 1919. Just outside windows framed by gauzy, floor-to-ceiling curtains are the 168-year-old pier structures, covered with lush plants and moss.
Looking forward, Jutamas said her next courses at Conveyance will venture even more experimental.
"This course is like Realism," she said. "Next I will have expressionist, and then abstract art."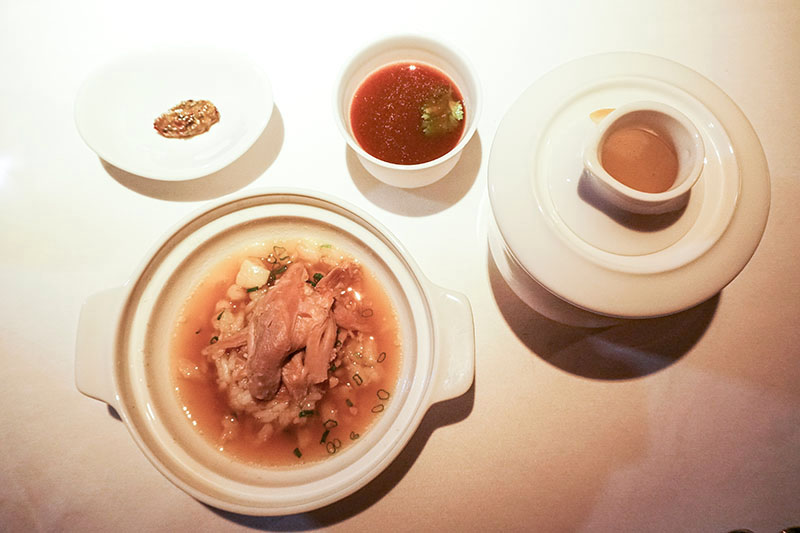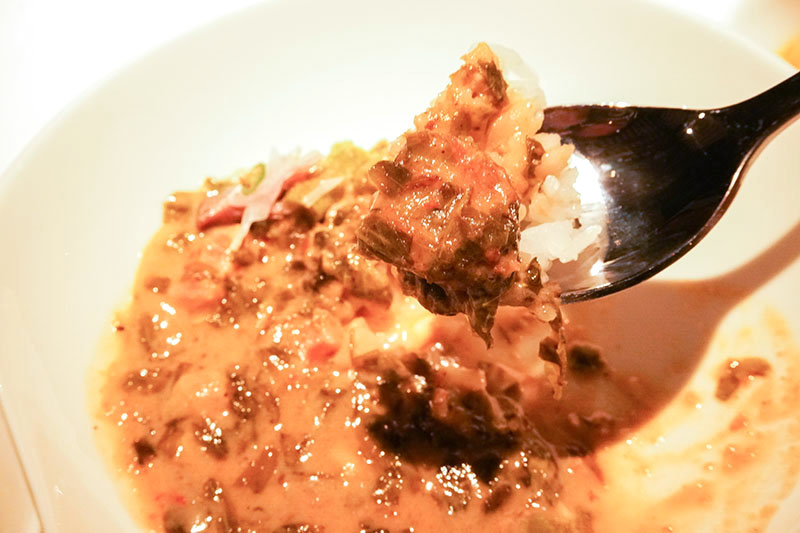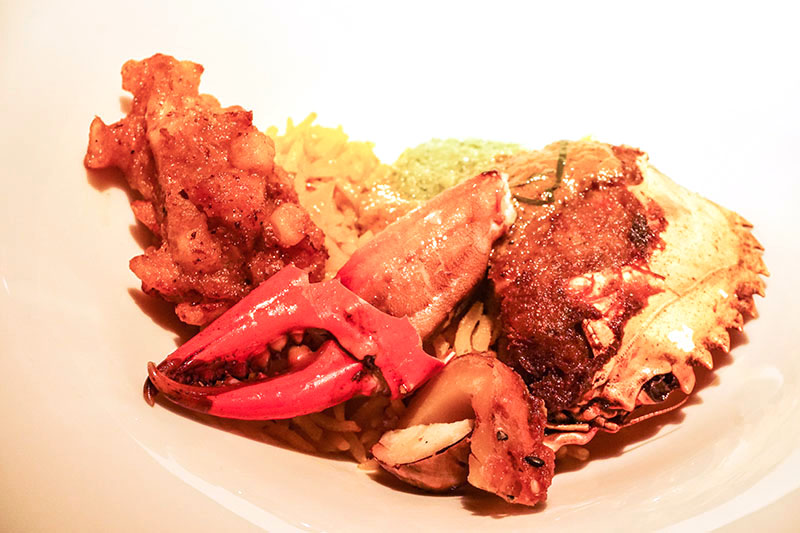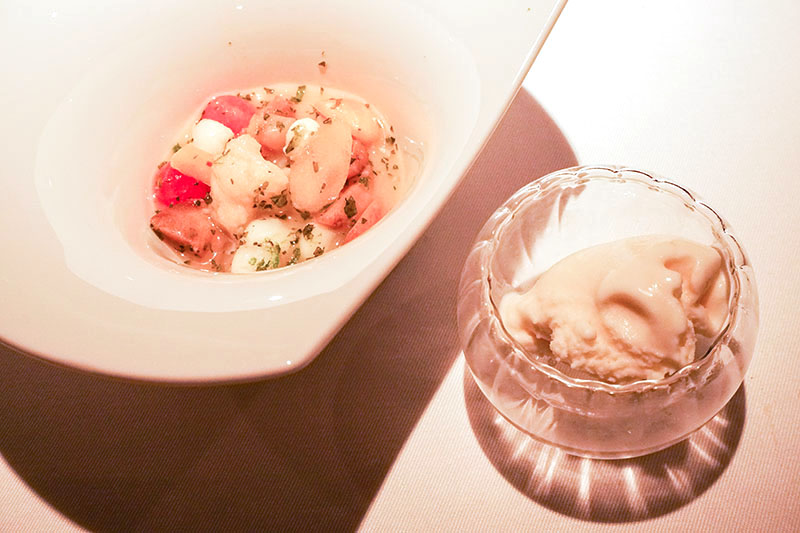 Karmakamet Conveyance is located at Lhong 1919 in the Chiang Mai Alley in Bangkok's Khlong San district, a short ride from BTS Saphan Taksin or Krung Thonburi. Alternatively, take one of the river boats that stops at Wanglee Pier.