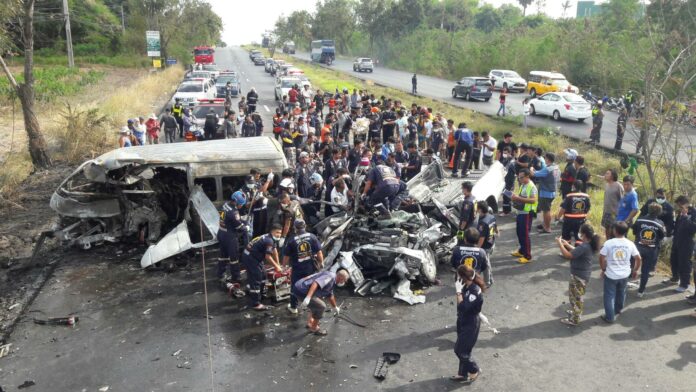 CHANTHABURI — A state-owned transport regulator and the heir of a van driver were ordered to pay millions of baht in compensation to the families of a traffic accident that killed dozens last year.
Chanthaburi Court ruled Thursday that The Transport Co., Ltd. company and a son of deceased van driver Sumon Eiamsombat had to pay 26 million baht in compensation to the families of the 25 victims killed during the New Year holiday crash in 2017.
A Bangkok-bound van slipped across a road divider and slammed head-on into a pickup truck on Jan. 2, 2017 in Chonburi's Ban Bueng's district. Both vehicles burst into flames.
The court acquitted Sumon's van operator as the 64-year-old driver was not officially registered as the driver.
Read: 25 Die in Fiery Chonburi Wreck
A forensic examination of Sumon's body found he was sober at the time of the incident, according to Maj. Gen. Pornchai Suteerakun of the Forensic Science Institute.
Police said fatigue was the likely cause of the accident. Sumon had reportedly driven five back-to-back trips between Bangkok and Chanthaburi for more than 31 hours.
The 25 who died at the scene include a Chulalongkorn University medical student, members from two families who were returning from a new year trip and both drivers.
Only two survived the crash.
Correction: An earlier version of this article stated that the bus operator was ordered to pay in compensation. In fact, it is the transport regulator. We regret the error.
Related stories:
Anger, Anguish as Chonburi Wreck Victims Mourned
Chonburi Wreck: Van Driver Was Sober but Sleepy
25 Die in Fiery Chonburi Wreck