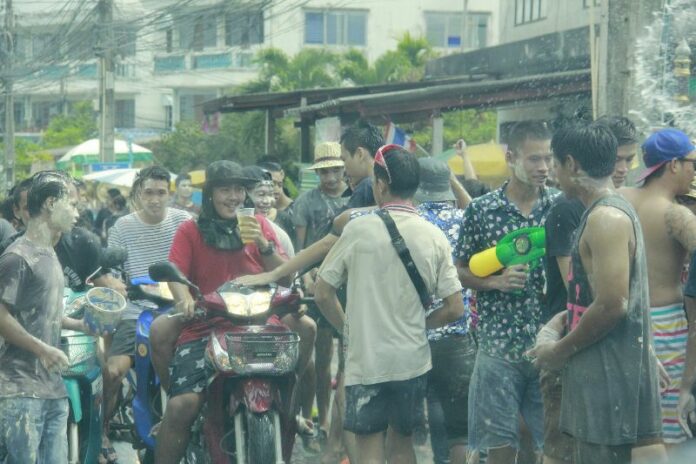 CHONBURI – Police in the resort town of Pattaya are cracking down on uses of high-powered plastic pipes to shoot water in the festival to marks Thai New Year.
Although Thai New Year celebration, known as Songkran, officially lasts from 13 – 15 April, waterfights and other activities continue until 19 April in Pattaya, drawing tens of thousands of tourists and revelers each year.
Pol.Col. Sukthat Pumpanmuang, superintendent of Muang Pattaya Police Station, said today that police will not tolerate uses of plastic pipes as waterguns this year, as the pipes, known among Thais as PVC, may cause harm to other individuals. He said tourists who carry PVCs will be asked to exchange them with harmless plastic bowls issued by the police.
"If we spot any tourists who bring PVCs other any other type of high-powered watergun to the festival, we will give them warning about danger that may happen," Pol.Col. Sukthat said.
The ruling military junta of Thailand has also instructed Thai people to celebrate Songkran in "traditional" and appropriate ways. Prohibited actions include dressing in skimpy dresses, consuming alcohol at festival sites, and applying wet powder paste on strangers' faces. Like in previous years, the rules were largely ignored by Songkran revelers.
Pattaya police also told reporters that they have set up checkpoints around the resort town to prevent drunk-driving, especially on Soi Buakao and Sukhumvit Road. Although our correspondent reported that many teenagers were spotted drinking beer and driving motorcycles on the roads, Pol.Col. Methawit Praditpol, superintendent of Sattahip Police Station, said police have not encountered any drunk drivers so far.
"We have not found any motorists who consumed alcohol," Pol.Col. Methawit said, "This is a good thing. The state campaign about strict arrests for driving under alcohol influence meant that there is no drunk driving [during Songkran] this year."
For comments, or corrections to this article please contact: [email protected]
You can also find Khaosod English on Twitter and Facebook
http://twitter.com/KhaosodEnglish
http://www.facebook.com/KhaosodEnglish