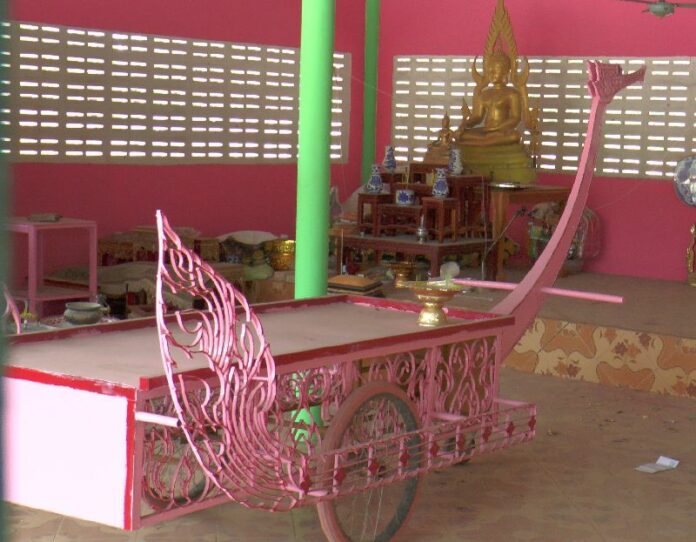 NAKHON RATCHASIMA — A Buddhist temple in northeastern Thailand has repainted its crematorium pink to console funeral-goers and local residents.
"Residents who walked past the temple by night felt scared by the crematorium," said Phra Witthaya Wiratthano, a monk who lives at Wat Phob Suk Temple in Nakhon Ratchasima province.
During a renovation of the structure last November, Phra Witthaya said he decided to repaint the building in bright pink to ease visitors' fears. The original coat of white paint had faded over the years, he said.
The pink crematorium at Wat Phob Suk Temple in Mueang district of Nakhon Ratchasima province.
The temple pavilion and the cart used to carry coffins were also painted pink, with the hope that the playful color will bring some consolation to funeral-goers, the monk explained.
"Relatives [of the deceased] who attend funerals and cremations won't be afflicted with more grief than what they already suffer," Phra Witthaya said.
According to the monk, the temple has received positive feedback from local residents, who say they are no longer scared by the crematorium.
He also suggested that the new color may have brought some fortune to the community.
"We used to have four or five funerals per month. After the temple painted the crematorium pink, the number is down to one per month," Phra Witthaya said. "Some villagers think it's a way to bring about good luck."