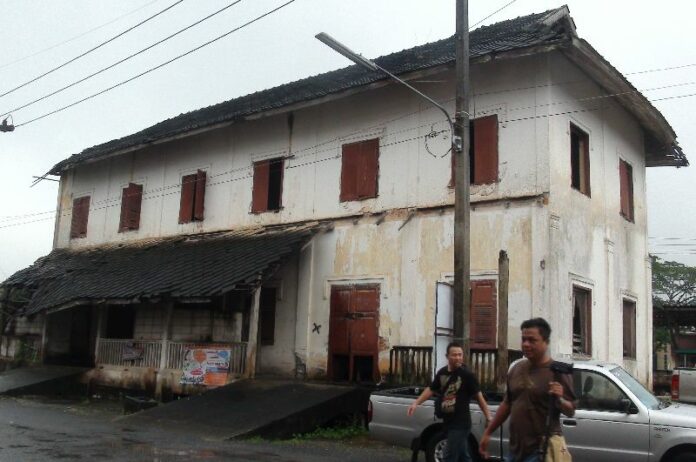 NAKHON SI THAMMARAT — Locksmiths spent a second day in vain trying to crack a century-old vault at a former bank after ruling out an explosive entry out of consideration of the possible treasure which has taken fierce hold of local imaginations.
Ever since the sealed vault was discovered Sunday beneath an 108-year-old building in the Thung Song district earlier this week, officials have sought to gain entry as the building was once a Siam Commercial Bank branch, inspiring a lust for what's imagined to be a trove of valuables.
However, four separate locks stand between the treasure hunters and the truth. Three local locksmiths unsuccessfully picked at the locks for two days, to no avail, Thung Song mayor Songchai Wongwatcharadumrong said today.
"The locks on the other side are really tough. They won't open without their precise type of keys," Songchai said.
Since Sunday, crowds have gathered to try their luck. They have scrambled onto each other's shoulders, hoping to peer through small holes leading into the interior, but it proved too dark to see anything. In photos, someone appears to have tried chipping into the concrete to free the door's lock without success.
Songchai said they ruled out blowing the door off its hinges, as it could damage whatever lies might be behind the door, and local officials want to preserve the vault in its original form, Songchai explained.
Meanwhile many have offered their opinions on how to get into that door.
"Some people suggested that we should cut it open or drill through it or simply bring it down," Songchai said. "But I don't think it'd be appropriate, because this vault is an antique item … there should be other ways to open the door. We may have to find lock experts to help us in the future."
Officials are considering assembling a probe, such as a small camera attached to a stick, to peer into the vault and see if there are any valuables inside, the mayor told reporters.
Adding to the excitement is the building's location near a major railway junction, which has convinced some the vault could have been used to hold important objects.
To reach us about this article or another matter, please contact us by e-mail at: [email protected].
Follow Khaosod English on
and
Twitter
for news, politics and more from Thailand.