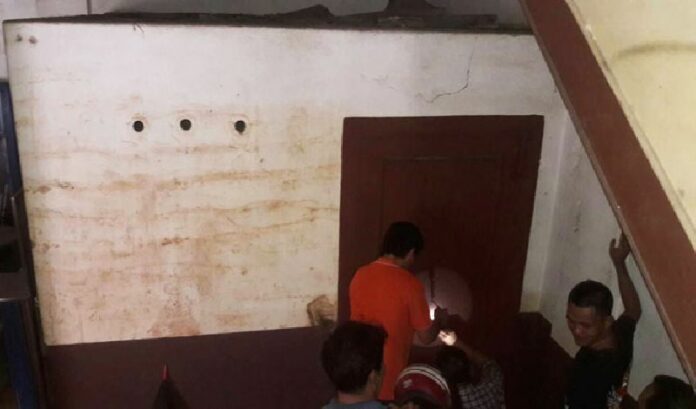 NAKHON SI THAMMARAT — An antique vault remained no closer to divulging its secrets on the seventh day since its discovery.
No further efforts were made to crack the sealed strong room today after the state railway, which owns the property beneath which it was discovered Nov. 21, but the district mayor divulged the source of some of the wildest speculation as to what lie within.
"Personally I believe there is nothing in there," said Songchai Wongwatcharadumrong. "But since Japanese solediers were around here during World War II, some imaginative people believe there might be gold inside."
Read: Work Suspended as Railway Gets Involved
Fevered speculation about troves of loot left behind by fleeing Imperial Japanese occupation forces is not new for Thailand. Most commonly, the folklore places the stash in a mountain cave somewhere in Kanchanaburi province, where Allied prisoners of war constructed the Death Railway across the "Bridge Over the River Kwai."
The story received attention at the highest levels in 2001, when newly elected Prime Minister Thaksin Shinawatra flew to meet a prominent senator and chrysophile who claimed he'd found the hidden treasure, which could be used to pay off the then-heavily indebted nation. It was fake, so they had to find another way to pay off the IMF debt.
Yet some people never gave up the quest.  In April 2014, a group of men was arrested after being discovered tunneling into a Kanchanaburi mountain. The men told they were hired by a businessman who believed in the legend of what's called "Kobori Gold."
Whether riches or dust motes are found inside the vault, which was discovered beneath a 108-year-old building that might have once been a bank building, Thung Song district Mayor Songchai said the place has revealed a new story which could prove its own treasure for education and tourism.
From the story-vault: 
Work Suspended as Railway Gets Involved
Locksmith Promises to Crack Mystery Vault by Sunday