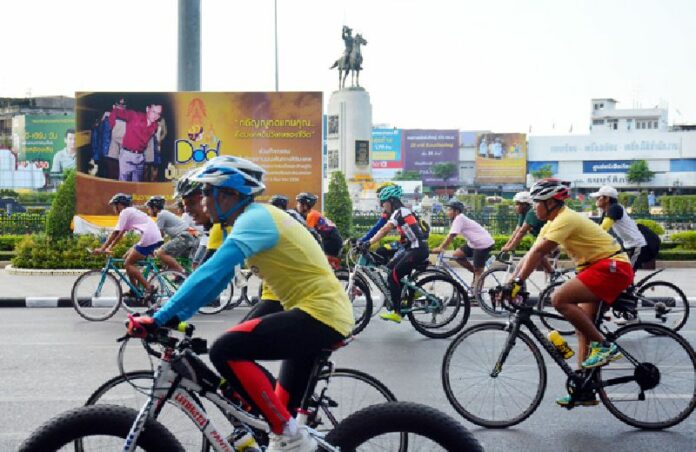 BANGKOK — Roads will close throughout the capital city and elsewhere for a nationwide cycling event honoring His Majesty the King, but the day won't be made a public holiday, the junta cabinet decided today.
Despite some hopes that the Bike for Dad event would be cause to add another long weekend to December, a government spokesman today dismissed the idea, as he said officials believe the private sector will support the event, the second since an August cycling event honoring Queen Sirikit, by giving employees the day off.
Promotion for the event has saturated public and private channels, and labor officials Monday said they've asked the private sector to let employees join the cycling event without counting it as taking leave.
More than 500,000 registered cyclists are expected to join the ride dedicated to His Majesty the King, whose birthday was Saturday. Taking place at the same time across Thailand and in some major cities aboard, the Bangkok cyclists will be lead by Crown Prince Vajiralongkorn.
National police chief Chakthip Chaijinda today told reporters that police preparing the event's security plan were confident there would be no incidents or attempts to disrupt the event.
Security has reportedly tightened along the route with more than 300,000 police officers assigned throughout the nation.
Related stories:
Tighter Security as Cyclists Warm Up for Bike for Dad (Photos)
To reach us about this article or another matter, please contact us by e-mail at: [email protected].