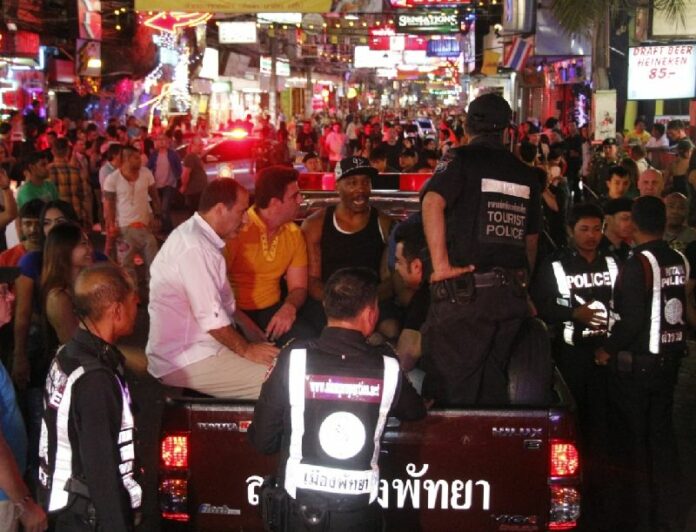 CHONBURI – Here's our list of the top moments that went down in the surreal Mos Eisley of Thailand in the past year.
[WARNING: Some photos are NSFW]
1. Women accused of spiking their breasts
Spiked drinks are so 2014. In November this year, police arrested two women on the suspicion that they spiked their breasts with xanax to drug foreign tourists and steal their belongings. The suspects denied the allegation, however.

2. End of naked sushi
What appeared to be Pattaya's first "naked sushi" establishment – where sushi was served on bodies of naked women – came to an end when police raided the restaurant in February. The venue, called Tokyo Kids, was eventually closed down for violating obscenity laws.

3. The Year of Crackdowns
2015 again saw the latest round of the Perpetual Crackdowns. Throughout the year, police and authorities announced crackdowns on social ills in Pattaya, such as jet ski scams, sidewalk obstacles, sidewalk bars and alcohol sales during religious holidays.

4. Blowjob in bar not allowed
After an act of oral sex was spotted in a Pattaya bar, Police Col. Sukthat Pumpanmuang, commander of Pattaya Police, ordered it closed for 10 days.

5. ISIS in Pattaya
When it came to light that Russian authorities warned Thai police of possible ISIS activities in Pattaya back in November, Pattaya police simply responded with "huh?" It turns out that the police intelligence unit did not share the report with any other police force, including in Pattaya and Phuket, which the memo described as possible targets. Luckily, no attacks were carried out so far.

6. Cock weds hen
Yod Makham, a local cockfighting champion, married his bride in Chonburi in March. The wedding was accompanied by a traditional ceremony and a dowry of 300,000 baht paid to the hen's owner. Although cockfighting is illegal in Thailand, the law is largely ignored.

7. Ship A-Hoy
Proof that danger in Pattaya doesn't only involve drunken motorcyclists and drivers: a drunken ship captain crashed onto the Pattaya beach in July. Luckily, no one was hurt in the incident. The captain subsequently had his license suspended.

8. Angels and iPads
A temple near Pattaya blends Buddhism with modernity by equipping gods and angels in the murals with modern-day gadgets.

9. Hell's Angel murder
Transnational gang Hell's Angels made news in Thailand in November when Wayne Rodney Schneider, a former member of the syndicate, was found murdered in Pattaya. Police later arrested two other ex-members of Hell's Angels and identified them as the perpetrators. Personal dispute was cited by police as the cause of the killing.
10. HIV patients face eviction
And finally, love trumps bigotry after foreign donors in Pattaya banded together in January to support a shelter for HIV patients facing an eviction notice. Local residents last year forced Glory Hut Foundation to move its HIV patients out of Lang Nern village, saying that the presence of HIV-positive people hurt the price of land.
A representative of Glory Hut Foundation said recently that municipal office of Nong Prue district is still building a new shelter for the group, and the date for the move has not yet been set.
And that's all for our Pattaya's top moments from 2015. Here's hoping that everyone's favorite Sin City will keep its charm all the way through 2016.
CORRECTION: An earlier version of this article misidentified the name of the former Hell's Angel gang who was found murdered in Pattaya.
To reach us about this article or another matter, please contact us by e-mail at: [email protected].
Follow Khaosod English on
and
Twitter
for news, politics and more from Thailand.