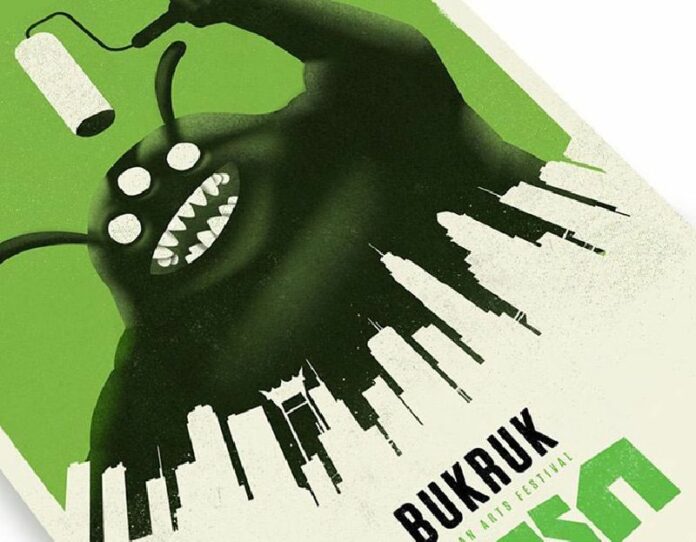 BANGKOK — Not only are some of the world's top street artists coming to town to turn walls into wonders, but the Bukruk Urban Arts Festival offers much more to see and do.
Beginning Saturday and running for nine days, here's what's hot and why this event is a must-go.
1. Starts with a Party
Although Bukruk's opening music festival had to move from one side of the river to the other, its unchanged lineup still promises a bounty of musical riches.
Local favorites include Yellow Fang, Apartment Khunpa, Gramaphone Children, DCNXTR and Two Pills After Meal. They'll be joined by Spanish tropical indie rockers El Guincho, La Fine Equipe's French trip-hop electro, and the very entertaining the Belgian-Japanese duo Alek et les Japonaises. Straight outta Yangon comes Darko C. and his widely hailed punk act Side Effect.
The two-stage music festival runs from 3pm until midnight Saturday at The Jam Factory. Tickets are 800 baht.
2. That's Not a Wall, That's a Canvas
Starting Sunday, talented hands from across Asia and Europe will get busy on their respective walls. Thai favorites "Kult" and "Lolay" are among 13 artists filling entire walls with scenes colorful, surreal and possibly a little creepy. Stop by and check out any of the works as they are painted in streets near the river, around Charoen Krung Road in the Bangrak district Sunday through Jan. 30.
3. Animation Night Keeps Things Moving
Could high culture possibly involve kicking back on grass and watching cartoons? If that's one of your Saturday evening ideals, get thee to The Jam Factory on Jan. 30 for "Animation Night," one of the shiniest Bukruk highlights.
Cult classic "Fantastic Planet" (1973) will show along with 16 award-winning, selected international animation shorts.
Modern Dog guitarist Maythee Noijinda and Yuree Kensaku will show "12 Cats," with more underground animated shorts and music videos going into the night.
Animation Night starts 7pm on Jan. 30 at The Jam Factory.
"12 Cats," inspired by Thai Fable "Nang Sib Song" (12 ladies), features a story of 12 cats trapped together who have to eat their own kittens to stay alive.
4. Think You Can do it Yourself?
Learn how gonzo animation geek Panop Koonwat crafts his work when he leads a workshop to walk folks step-by-step through his process for creating animation with storytelling tips while French publisher Le Dernier Cri will show everyone how to make proper homemade magazines.
Bring a laptop loaded with Adobe After Effects for the animation workshop. Panop says he'll try his best to make sure everyone attending walks out with their own animated short film. Both workshops take place 2pm to 6:30pm on Jan. 29 at TCDC Emporium.
5. Knock Off at the Knack Market
Along with Animation Night, The Jam Factory will host a 70s-themed flea market called The Knack Market. Vendors will be selling handmade products, clothes, street food and anything considered "hip."
The market takes place starting at 4pm on Jan. 30 and 31 at The Jam Factory.
6. Galleries Full of the Stuff
More than 100 works by 12 Bukruk artists will be shown at the festival's many partner galleries throughout Bangkok including The Jam Factory, Bridge, Speedy Grandma, Spy Sauce Factory, Serindia Gallery and P. Tendercool. There's pretty much an opening somewhere every day of the festival.
7. Watch it Done and Take it Home from the Mobile Print Shop
Enter the world of screen printing by the local wonder duo that is The Archivist, whose techniques truly elevate the form with mad craft. The Mobile Print Shop will be set up at gallery openings and other likely places Tuesday through the end of the festival.
Work and zines designed by Bukruk artists will be printed and available for purchase. The print shop will be chugging away 6pm to midnight unless noted otherwise.
Jan. 26: Bridge Art Space
Jan. 27: Serindia Gallery
Jan. 28: P. Tendercool
Jan. 29: Speedy Grandma
Jan. 30: The Jam Factory (4pm – midnight)
Jan. 31: TCDC Grand Postal Office
8. Engage Your Favorite Artists
Meet and hear from several prominent artists such as photojournalist Martha Cooper, media artist Motomichi Nakamura and illustrator Florence Lucas will open up on Jan. 31. The first of several talks starts 2pm at the Central Postal Office building on Charoen Krung in the Bangrak district, the new location of the Thailand Creative and Design Center. Listen to each for 45 minutes, ask questions for 15.
9. Partying is Such Sweet Sorrow

Bukruk ends as it begins: With a crazy outdoor party. Gather in front of the Central Post Office building on Charoen Krung Road starting at 7pm (after the artist talks), to throw down and be entranced as Japanese multimedia artist Motomichi Nakamura blasts the building into delirium with his projected visuals.
All the way from Luxembourg rises DJ Sun Glitters to run the decks along with other music.

The Bukruk Urban Arts Festival runs Saturday through Jan. 31. Check out more information at the website or Facebook page.
Related stories:
Bukruk Fest Moves Opening Day to Jam Factory
Bangkok the Canvas for Urban Art to Shine for 10 Days of 'Bukruk II'