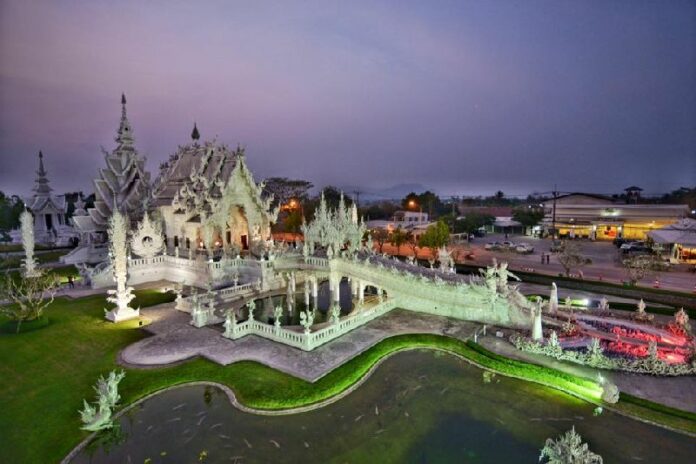 CHIANG RAI — A popular art temple in Chiang Rai province will start collecting entrance fees from foreign visitors later this year, its owner said.
Beginning in October, foreigners visiting the White Temple will have to pay 50 baht to enter the prayer hall (ubosot) and another 50 baht for the art hall, said Chalermchai Kositpipat, the Silpathorn Award-winning artist who designed and owns the temple.
In the video posted to his official fan page, Chalermchai said he initially wanted to keep the attraction free but fears he can no longer afford its maintenance.
"I have to pay 4.5 million baht to 6 million baht every month!" Chalermchai said.
However, the artist said, tickets will come with goodies: a guidebook in English and Chinese, and a commemorative medallion.
Thais will not be required to pay the entrance fee, but they can choose to do so if they want the guidebook and medallion, Chalermchai said.
The White Temple, aka Wat Rong Khun, is particularly popular among Chinese tourists – a point of conflict for Chalermchai in the past.
In February 2015, the 61-year-old artist briefly banned Chinese visitors after some Chinese trashed its famed Golden Toilet building. He said his Chinese visitors left toilets impossible for anyone else to use and vowed to build Chinese-only facilities.
In September, Chalermchai lashed out at a Chinese woman cosplaying in ancient costume and posing for photos at the temple. He described the photoshoot as "ugly."
Teeranai Charuvastra can be reached at [email protected] and @Teeranai_C.