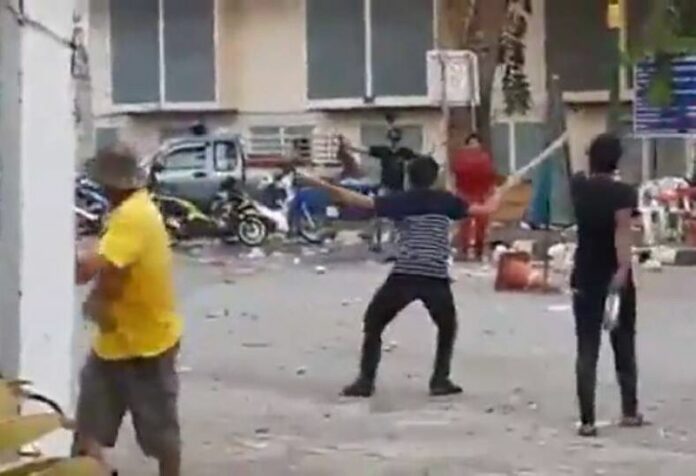 PATHUM THANI — The last day of a major Songkran street party in northern metro Bangkok came to a premature end yesterday when a large gang fight broke out.
Police officers and soldiers were sent to quell the Friday afternoon skirmishes, which broke out during the water fight festival on Khao Chae Road – a local version of Bangkok's Khaosan Road, according to local police chief Apichart Komutikanond.
The happy event turned south when two teenage gangs met each other on the street, Col. Apichart said. Their hostility escalated into a throwing match of rocks, sticks and bottles. The two groups quickly fled the scene once police and army personnel intervened, he said.
"We did not make any arrests because there was no one for us to arrest," Col. Apichart said on Saturday.
The police superintendent added no injuries were reported, and no firearms were used in the melee.
Apichart blamed alcohol as a factor for the incident; he said some shops were selling alcohol on Khao Chae Road, and police could not interfere with the vendors because the street party was organized privately, not a state-sanctioned one like those on Khaosan and Silom roads.
"We can't forbid them from selling. Some people were also already drunk when they got to the party. It was not the municipality who organized it," Apichart said.
Related stories:
Women Will Be Arrested For Indecency During Songkran, Prayuth Says
Man Arrested for Posting Topless Songkran Clip From 2015
Topless Farang Fined 100 Baht in Chiang Mai
Cover-Up Crackdown Continues in Chiang Mai
Teeranai Charuvastra can be reached at [email protected] and @Teeranai_C.