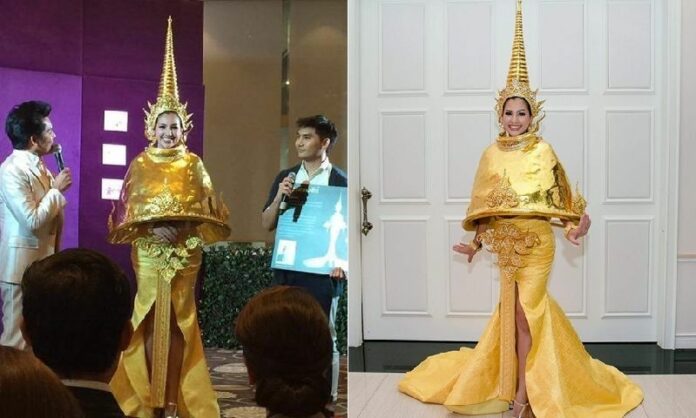 BANGKOK — Coming on the high heels – or bumper – of beauty pageant Aniporn Chalermburanawong's winning tuk-tuk costume, the would be Mrs. Universe probably expected her iconic Thai costume to also win accolades.
But as Kanthicha "Yui" Chimsiri found out yesterday, the appointed guardians of culture at the Ministry of Culture were not pleased by her dress inspired by the most important Buddhist temple in the nation, which she introduced Tuesday.
"Creativity must has the limit, especially it should not be concerned other's feeling and belief," Deputy Permanent Secretary Wimonlak Choochart said Wednesday of the dress made to look like the Phra Sri Rattana Chedi in Bangkok's Wat Phra Kaew.
Wimonlak said costumes should avoid matters of belief, and a dress inspired by a pagoda venerated by many Thai Buddhists was unsuitable. The Department of Religious Affairs also expressed concern Wednesday the costume would damage Thailand's image, Voice TV reported.
It was a swift reaction after Kanthicha showed off the national costume she intends to wear at Mrs. Universe, which, as it sounds, is a pageant for married women to be held August in China.
In December, Aniporn "Nat" Chalermburanawong won the Best National Costume at Miss Universe 2015 in Las Vegas for a pop-art costume that turned her into a tuk-tuk.
Though no formal admonishment has yet to be made, Wimonlak said there should be more conservative limits on how to apply Thai culture for creativity.
Founded in 2007, Mrs. Universe is a contest for "the most honorable married woman" age 25 to 45, who must also "have family, her own career and … be involved with a significant cause in favour of other people" according to its website.
Each year has a theme devoted to human rights causes such as domestic violence and human trafficking.
Phra Sri Rattana Chedi in Wat Phra Kaew Photo: Hzh / Wikimedia
Related stories:
Tuk-Tuk Wins Best Costume at Miss Universe
Yes, Miss Universe Thailand Will Wear a Tuk-Tuk