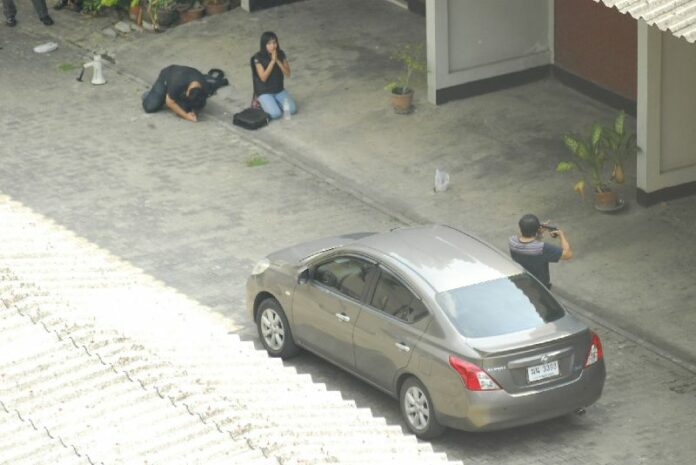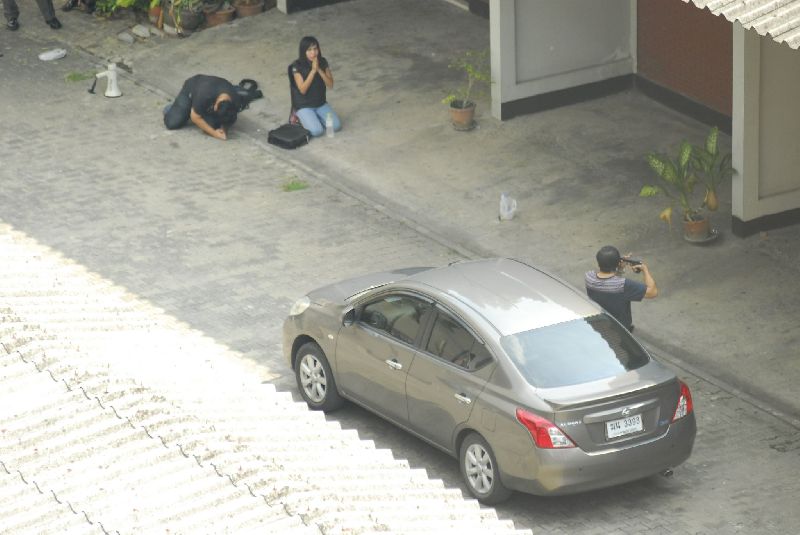 BANGKOK — As the nation watched, a tense standoff with a murder suspect threatening to kill himself ended this evening with a single gunshot.
University lecturer Wanchai Danaitamonut, who was wanted in connection with a double-murder the day before, had been holding a gun and threatening to shoot himself in the head for about five hours Thursday afternoon when suddenly at 6:44pm he went through and made good on his threat.
---
2 Professors Shot to Death at College
---
The denouement, which had been televised and streamed over the internet live, came as a surprise because moments before Wanchai appeared more relaxed and had asked police for a cigarette.
At that point he walked away from what had been his getaway car, out of view of cameras, when the gun went off.
An ambulance is now taking him to hospital.
One of the people at the scene when Wanchai shot himself is a student who had been pleading with Wanchai since the beginning of the standoff. The other two are described as an older brother and senior colleague of Wanchai.
The 60-year-old was sought by police who believed he shot two other instructors at Phranakhon Rajabhat University on Wednesday. Today's standoff occurred at the Suparp Motel on Sutthisan Road in the capital's Saphan Kwai district.
Local media reported that police were alerted that Wanchai was hiding at the motel with his getaway car, and so surrounded the place and stopped the suspect from leaving the building.
What followed was hours-long standoff, with police and his family trying to talk Wanchai into putting the gun down.
Throughout over three hours of the negotiation, police made no attempt to overpower Wanchai; all of the officers facing Wanchai wore no body armor in a gesture to make the suspect feel relaxed.
Meanwhile the stand-off, which is being broadcast live on television and over Facebook by Thairath newspaper, has gripped the nation's attention. Even Thursday's most anticipated event – a parade through downtown by football champions Leicester City FC – has been preempted to cover the unfolding drama.
On Wednesday morning, police said Wanchai walked into the Buddhawichalaya lecture hall at Phranakhon Rajabhat University's Bang Na campus and shot to death Pichai Chaisongkram and Nattapol Chumworathayee, both 50.
Wanchai had been embroiled in an dispute, police said today, after his colleagues and victims accused him of holding a fake degree.
"It is a personal issue," Col. Nattanawit Sitthithapirom, the officer in charge of the investigation, said Thursday evening.
In a note being circulated online as Wanchai's suicide note, he described his actions as a mission of vengeance.
"This note was written to tell the story before I, Wanchai Danaitamonut, will end my life in a suicide mission to eradicate the evil and corrupt people," the introduction read.
The angry letter went on to describe what he believed was an attempt by Nattapol to smear his name. It made no mention of Pichai.
However, Nattanawit said the letter was not found in the crime scene when he inspected it, and could not confirm its authenticity.