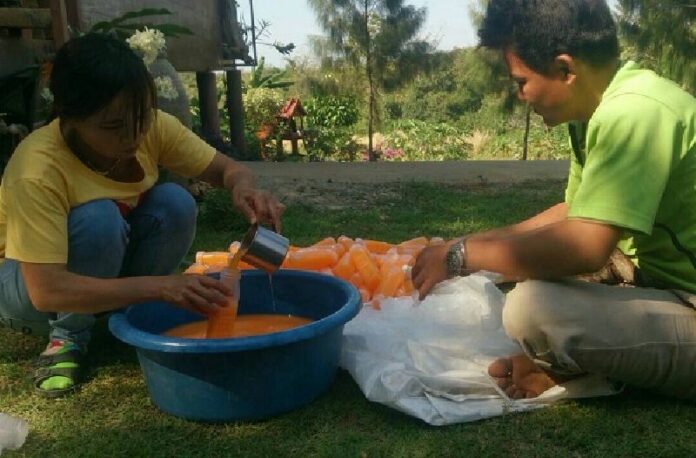 SARABURI — One day after photos of a Vietnamese couple "making" in their backyard what they later sold as "orange juice" spread online, police arrested them yesterday.
Tap water, instant orange juice, saccharin and food coloring were found from the Saraburi province home of the two Vietnamese nationals who appeared in the photos. The pair allegedly fooled customers that the bottles sold from their cart were fresh orange juice.
They are currently charged with unlicensed sale of food in a sealed container, an infraction punishable by up to a 20,000 baht fine. They were also charged for being in the country illegally.
Questioned by authorities, the couple, in their 40s, said they adopted the method from a restaurant they had worked at in Ayutthaya. They were able to sell around 40 to 50 bottles daily for 20 baht each.
Authorities said the charges over their illegal OJ operation could be expanded if examination of their fruity broth found it contained toxic substances.
Coincidentally or not, Saraburi health officials also reportedly arrested another two Vietnamese nationals, a 40-year-old woman and her and 22-year-old son for doing exactly the same thing.