Top: Artists Chaiwat Sermsutee-a-nuwat aka Tabun, at left, and Treetana Veeraprapan aka Tabuki Master are serious about their toys.
A brawny, three-headed man, a colorful chubby horned monster and a muscle man resembling Prayuth Chan-ocha sit on a wooden table.
Beaming behind them sit their proud creators, whose handcrafted action figures aren't based on established entertainment franchises but instead wrung from the weirdest corners of their imaginations.
"Designer toys are an intimate art form, as they can be shown and played with," said Chaiwat Sermsutee-a-nuwat, aka Tabun, a pioneering Thai designer in an industry that long depended on imports from Japan or elsewhere.
Today a growing community of designers are making their own toys. They interact and share their designs on Facebook, and sell their creations online. They also get together to trade techniques and show offf their work at meetups and events. Their biggest public event is the Thailand Toy Expo held annually at CentralWorld. Then there are smaller exhibitions, such as one coming later this month to Goja Gallery Cafe.
Chaiwat said most mass market toys and figures take their inspiration from the usual superheros and film franchises.
"But DIY toys are often inspired from daily life, from experiences and current events to viral clips," he said. "People love humor, and if we design something catchy and up to date, success is somewhat guaranteed."
Chaiwat, who studied graphic design, said his life experience and childhood memories were the source for his signature work – brawny, muscular figures – such as "The Dictator" of his Thai Fighter series, all of which resemble junta leader Prayuth Chan-ocha.
Then there's the work of Treetana Veeraprapan, aka Tabuki Master, whose toys reflect his passions: Star Wars, hip-hop and monstrous Japanese Kaiju. He's partial to horned aliens, expressive urban characters, and even a Darth Vader whose helmet sprouts smaller Stormtrooper helmets.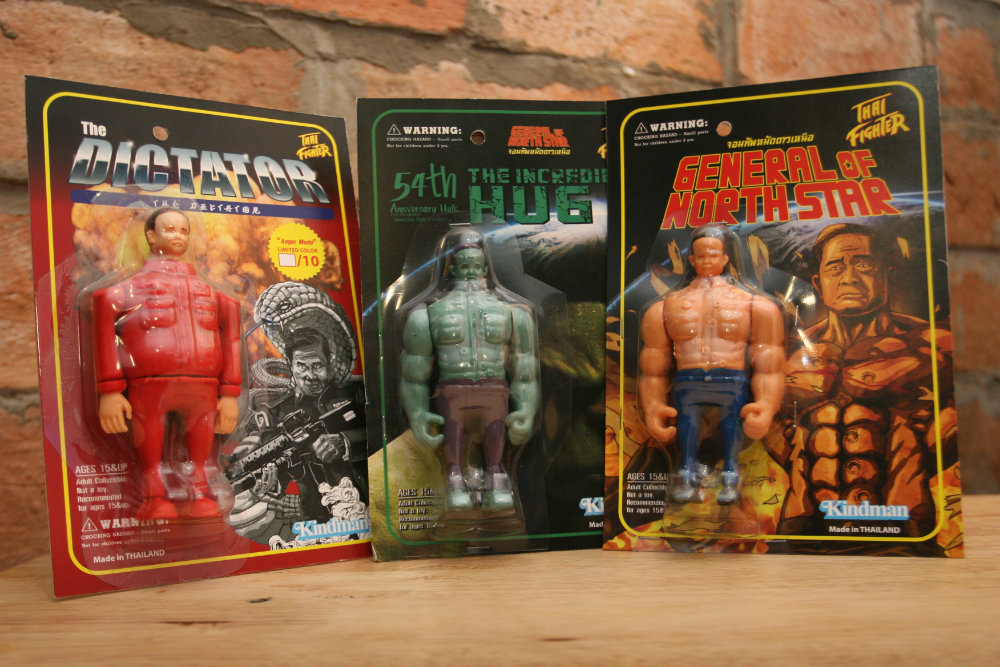 Playing With Politics or Just Playing?

Chaiwat, 36, grew up with a passion for collecting toys until he decided to start making instead of just buying them. Holding bachelor's and master's degrees from Burapha and Chulalongkorn universities, he started merging his talents and experience with his hobby in 2005 to make alternative toys that can't be found elsewhere for collectors and the general public alike.
His best-selling Thai Fighters, undeniable parodies of Gen. Prayuth, come in forms linked to his other otaku pursuits, such as The Green Hug or The General of the North Star, inspired by both American and Japanese comics.
He insists he's not trying to send a political message, just responding to the cultural zeitgeist: Famous figures, he said, draw great interest from toy lovers…. there's no reason for him for not to do one.
"Instead of creating entirely new content to attract people, a political figure comes with their own backstory and character which connect with our target," Chaiwat said.
However, not every toy wins praise. Chaiwat's political series has attracted its share of haters who have threatened him for mocking their dearest.
"It's not that we want to make a clown out of any politician," he said. The toy is just for fun and also a record of our time which is rare to be seen in the store's shelf."
Either way, it's a tricky thing for an artist at a time when others have been jailed for satirizing the junta chief.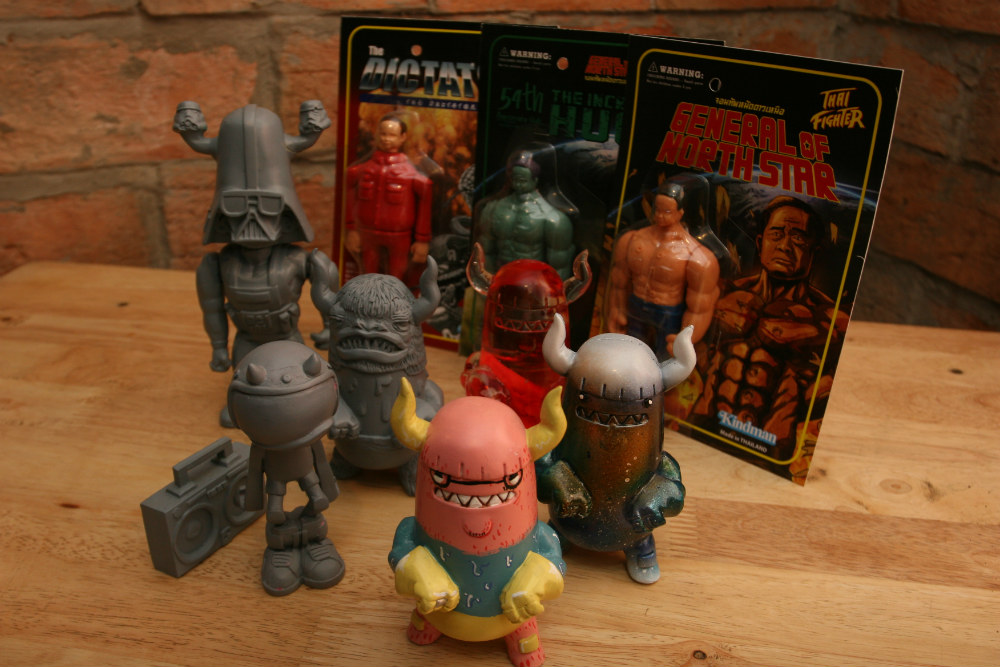 Toying With Trends
While designer toys have been around since the 1990s, and Thai artists started making them more than a decade ago, the small community has grown in recent years.
Along with famous figures, childhood nostalgia has been a recent trend, such as alt-universe Mickey Mouse and disco Elvis Presley . Still, it's still a niche market.
"The number of toy designers here doesn't really matter. What makes a difference are people's perceptions of toys," said Treetana, who with Chaiwat is also a member of the T-GU Warrior collective of designers and artists. "Toys aren't just for kids. They can be appreciated by adults too and help improve skills such as creativity."
The senior toy designer said despite putting all their effort into their passion, it can only remain a hobby or part-time job, not a career. Like other creatives serving niche markets, there isn't enough of a market to sustain them.
Chaiwat makes money as a graphic designer, artist, columnist and guest lecturer. Treetana does sales and marketing for a laptop company.
"In Thailand, we cannot earn a living by solely creating designer toys, as the number of people interested in this is still small," Chaiwat said, despite his 10 years in the business running Tabun Studio.
Still, certain designers hold international ambitions. Thawan Khiowpiam, aka Topztoy, has had some success through an online store where many of his Star Wars-inspired characters completely sell out.
They say the crucial essence for being a designer is simple: passion.
"Don't just go with the flow. We have to know ourselves and love what we do. With that, we can keep on learning and improving," Chaiwat said.
DIY Means Do It Yourself!
Making designer toys requires no special equipment and can be done at home. In fact, the main thing needed in ready supply is creativity.
"The crucial part is sketching a desired character, as it will control the whole process," Treetana said.
Creators can choose materials such as resin, plastic or epoxy to use to make a mold.
Whether the toy turns out beautiful or rough around the edges depends on one's crafting skill, but designers say don't be discouraged: Imperfection makes them one-of-a-kind.
Being handmade, all toys are produced in small runs and therefore limited edition. So if it looks cool, they'll be reserved quickly by buyers, some of whom will go on to try and resell them at a higher price.
But if the toys don't attract interest, their makers bear the loss. A handmade toy's cost in materials is about 100 baht, approximately four times as much as one mass-produced.
"Today, it's more convenient for us designers to make toys according to the pre-orders," Chaiwat said, something he "Also, if you've been designing for a long time and have some fans or followers, your art toys are likely to be sold out."
Want to see more Thai-made art toys or learn more? Visit Art Toys Thailand, Tabun Studio, or T-GU warrior.  Check out the work of the designers in this story and more than a dozen others at Toynado Kaiju & Hero, running Aug. 19-28 at Goja Gallery Cafe. Located on Soi Pridi Banomyong 3, it's just off Soi Sukhumvit 71 behind the W District mall, about a five-minute walk from BTS Phra Khanong exit No. 3.