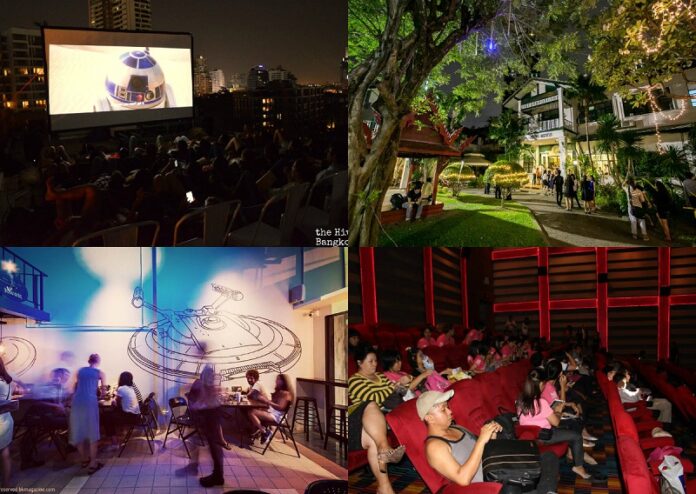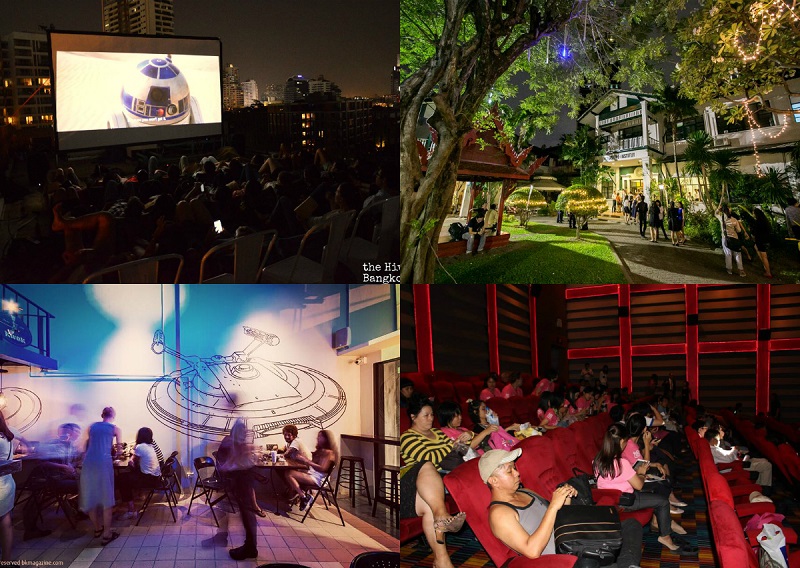 BANGKOK — Those burnt out on watching the same franchise films in the same mall-top cinemas are in luck.
Whether on a rooftop under the stars, a breezy lawn or a nightlife hotspot with a drink in hand, cinephiles can now enjoy many different ways to get their movie on, especially with the arrival of cooler weather.
Get out of the corporate movie box and check out a dozen alternative cinema experiences popping up around town. And, yes, some of them allow you to bring in beer to enjoy the movie even more.
The Bangkok Open Air Cinema Club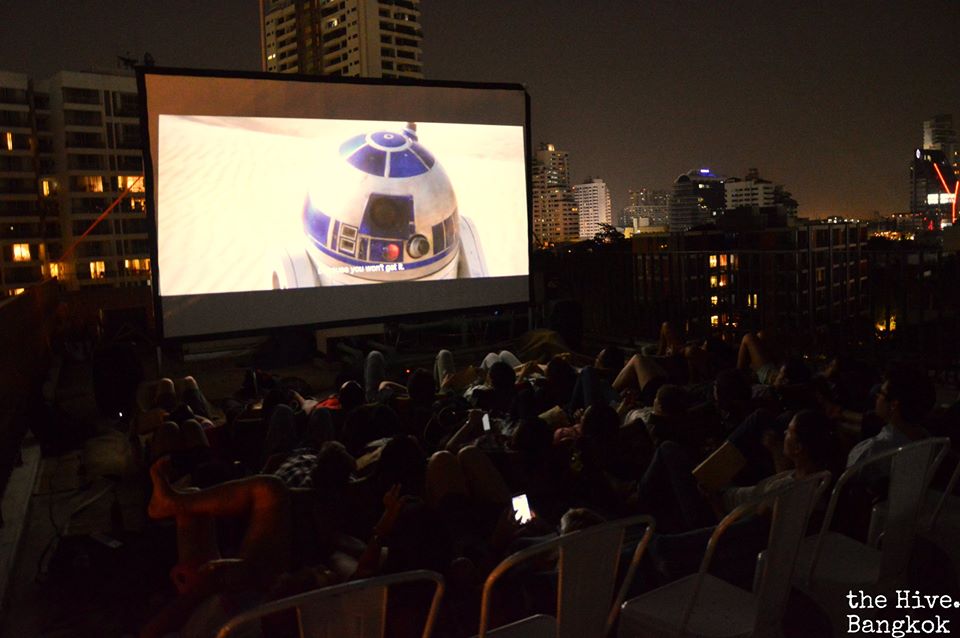 When it comes to watching films with a skyline backdrop, the Bangkok Open Air Cinema Club doesn't disappoint. The venue, atop some converted shophouses in Soi Sukhumvit 49, hosts monthly shows on its 1.80-by-1-meter screen.
There's only 40 seats and tickets, which are 300 baht, come with a drink and popcorn.
The Bangkok Open Air Cinema is located on the top of the Hive Bangkok, a five-story coworking space that can be reached by foot or motorbike from BTS Thong Lo exit No. 1.
Goethe Institut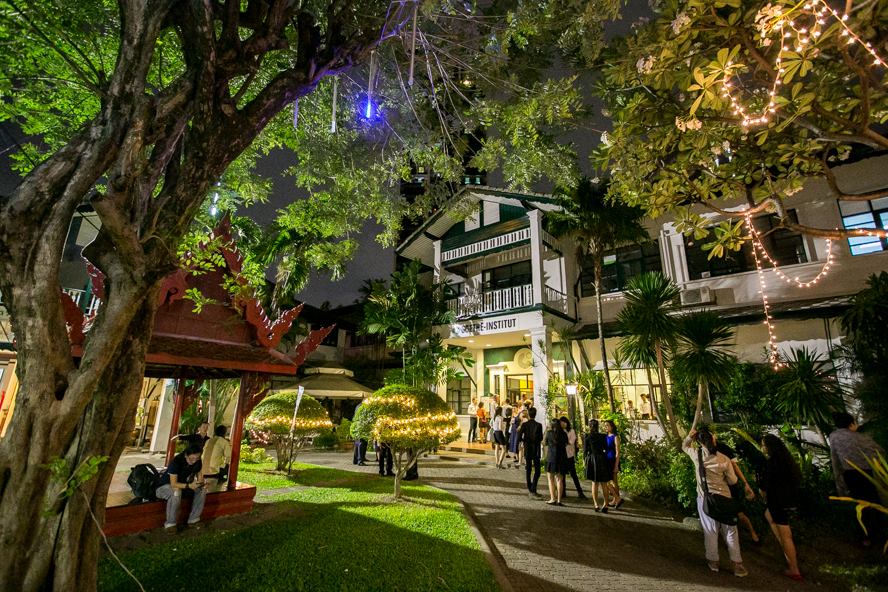 Head to a cultural institution known to occasionally host outdoor screenings of German films, including Wim Wender's works earlier this year.
Read: Cool Date: Enjoy Free German Films on One Classy Lawn
During the cool season from December through February, The Goethe Institut will host its annual Open Air Cinema series on its lush garden grounds. The 11 selected German films include comedies, dramas and thrillers.
The cultural center's campus is located in Soi Sathorn 1. It can be reached by motorcycle taxi or a 10-minute walk from MRT Lumphini exit No. 2.
Bangkok Screening Room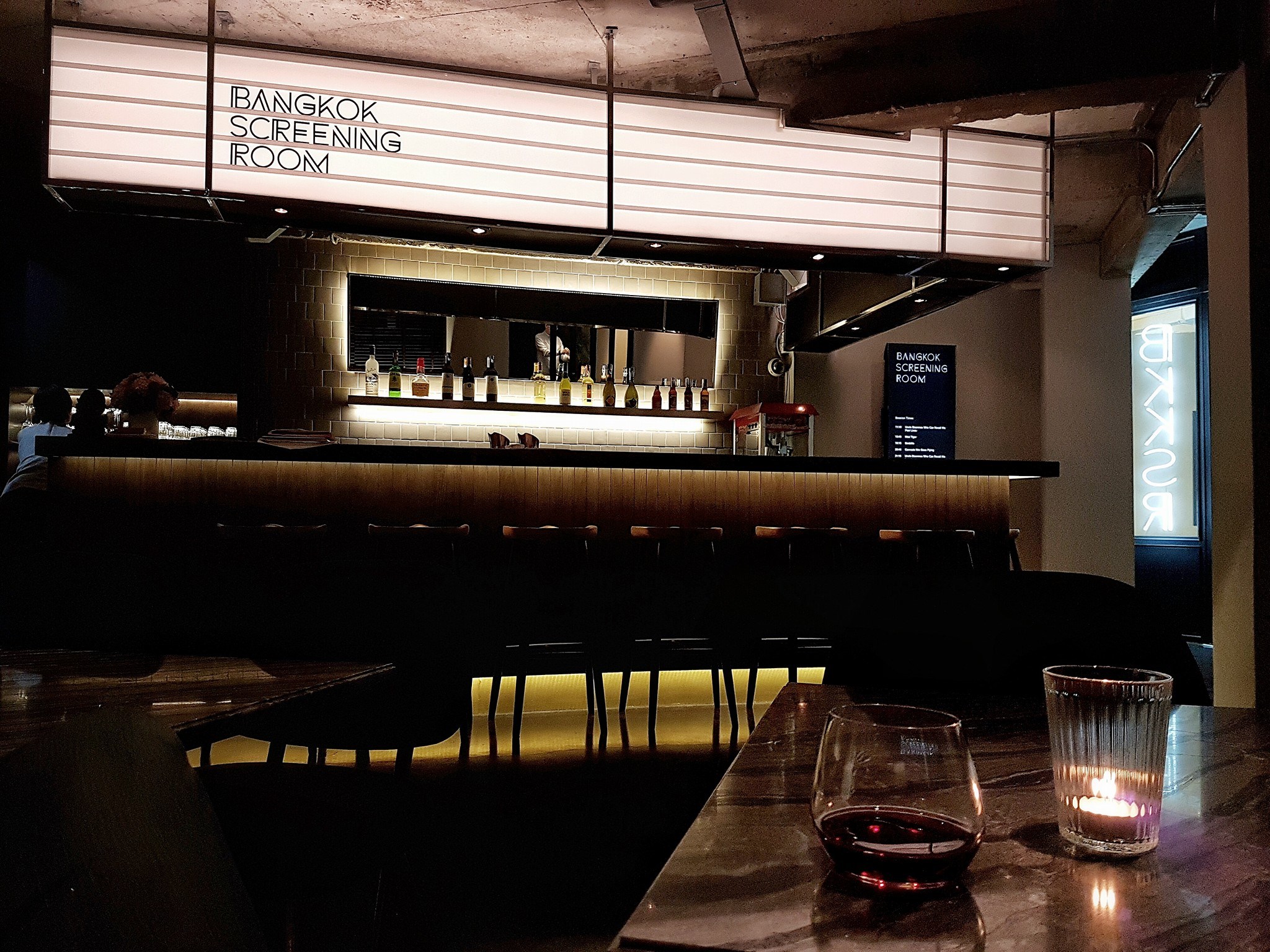 Miss the greats such as Hitchcock's "Rear Window" or Audrey Hepburn in "Breakfast at Tiffany's?" Here is the place to see them on a large screen.
Opened in September, the new alternative cinema has 52 cushioned seats. Unlike at most theaters in Bangkok, sit toward the middle or front for the best experience.
Read: Opening Weekend For Bangkok's New Alt Cinema
There are several series of films, so check the schedule online. Tickets are 300 baht for adults, 250 baht for students and 200 baht for children. Plan to come here often? Annual memberships for 1,100 baht are recommended.
The Bangkok Screening Room is open every day except Monday. It's located above a 7-Eleven on Soi Saladaeng 1. Walk from MRT Lumphini exit No. 2 or BTS Sala Daeng exit No. 4.
Alliance Francaise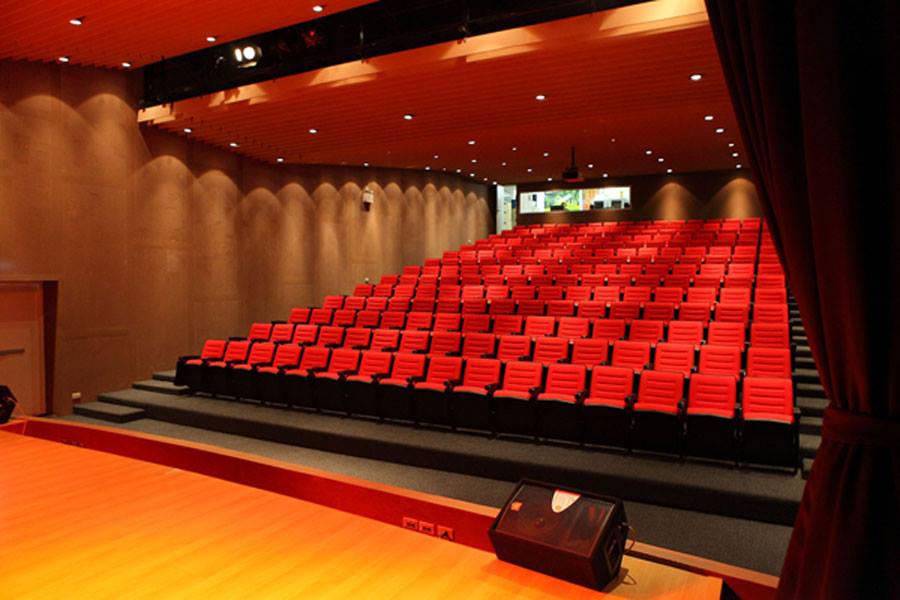 Like Goethe Institut's German films, the French use their cultural venue to showcase their art and culture.
Every month or two, Alliance Francaise shows French films in its 200-seat theatre. Talks with directors or filmmakers often place after the screenings.
Alliance Francaise Bangkok is located on Wireless Road just a few minutes walk from exit No. 3 of MRT Lumphini.
Cinema Winehouse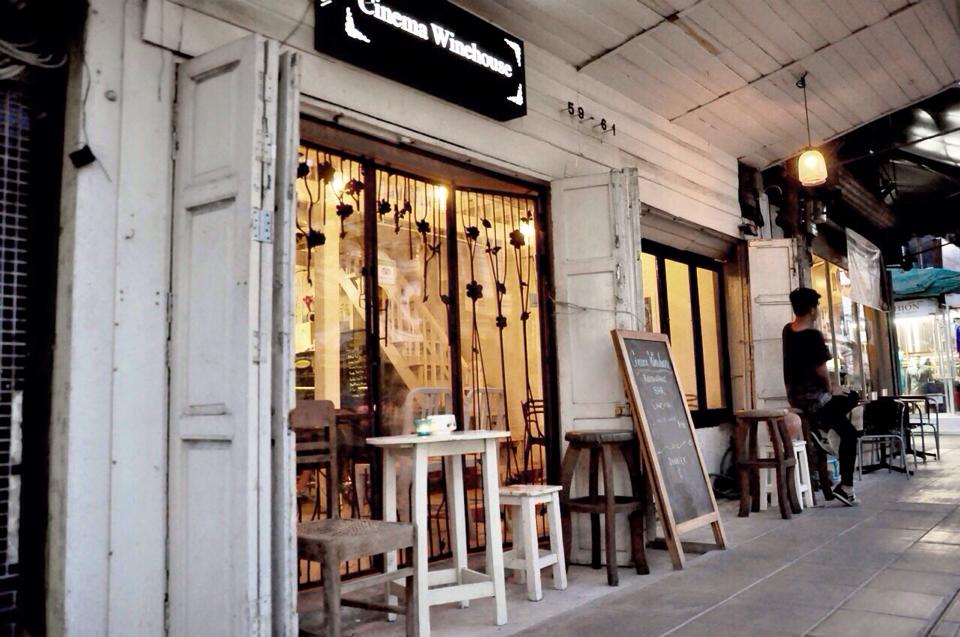 If looking for a place to enjoy a movie with a proper meal and glass of wine, Cinema Winehouse is the place.
Showing mostly mainstream movies such as "Mad Max: Fury Road" and "The Wolverine," the bar and restaurant also serves international dishes such as steak, pasta and salad. All kinds of drinks from beer, wine and cider to tea are available as well.
If you head there for a movie, sit in the lounge upstairs, since the projector sits at the top. Cinema Winehouse is located on Soi Samsen 1.
The Friese-Greene Club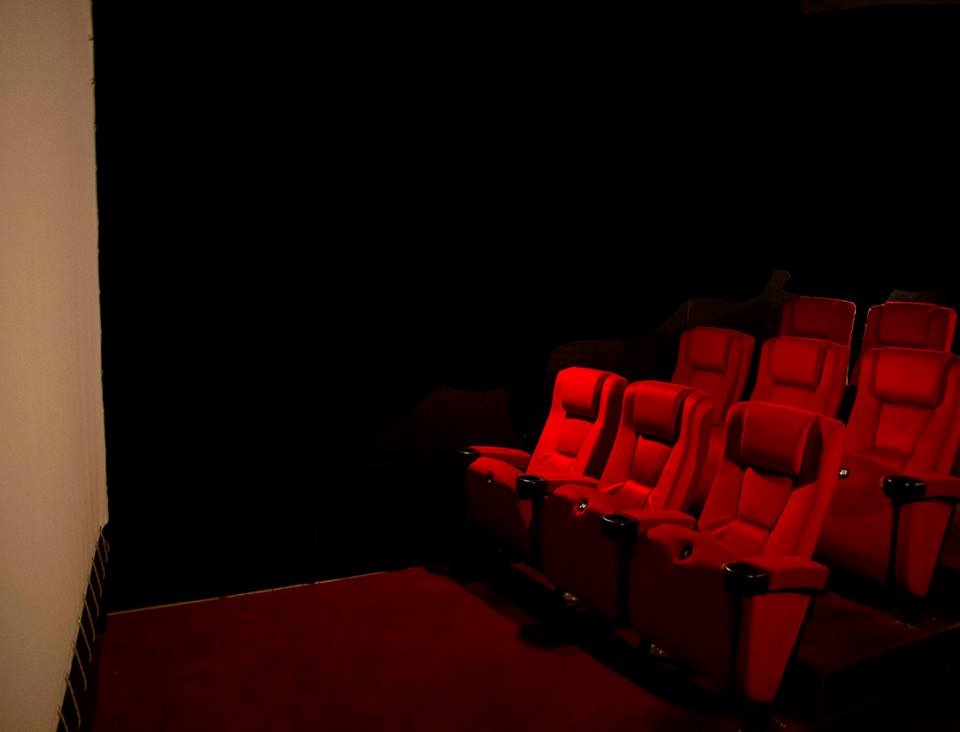 Although the private cinema owned by Paul Spurrier is relatively small with limited space and seating, it has a busy and compelling monthly programs are loaded with things to excite cinephiles. (November's theme: Hitchcock, Woody Allen, European classics, 70s).
The seats are comfy if you can book one in advance online, but even better is sitting with friends to watch from the ground-floor bar area or on the second floor, which recreates a living room vibe for small groups.
The Friese-Greene Club is located in Soi Sukhumvit 22. It's a 10-minute walk from BTS Phrom Phong.
Jam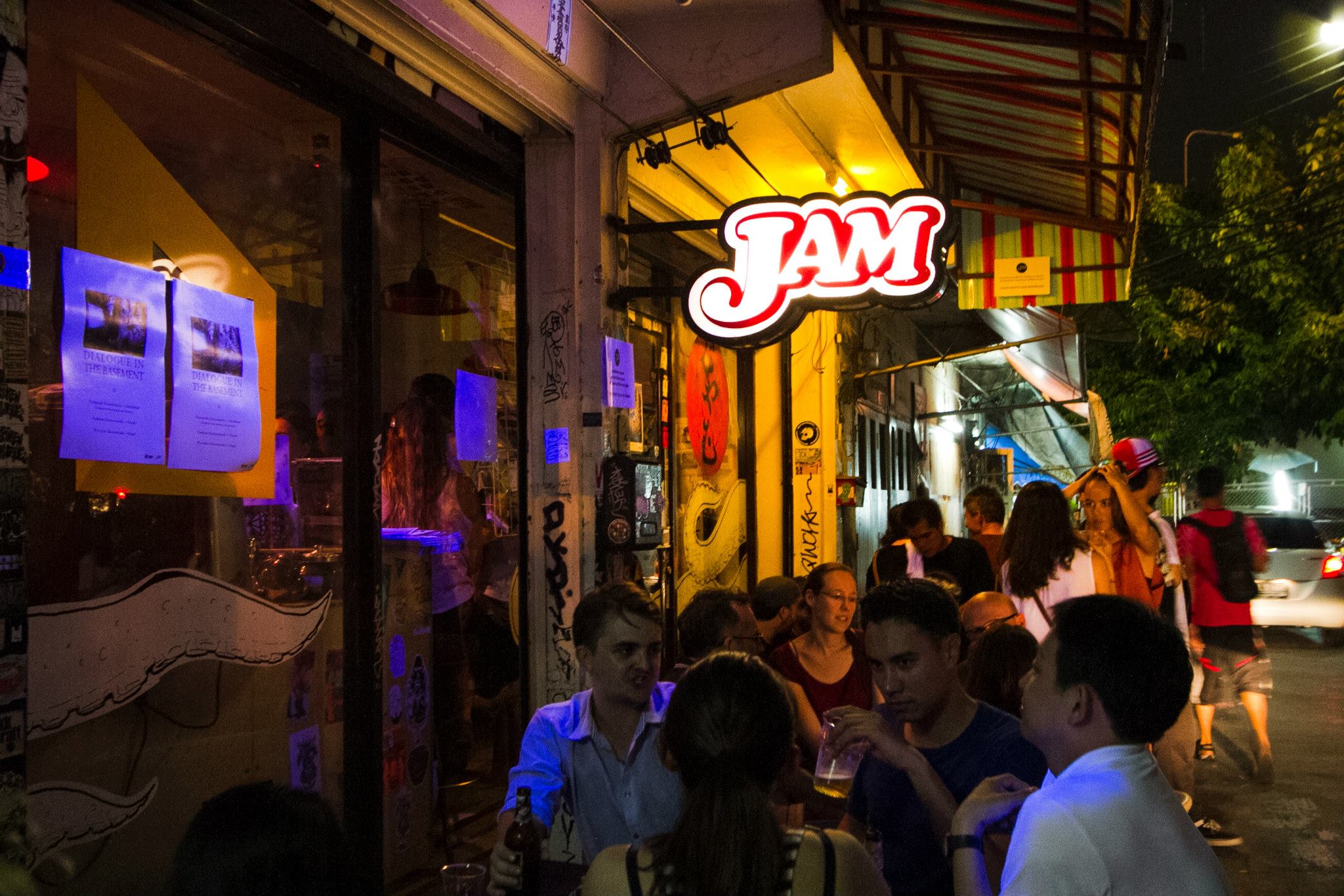 For what seems like 80 years and running, Jam Cine Club goes down every Wednesday at this bar-cafe-gallery space just off lower Sathorn Road. Screenings are free and in easy reach of the bar, which also serves pub food such as fish and chips and the signature Jamburger.
It also hosts a monthly cultural study session where documentaries are shown on a Sunday night and followed by casual discussion.
Jam is a five-minute walk from BTS Surasak exit No. 2 on Soi Charoen Rat 1.
I Hate Pigeons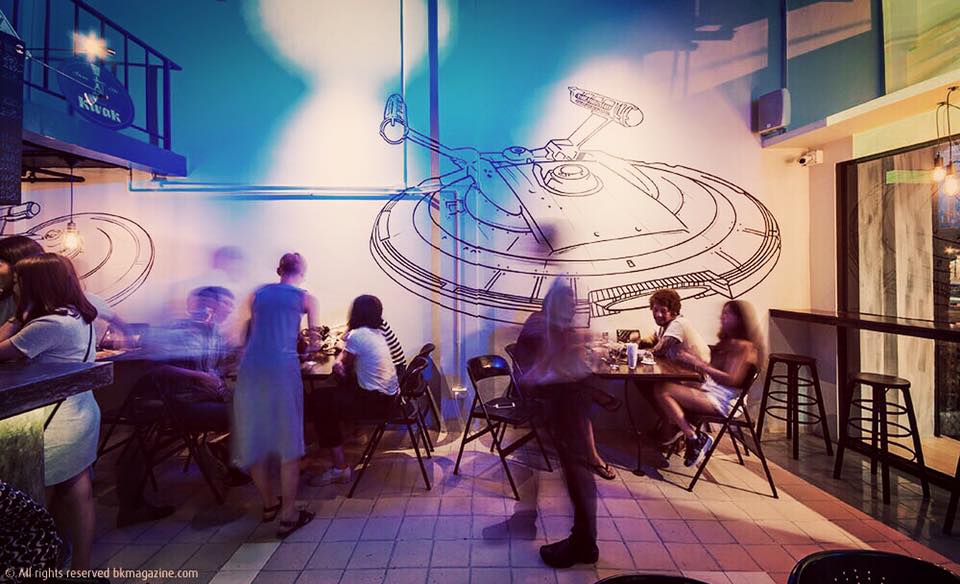 Oddly named dive bar I Hate Pigeons in conjunction with the Documentary Club has hosted non-fiction film screenings monthly since May.
While the bar is filled with a variety of craft beer, there is no proper kitchen. Guests can order snacks and food from the restaurant next door.
Come early and pick a seat downstairs or on the mezzanine. The projector hangs from the bar's ceiling.
I Hate Pigeons sits in Soi Sribumphen, near Soi Sathorn 1, about a kilometer from MRT Lumphini.
The Bangkok Art and Culture Centre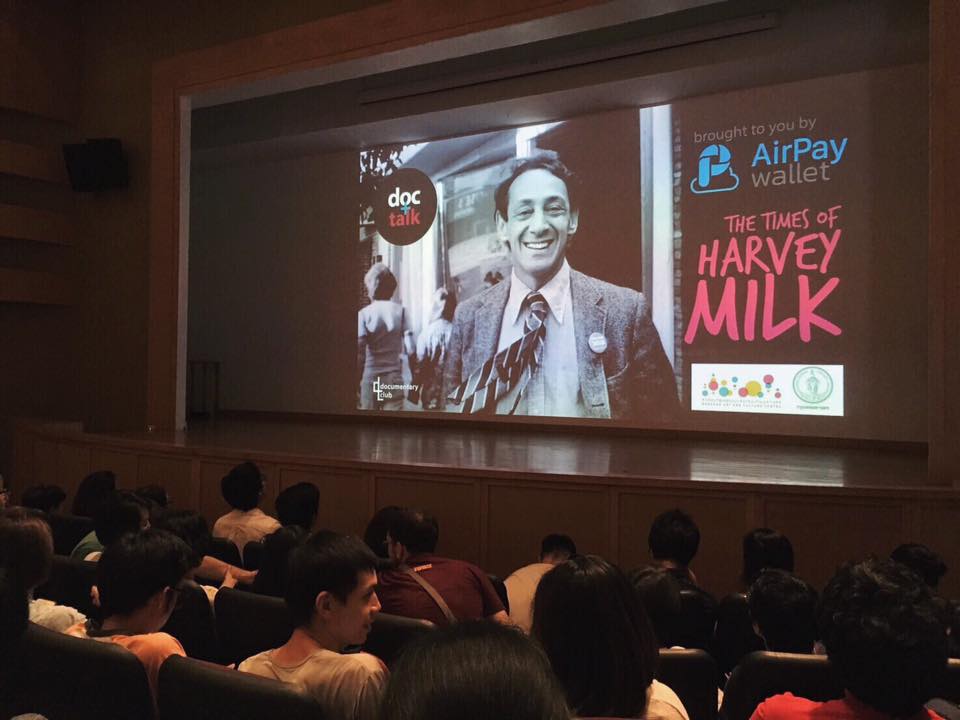 As a home to contemporary art exhibitions, bookshops, and cafes, the Bangkok Art and Culture Centre, or BACC, also hosts occasional screenings. Ongoing events include the self-explanatory Doc+Talk each month, and Cinema Diverse: Director's Choice, which shows films selected by acclaimed Thai directors every two months.
The Bangkok Art and Culture Center is connected by skywalk to BTS National Stadium.
The Reading Room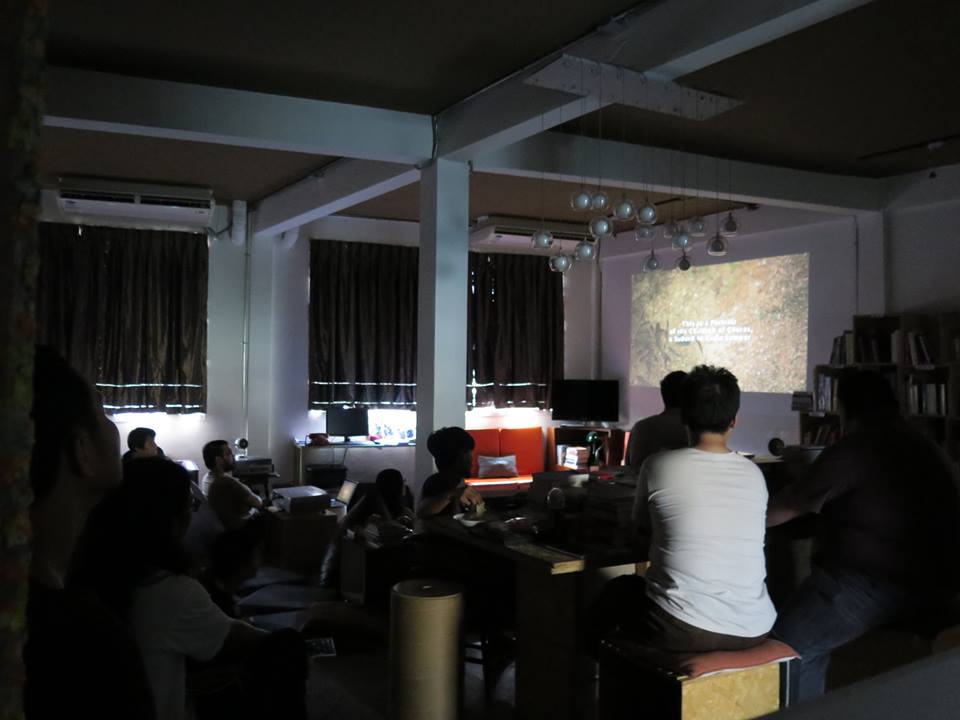 This library with more than 1,000 contemporary art books occasionally hosts special screenings such as a recent tribute to late Japanese actress Setsuko Hara, a Czech Animation Weekend and a Thai indie shorts minifest called Wildtype Middleclass.
The Reading Room is located on Soi Silom 19. It's open 1pm to 7pm, Wednesday through Sunday.
The Japan Foundation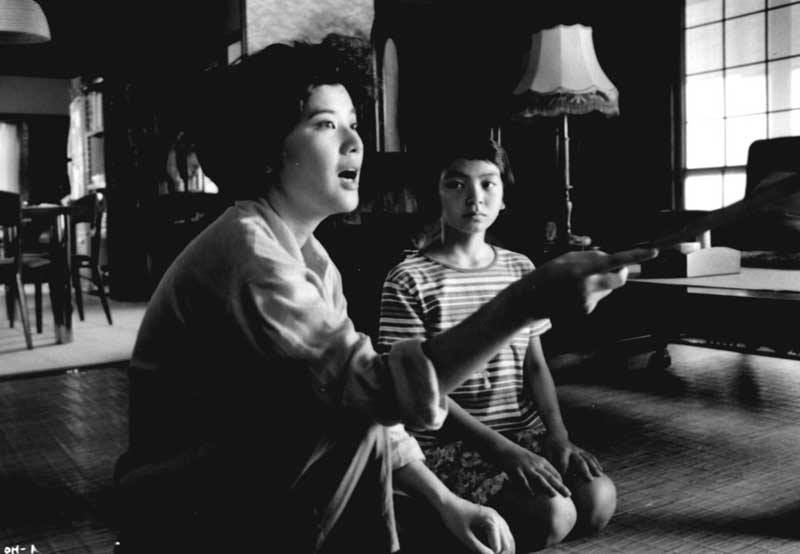 See Japanese films every Friday evening at JF Theatre.
Promoting Japanese art and culture in Thailand, The Japan Foundation shows something Japanese at 6pm every Friday.
J-films fitting different themes show each month ("Father" is December). Most show in Japanese with Thai subtitles, sometimes they also have English subtitles. Check ahead to find out.
The Japan Foundation is located on Soi Sukhumvit 21. The nearest public transportation is BTS Asok and MRT Sukhumvit.
Foreign Correspondents' Club of Thailand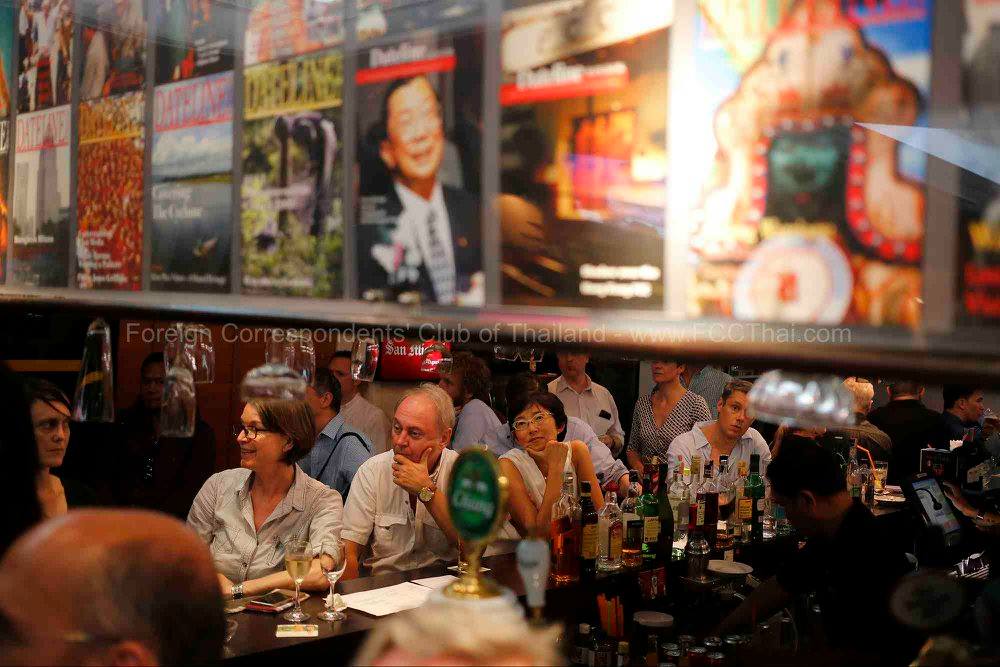 The longstanding journo club keeps it real by screening films related to current world issues every month. Many are award-winning and supported by embassies of the subject nations.
Panel discussions take place after the screenings, which are free for club members and usually 150 baht for non-members.
The Foreign Correspondents' Club of Thailand is located on the penthouse floor of the Maneeya Center, a building connected by skywalk to BTS Chit Lom.