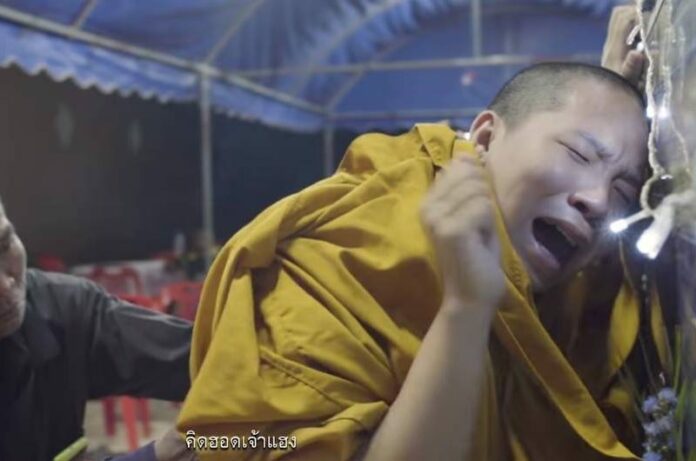 BANGKOK — A monk despairing at his ex-girlfriend's funeral is the scene that caused a Thai film to be censored just days before its Thursday release.
Speaking Wednesday at the Bangkok Art and Cultural Centre, a group of Thai directors revealed that what the censors called a "sensitive" scene in "Thi Baan The Series 2.2" depicted a monk character bursting into tears in front of his ex-girlfriend's coffin.
Representatives of the Thai Film Director Association demanded that the censor board use reliable standards when reviewing movies.
Update: Thai Film Minus Crying Monk Approved by Censors
"There are many other Thai films that contain more aggressive scenes or scenes in which Buddhist monks are not discreet, but they get approved by censors," filmmaker Bhandit Thongdee said.
Thanit Jitnukul, the association's director, said that although the crew behind the film agreed to cut the scene, the board's move imperils the value left for audiences.
"The cinematic work will be ruined because that scene is so emotional," Thanit said. "If the scene is cut out so it can be shown in cinemas, it is once again that Thai audiences get to watch a film that isn't its best. This has happened many times before."
Read: Thai Film Pulled Over 'Sensitive' Buddhist Scene
The group also showed footage of comedy "Luang Pee Jazz 5G" where the larger-than-life protagonist monk peeks at women's breasts and says "a badass shags a duck."
The release of "Thi Baan The Series 2.2" has been indefinitely postponed.
It isn't the first Thai movie to lack full approval from censors. In 2015, the board banned horror film "Arbat" ("Sin of a Monk") for scenes portraying a novice monk it said behaved inappropriately. The film studio had to re-edit the movie before re-submitting it to the board.
The list of censored or banned films also includes "Insects in the Backyard," "Shakespeare Must Die" and more.
"In the end, we have to depend on our luck?" Thanit said.
Related stories: