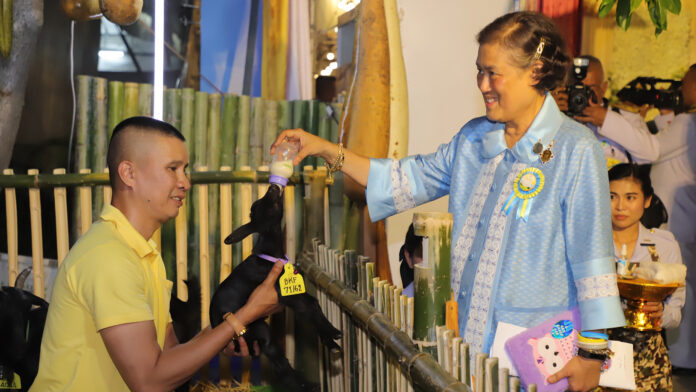 BANGKOK — Binge on street food to your heart content and shop for charity goods at the annual Red Cross Fair running through Sunday at Lumpini Park.
For the second year, Bangkokians' favourite bazaar is spanning all over the park's 57-hectare area. The fair sees hundreds of booths selling a wide variety of products, handicrafts, and food from all the regions of Thailand at discounted prices, and of course, for the good cause to the Thai Red Cross Society.
The ten-day fair is divided into seven zones, but to help you navigate through the crowd, we have categorized some of the highlights below:
Hungry office ladies should come straight from their desks to the food market (marked orange on the map) where Thai regional food such as roast pork from Trang, Korat's stir-fried noodles, and Isaan sausage are on sale.
Prefer something closer to home? Straight to Bangkok City Hall's booth (No. 3.21) where 50 vendors from all the capital's 50 districts are showcasing their best eats.
จะว่าไปของกินในงานกาชาด62 แน่นจุกๆๆอยู่นะแม่ 😍 อะไรที่เป็นของชอบวัยเด็กมีหมด ไม่ว่าจะไอติมหลอด ไส้อั่ว ปาท่องโก๋ ขนมปังนึ่ง น้ำแตงโม เฟรนฟรายส์ครบ!🍦🍟อาหารเพียบจริงๆ เครื่องดื่ม ขนมเอย มีของหลายจังหวัดด้วย ลองมางานกันนะคะ @aroii #งานกาชาด2562 pic.twitter.com/Ia7a14kcN2

— foodyoucaneat (@foodyoucaneatfc) November 15, 2019
Childhood chocolate drink becomes a craze as long queues form at Ovaltine booths around the fair. The 60 baht ice-cold sugary drink comes with Instagramable, reusable cup.
เมื่อวานมิชชั่นคอมพลีท!!!!!มาเพื่อซื้อโอวัลตินจริงๆ ล่ะดูแถวคนต่อซื้อ😅😅😅
พิกัด งานกาชาด สวนลุมพินีค่าาาาา @aroii #อร่อยบอกต่อ pic.twitter.com/NAhx3YkwdH

— #ABNEWแม่(ไม่จริง)พัคอูจิน🐥จอนอุงงี่🐨 (@kkartoonsuju) November 17, 2019
Crafts and handmade products from trendy local producers are also offered at "Hipster Thai Market," located below the yellow zone.
เที่ยวงานกาชาด อย่าลืมแวะ บูธกระทรวงเกษตรฯ นะคะ มีสินค้าวิสาหกิจชุมชน ของดี ของอร่อย มาให้เลือกซื้อ เลือกชิมนะคะ ของดีของท้องถิ่นกันเลยจ้าาาาา ถ้าโอวัลตินแถวมันยาวก็มาแวะดูสินค้าวสช กันก่อนก็ได้จ้าาา 😊😊 เรามั่นใจคุณจะได้ของดีกลับบ้านแน่นอนจ้าาาาา #กาชาด #สวนลุม #อร่อยบอกต่อ pic.twitter.com/fmZkEZA9b7

— ควรหยุดติ่ง เพื่อรักษาสถานะการเงิน 😭 (@bew_mari) November 16, 2019
Try your luck for a chance of bringing home a car at raffles or take aim for targets at the Police's (No. 5.8) or the Navy's (5.5) booths, where visitors can shoot airsoft and training rounds.
ปืนงานกาชาดก็คือยิงแบบไม่ต้องหวังอะไรอ่ะเพราะศูนย์เหี้ยมาก เหมือนไม่เคยตั้งศูนย์ปืนมาก่อน ถ้าไม่ซีก็ยิงไปเถอะ แต่ถ้าคิดว่าจะเสียเงินเยอะก็ไปสนามยิงปืนดีกว่า 😂😂😂😂😂 pic.twitter.com/uCA0cBd8dp

— sᴛᴜᴄᴋ ɪɴ ᴍʏ ʜᴇᴀʀᴛ 💜 (@Jadeite_Yok) November 17, 2019
Festival-goers who are fit and qualified may choose to contribute more to the Red Cross by donating blood at on-site donating center (No. 1.3).
The annual fair was first held in 1922 at Sanam Luang before moving to Saranrom Palace, the Queen Saovabha Memorial Institute (Snake Farm), and then Suan Amphon from 1957 to 2016. It was moved to the present location in 2018 after the palace revoked the rights to use its venue for the fair.
"Red Cross Fair 2019" is running from Nov. 15 to 24 from 10.30am to 10pm at Lumpini Park. The venue is reachable from BTS Sala Daeng, MRT Silom, or MRT Lumphini. Admission is free.