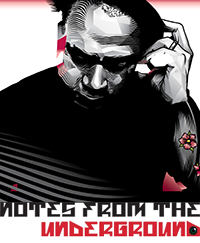 Giant Swing isn't a swingers club – or even a big wooden swing in Bangkok.
A way for clubbers in the know get their monthly fix of eclectic beats, music event Giant Swing has become an institution in Bangkok, where punters can expect anything from deep house to post rock. This weekend, it celebrates eight years of beats and tunes at Thonglor nightspot 12×12, but before I caught up with its two Japanese creators.
Giant Swing was started back in 2010 by DJs Masa Niwayama, or Masa, and Hiroo Oyama, or Hiroo. Originally from Hokkaido, they arrived in Thailand to work for Bangkok-based Japanese companies. The two met through the club scene and upon discovering their similar tastes in music, decided to create an event to share their love for music. It wasn't long before it gained a reputation – not only with their fellow countrymen, but also with locals.
"We wanted to make people dance and share feelings together," Oyama said. "But actually, [Giant Swing] it's the name of pro-wrestling move. We both love to watch Japanese pro-wrestling," he said laughing about how they coined the event's name.
Through the years, Oyama and his crew have brought notable Japanese DJs and musicians such as electronic producer Naohito Uchiyama and electronic folk band Churashima Navigator – and though their fanbase is young Japanese expats, Oyama said it was never intended.
"Yes. But most of my friends don't care about nationality. I even didn't notice there was a big Japanese community in Bangkok until I spent a few years here," he said.
Currently, both Oyama and Niwayama have returned to their homeland. Oyama still runs and organizes the parties from his base in Hokkaido – albeit leaving the DJ duties to successors DJs NKChan and Hidemasa Mitsui. He also runs Giant Swing parties in Japan.
Oyama said that the contribution to the Giant Swing vibe of so many in Bangkok's Japanese expat community is what's made the journey all these years so interesting.
"In most cases, DJs from other countries, mainly Japan, come and play for our party. But one night Masa and I were in the booth, more people came to our party than ever. At that moment I noticed that people in Bangkok finally accepted our music and thoughts," he said.
The Giant Swing Eighth Anniversary Party starts at 8pm on Saturday at 12×12 on Soi Thonglor. Get there by taxi from BTS Thong Lo. Entry is 200 baht at the door.