If all you have to show from your Thailand vacation are elephant pants and a fluorescent-threaded monk bag, you may be doing it wrong.
Here are some souvenirs that aren't incense sticks, gift shop Buddhas or dried fruit for the traveler who wants something to recall the Land of Smiles – from inexpensive and mass-produced to spendy and artisanal.
Along the way, be sure to check out local brands of makeup, Thai-infused apparel, and fashionable updates of sub-cool handicrafts from the provinces. These are just our picks – no sponsorship here.
Snacks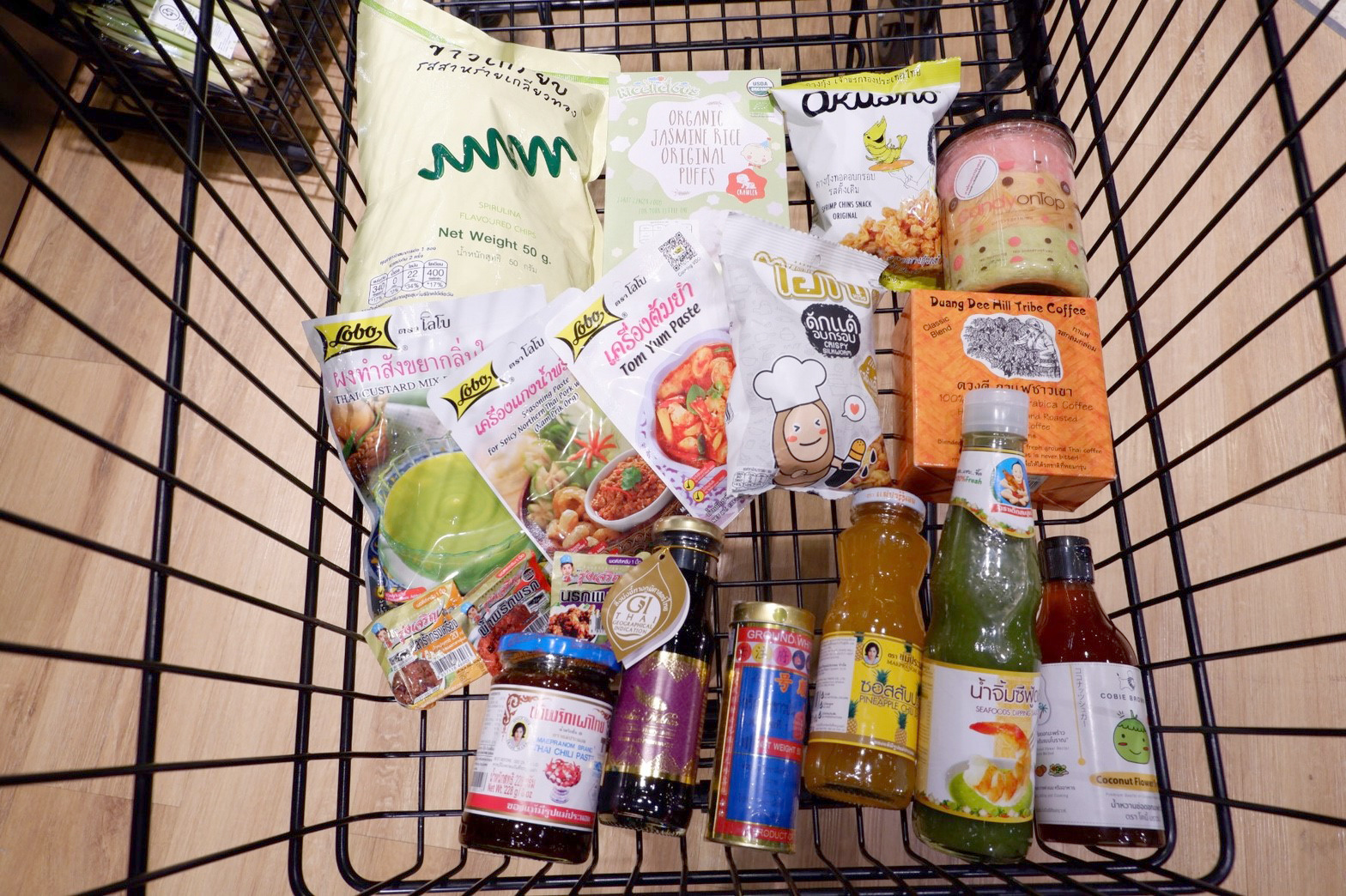 Those with only a few baht to spend or who are shopping for third cousins can nab easily found souvenirs from the local supermarket.
Rungchanoen naam prik (chili paste) packages are only ฿7 and good for mashing with rice or to dip veggies in. Also try Lobo seasoning packs such as Tom Yum or Nam Prik Ong paste (฿18 each). Jars of Maepranom chili paste (฿57), pineapple chili sauce (฿30) or a can of Tra Mue white pepper (฿73) are good to Thai-ify dozens of stir fry meals. Thai-style seafood dipping sauce (Healthy Boy is ฿47) is what Thais overseas wish they could dip their shrimp in.
For crispy snacks try Okusno brand fried "shrimp chins" or Hiso fried silkworms, a tad drier than the fare found on street carts (both ฿27). If you like rise crisps try the Chitralada spirulina rice crisps (฿25) or Ricelicious jasmine rice puffs (฿75).
To make coffee or tea time reminiscent of Thailand, brew some Duang Dee Hill Tribe Coffee (฿109). Add Cobie Brown coconut flower syrup (฿168) or Candy Crepe sai mai or Thai candy floss (฿189). Drink Sakon Nakhon Mak Mao Berry Juice (฿250) as a side to bread topped with instant Lobo-brand Thai custard (฿32).
Beauty Products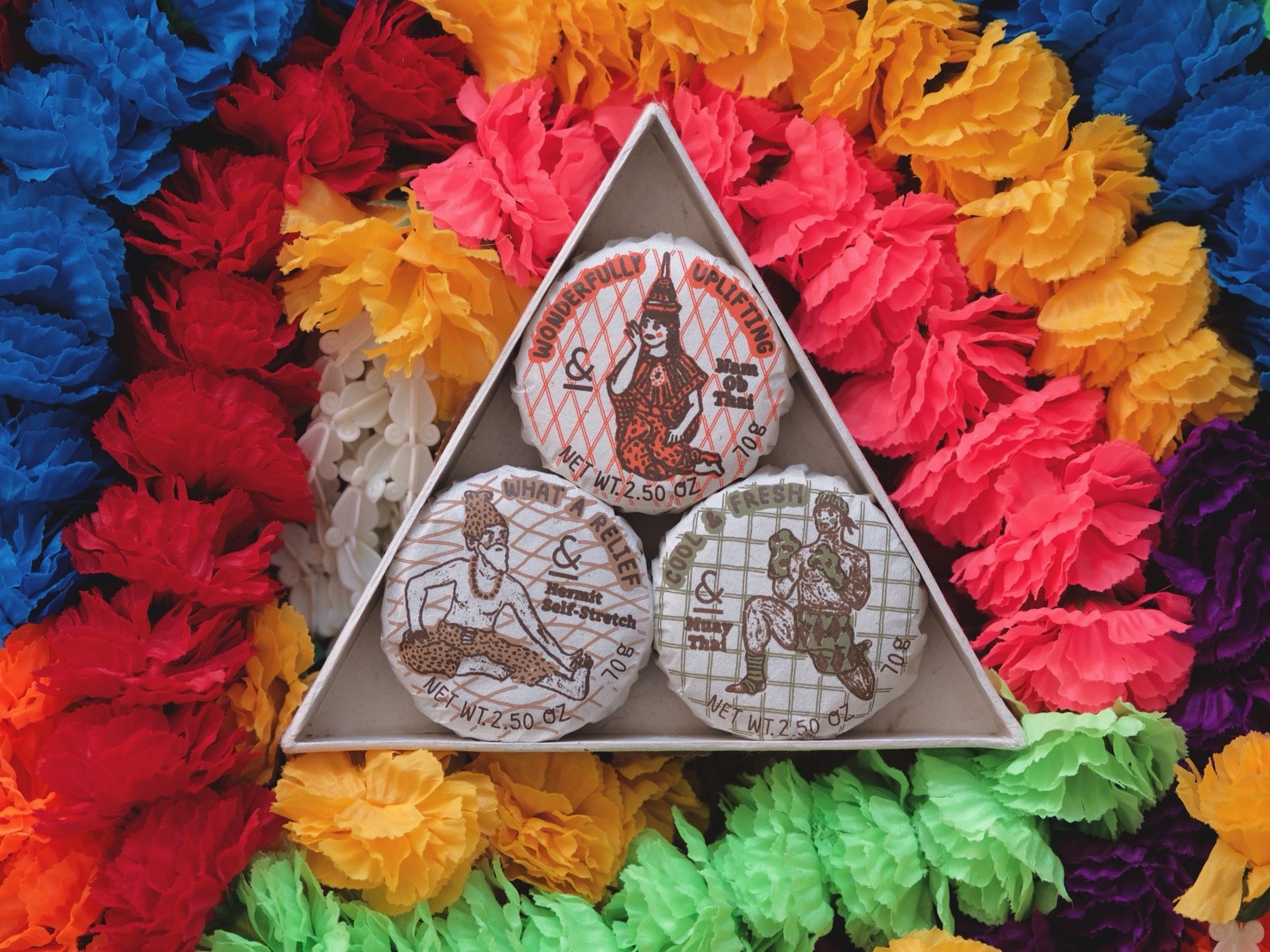 Fragrant lotions and soaps are a good choice for those needing gifts for friends back home that say (without screaming) that you've been in Thailand.
Readily available at Karmart shops and Robinson department stores are Reunrom brand lotions, balms and scrubs. Check out the hand creams scented like Thai cuisine such as pandan custard with milk, mango with sticky rice and tom yum soup with kaffir lime (฿130 each). Herbal balms (฿59) and body scrubs (฿250) come packaged in little cups that look like a mortar and pestle. Perfumes (฿369) are named after tourist spots like Khaosan Road, Silom and Patpong.
"The Khaosan perfume smells like jasmine, like the jasmine water used in Songkran celebrations there. Patpong has fresh smells of lemon and pear which reminds you of fun nightlife and sandalwood and lily gives off a sexy scent," said Waraporn Kruearatana, the brand's marketing manager.
Rather support smaller brands? Browse Cosmos & Harmony's rice soaps made from different types of Thai rice including riceberry and black glutinous (฿65 each, ฿260 for a set and ฿950 for a large set). The most attractive packaging-wise would be the Ease Up With Style (฿645) set of three soaps. The cooling soap has a wrapper with a Muay Thai boxer on the front, while a Thai dancer decorates a fragrant soap made of nam ob perfumed water and a hot soap is stamped with a Thai forest hermit.
"The illustration style is slightly nostalgic. It's great because it can be a unisex gift. This set is popular with Japanese men, who associate Muay Thai with Thailand," said the brand's 29-year-old owner Patamon Nisabodee.
Accessories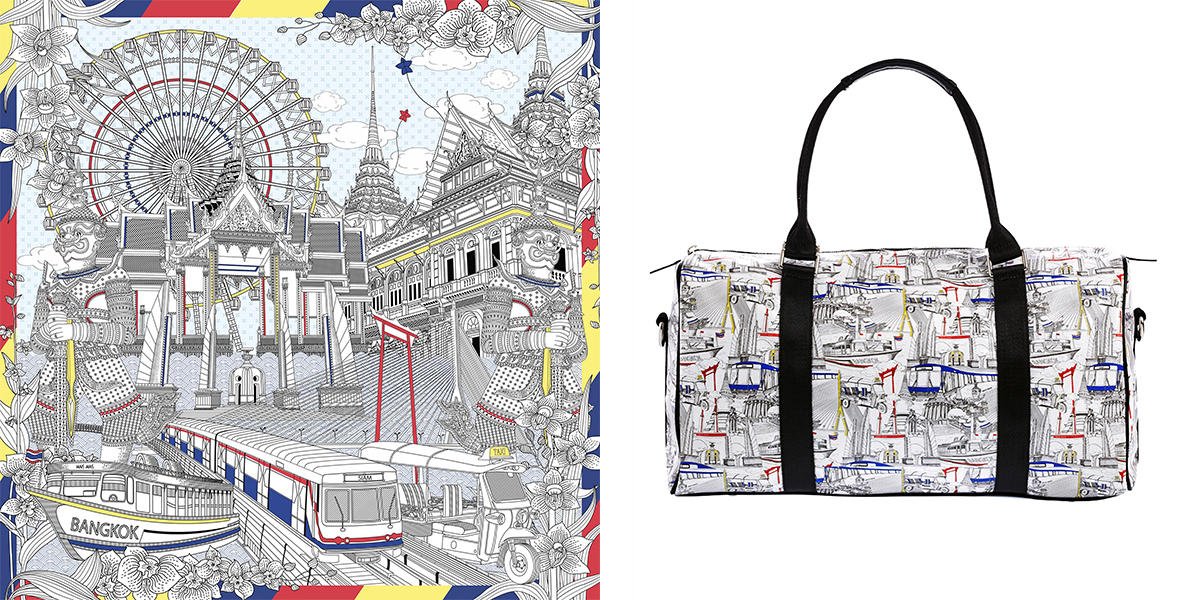 For alternatives to messenger bags with vaguely oriental patterns or brightly dyed pashminas from MBK Center, consider accessories made by local designers that represent Thailand in ways other than row after row of identical cliche.
Mais Mais brand – Siam spelled backward twice – makes bags shaped like boxing gloves and shorts and pouches patterned with Bangkok iconography (wallet ฿750, scarf ฿950) and local fruits such as mangosteens or durians (฿89).
"I kept seeing the same old souvenirs like ivory or glasses with elephants stamped on them. So I wanted to make some souvenirs that are more modern and accessible to younger people," said co-owner Panit Uerkittaropakorn, 26.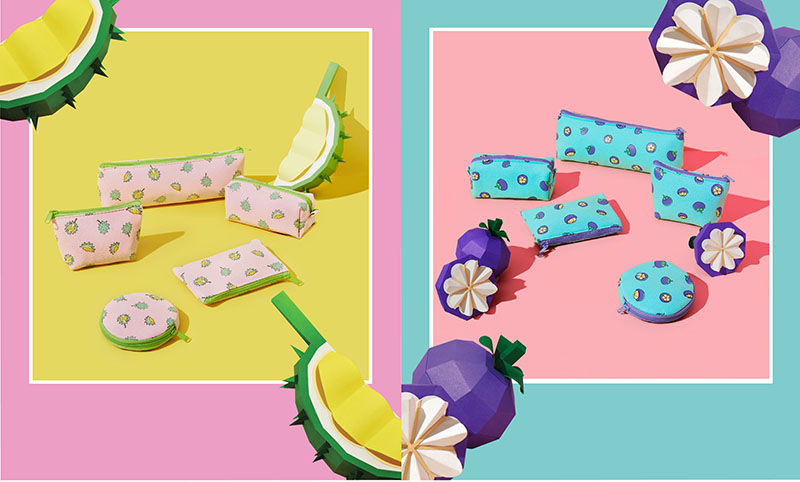 Even the Ramakien – Thailand's epic tale of giants, demons and monkey gods locked in manichean struggle – can be cute, according to all-Thai brand Holen. Their scarves (฿590) can be tied different ways to make you look like the giant, princess or monkey characters ripped from the page.
If you just must have Thai silk no matter what, loosen your pursestrings a bit more for Sasitanat brand's scarves (฿1,790). Mainstay symbols of Thainess – southern Manorah dances, Kolae boats, Nang yai puppets and the mythical Himmaphan forest – are reimagined into exquisite patterns.
"Some people think Thainess should stay in a rigid frame but I think that Thai patterns can be cool," Pavisa Meesrenon, the designer said. She gave the example of the Hanuman Flirting with Suvannamaccha pattern, which depicts a scene from the Ramakien.
"Few people, much less foreigners, get to see illustrations of Thai classical literature. So I made it into a pattern that people can easily connect with and carry with them," the designer said.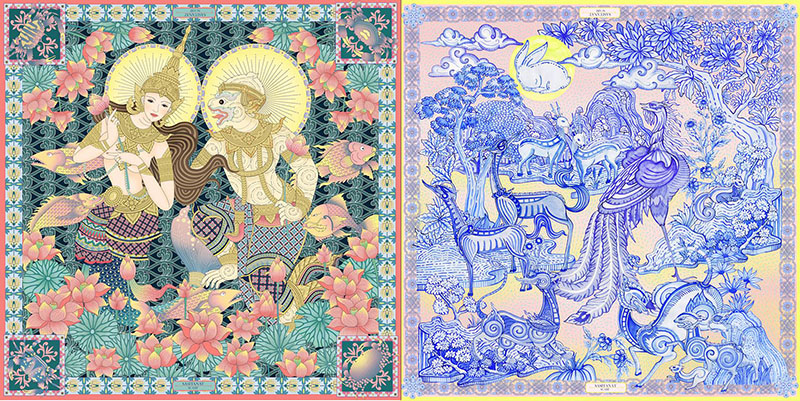 Keepsakes
Rather than embarrassing apparel like Beer Chang tank tops – or even harmful-to-illegal keepsakes such as ivory or selfies with chained-up tigers – opt for things designed by Thais that reflect real local culture.
Holen also makes coasters that look like one-baht coins (฿150) which contain a QR code that guides you to where to get the same view of Wat Phra Kaew as seen on the coin. They also make a neck pillow (฿1,950) shaped like monkey god Hanuman that transforms into a hoodie, evoking the story of him swallowing the sun.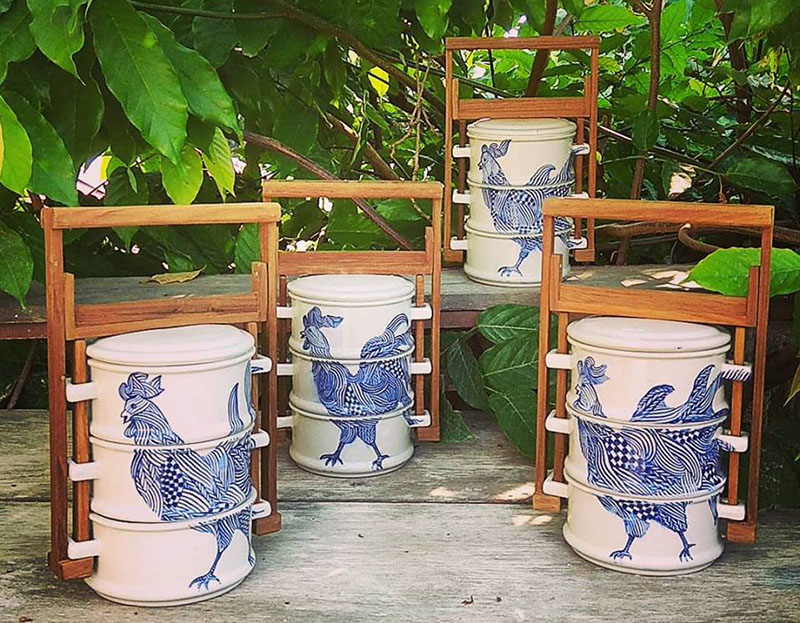 Lively Wares pottery, fired by two people, makes ceramic tiffin carriers, or pinto, glazed white and painted blue, reminiscent of the blue-and-white pottery of old with handles of Chiang Rai teak.
"Back in our grandparents' generation, pinto was really high quality before it fell out of fashion," said Kitt Kullayanapong, the brand's 42-year-old owner. "I wanted to bring high-quality ones back into use." He insists the price (฿1,700) isn't high for the handmade vintage lunchboxes.
Pinto – like the Japanese bento – is also eco-friendly: Use them to carry rice and curries and soups all in one go instead of plastic bags. And they're microwave-friendly, unlike cheaper versions made of metal or colored enamel.
To splash out on something for the wall, check out Srinlim's framed, hand-embroidered letters from the Thai alphabet worked into designs inspired by the vanishing wooden windows, tiles and shop signs found in older parts of town (฿1,030 for prints, ฿4,900 to ฿5,400 for stitched).
"I saw how 90-year-old buildings were demolished to build condos. I wanted to make this collection because fonts are intertwined with the community and peoples' lives," said Sarinya Limthongtip, brand owner. "Foreigners reinterpret the Thai letters to suit their meaning, too. One customer bought a phor phan because they thought it looked like a 'W.'"
Related stories:
Makeup Makeover: Startups Changing Minds About Thai Cosmetics
Makeup Makeover: Startups Give Local Cosmetic Market a Refashioning
Designers Take OTOP Products From Nope to Dope
Thai Folk Arts Get 21st Century Makeover