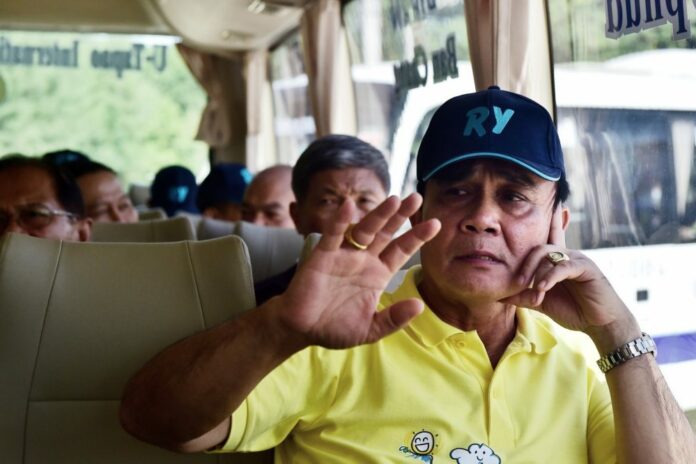 BANGKOK — Photographers covering junta chairman Prayuth Chan-ocha were instructed to follow strict rules at a Friday event and "show their respect" to the general before and after taking his photo.
Police distributed the rules to photographers at Impact Arena Muang Thong Thani, where Gen. Prayuth was set to give a speech about Thai society. They were also told to stay at least 5 meters from the junta leader at all times and refrain from jostling with each other for position.
Taking photos of the 64-year-old retired general when he walks up or down stairs or is eating were prohibited. Photographers were also banned from snapping close-up photos of him when he's waiting in a reception area.
Although the rules were laid down in a memo bearing the letterhead of the first division of the Special Branch Police, its commander denied knowledge of them.
"I think they were the result of coordination between the organizers and the officers," Maj. Gen. Noppadol Sornsamran said by phone. "We didn't issue those."
Noppadol said police have no fixed rules to enforce on photographing the junta chairman, and they change depending on security conditions at each event.
It remains to be seen if the rules will stem the tide of odd photos of the junta leader's highly expressive face.
Prayuth, who has been frequently criticized by international watchdogs for restricting media rights, has a long record of hostility toward journalists.
In January, after days of heated exchanges with Government House reporters, Prayuth walked out from a news conference and told the media to interview a cardboard cutout of himself instead. He routinely castigates them for the questions they ask and once jokingly said he would consider executing them.