OTOP. The word conjures countless tourist-trap shops and fairs selling authentic yet forgettable knickknacks. Stuff that's only interesting to first-time visitors or those who must have everything silk.
Lured by a new effort to update the crafts for today's consumer, designers are turning what have become notoriously unfashionable handicrafts into exportable merchandise.
Our first look at some of the product makeovers found large rugs that would frustrate the most forgiving aesthetic ambitions turned into cute, colorful tote bags and an ethnic group's woven cloth reborn into something Harley biker dudes sling on while vrooming around.
Read: Designers Take OTOP Products From Nope to Dope
After looking at northern and Isaan products, this installment followed a designer to the central and southern provinces to find flashy batik dresses turned into cool-toned beach kimonos and Muslim prayer caps remade as quirky patterned bags.
As before, these are among 25 OTOP products being redeveloped by savvy designers to appeal to savvier Japanese consumers at the Tokyo International Gift Show, sort of a spiritual coming home for a program originally inspired by Japan's One Village One Product Program.
---
Suntree Thai Weaving, Sukhothai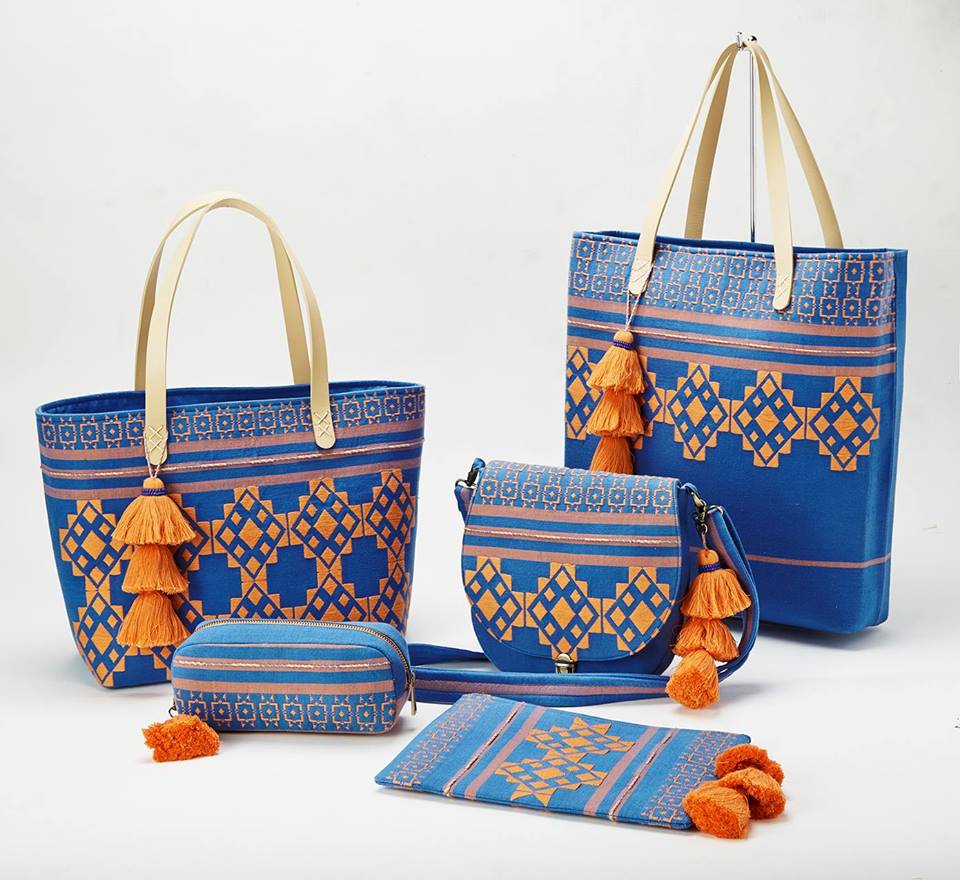 Arresting geometric patterns and funky tassels lend a punchy, bohemian look to bags woven with porcupine quills by the Phuan people in Sukhothai province.
Not long ago, Suntree Thai Weaving was using this traditional craft to make silk sarongs with geometric patterns. Each piece took months to weave and was priced in the tens of thousands of baht.
Designer Pavisa Meesrenon said they only sold one a month to "rich grannies who made them into custom clothing. It was stuff that young people wouldn't buy even if they could afford to."
Raveewan Khanadnid, Suntree's head weaver and an ethnic Phuan, agreed it was time for a change for the sarong made by her people called pasin tin jok.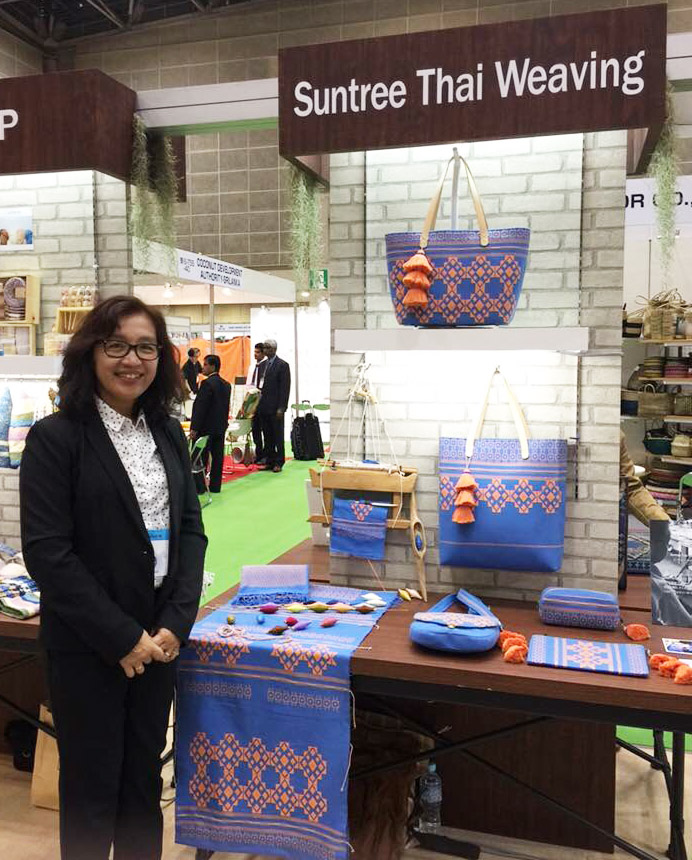 "We want to preserve pasin and the tin jok pattern, but the product had to be made more international," she said.
She and her other 40 weavers from the Nong O tambon in Sukhotai's Si Satchanalai district landed them tickets to Tokyo for last year's OTOP Go Inter competition, where designer Pavisa enlarged the existing tin jok patterns, added bright colors and opted to trade the silk for more practical cotton.
"These are bags that teenagers can wear to the mall or the beach," Pavisa said. "You don't have to be a granny going to the temple to wear paa jok anymore."
Raveewan and her weavers are pleased with the youthful injection into their craft – and wallets.
"I like the new bags. Usually our weaving is in somber colors, but the bright colors and tassels draw in younger people, which makes me glad," Raveewan said.
Suntree Thai Weaving's bags can be found at Siam Paragon in the fourth floor Exotique Thai section or at most major OTOP fairs. Bags can also be ordered via their Facebook page and website. Tours are also available of their operation in Nong O.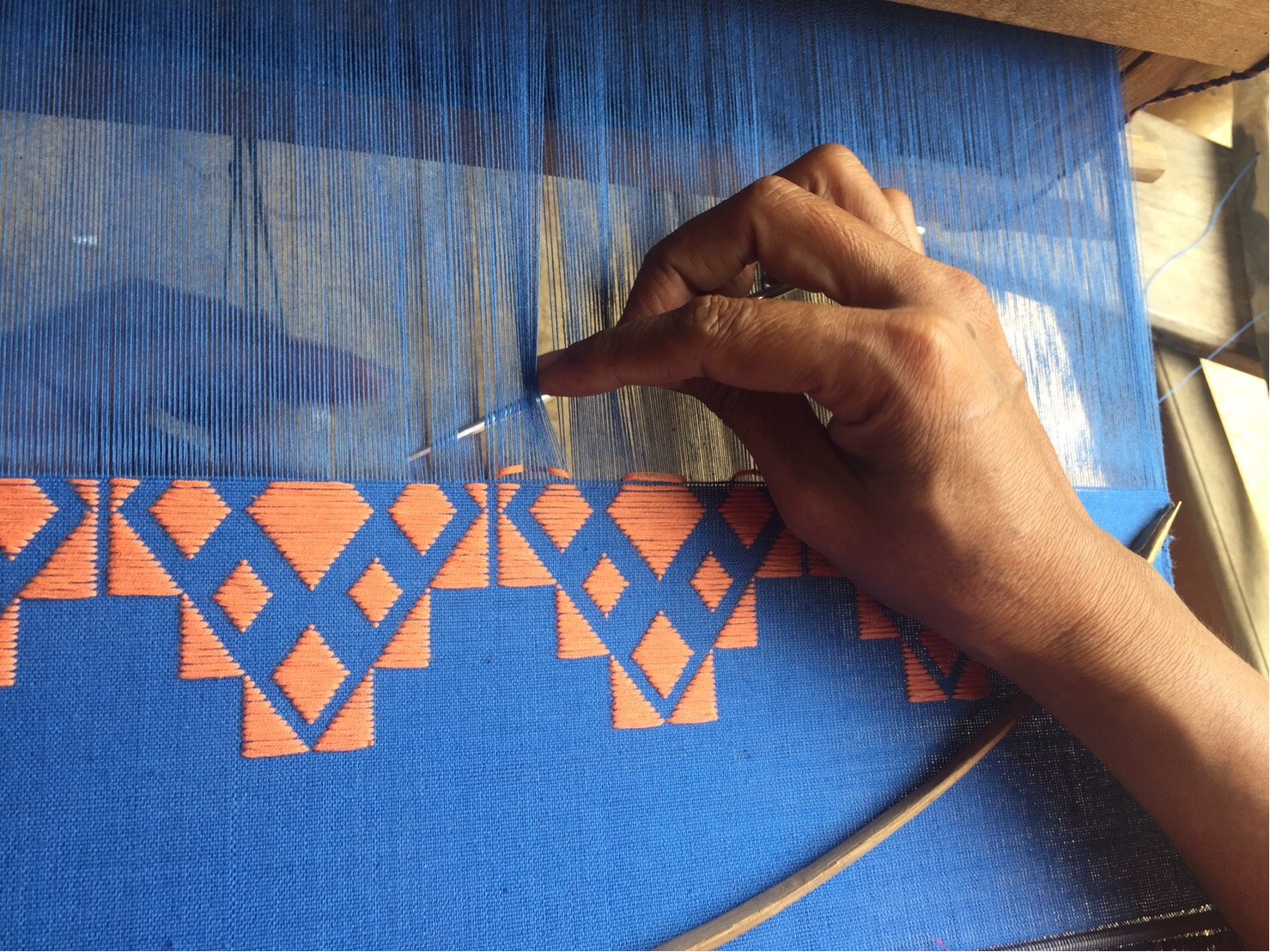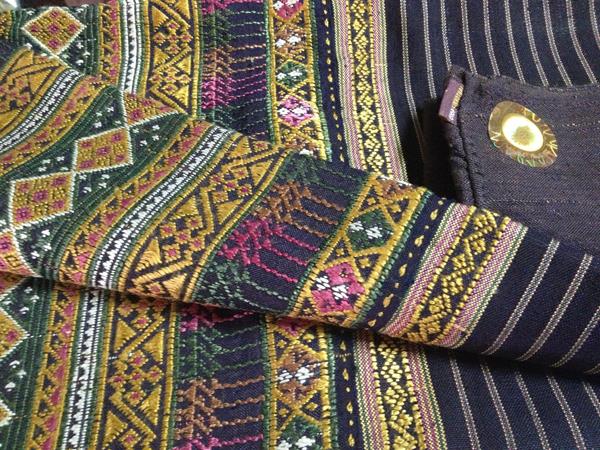 ---
Kapaiyoh Ban Ebuh Group, Pattani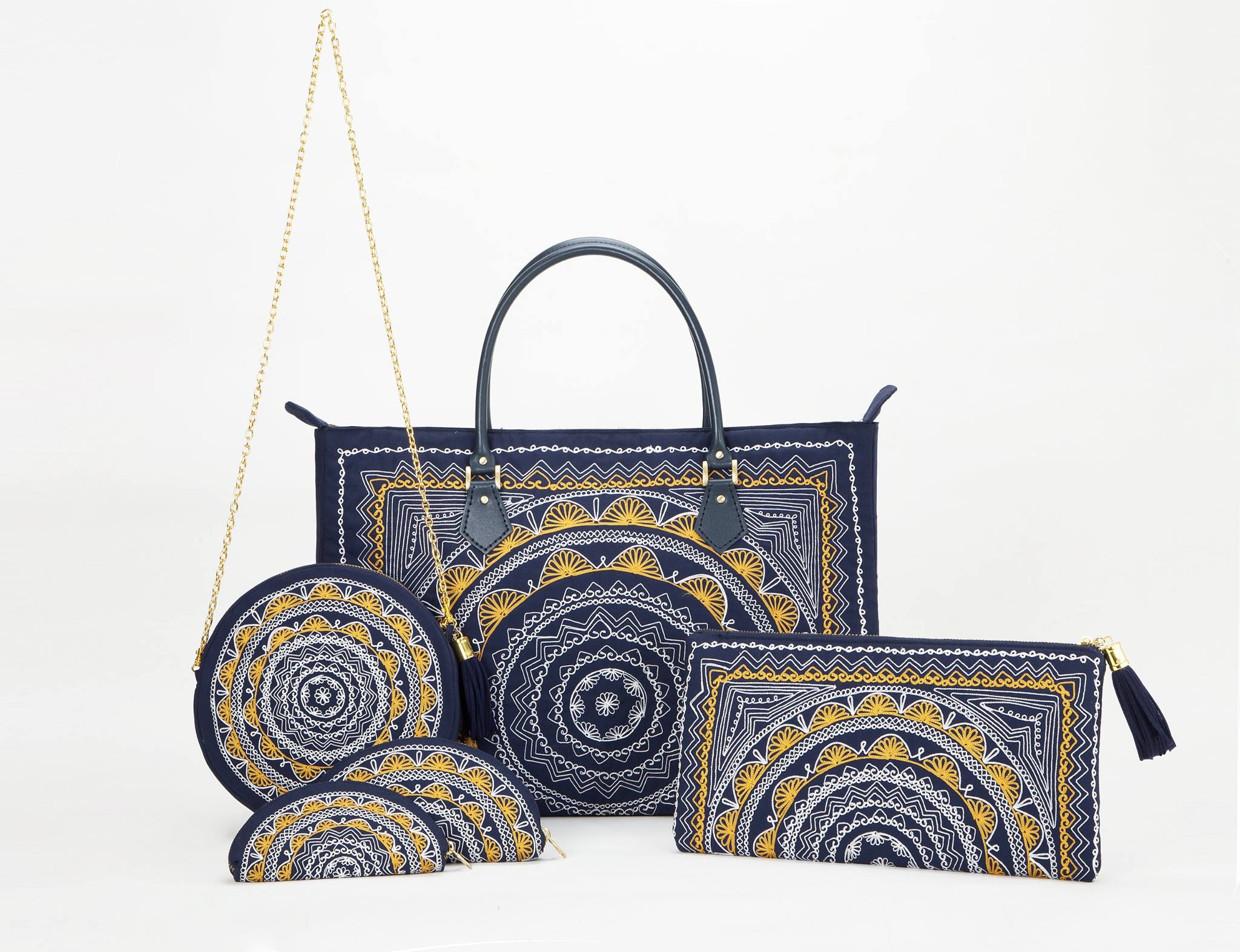 These bags from Pattani province tell the story of where they come from. The navy cloth is the same found in local officials' uniforms, the circular patterns are adapted from Muslim prayer caps and the work is occasionally delayed by the unrest.
The caps, called kapaiyoh, were all the 10 elderly craftswomen once made for the Kapaiyoh Ban Ebuh Group in the Sadawa tambon of Pattani's Yarang district. But, as with Raveewan's pricy sarongs, they couldn't sell enough.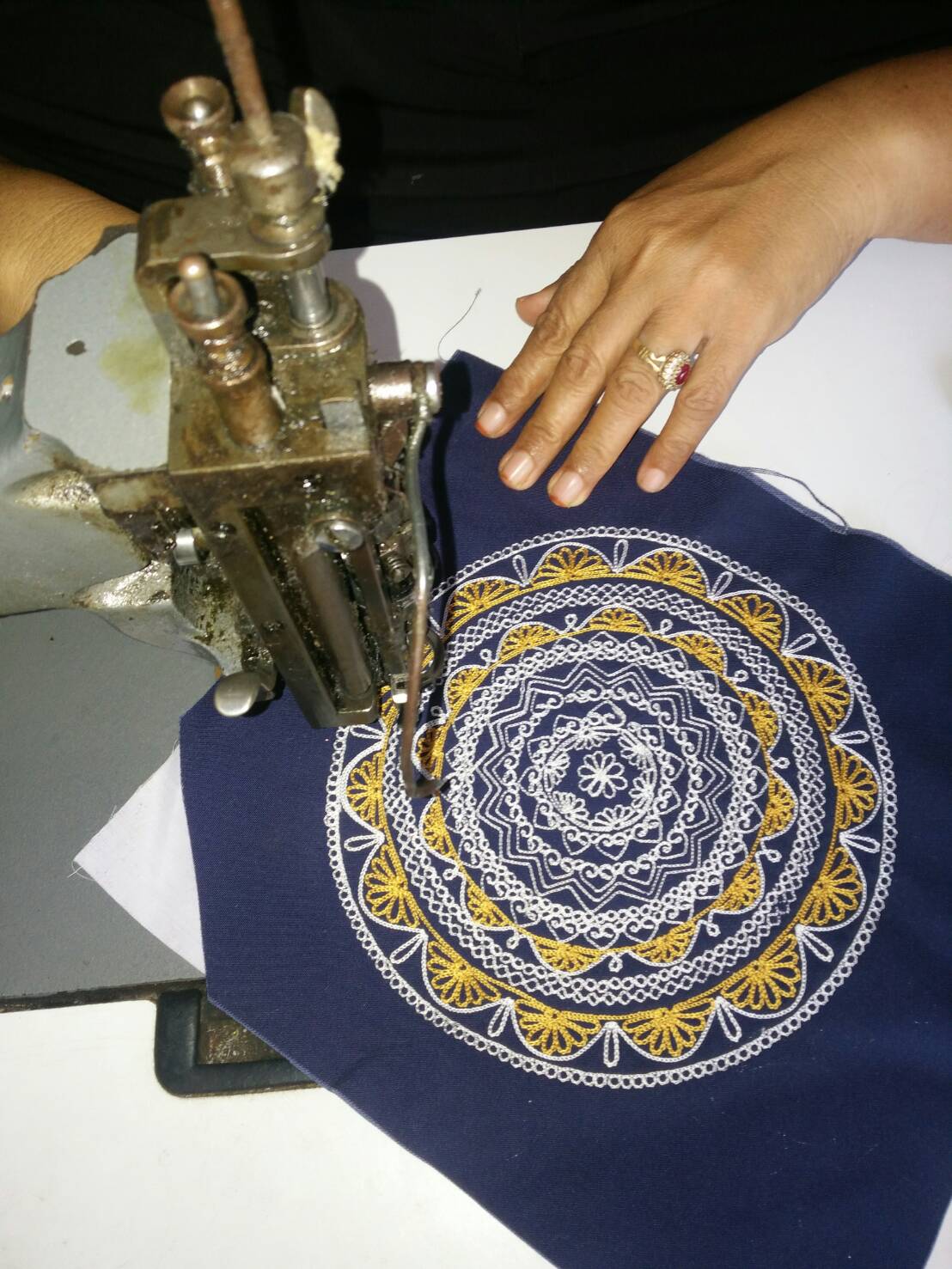 "People are buying machine-made caps more and more. Kapaiyoh sell seasonally as well, like for Ramadan," said Kotiyoh Akeh, the 60-year-old head of the Kapaiyor group said.
She was excited when two years ago her group made it into OTOP's Go Inter program, but there was a catch – Muslim prayer caps don't really sell in Japan.
Pavisa, the designer, decided to apply the same techniques to making bags for the export market.
"I noticed they were so skilled with making circular, Islamic patterns, like on the caps, so I decided to retain that," she said.
She sourced familiar local materials to incorporate into the design, such as the dark blue fabric used in government uniforms.
"It was cheap and plentiful, because there's a lot of government workers and soldiers down there," Pavisa said. "Work on the bags was delayed because of a bombing."
The bags range from 200 baht to 1,200 baht and can be found at the Pattani booth at major OTOP fairs.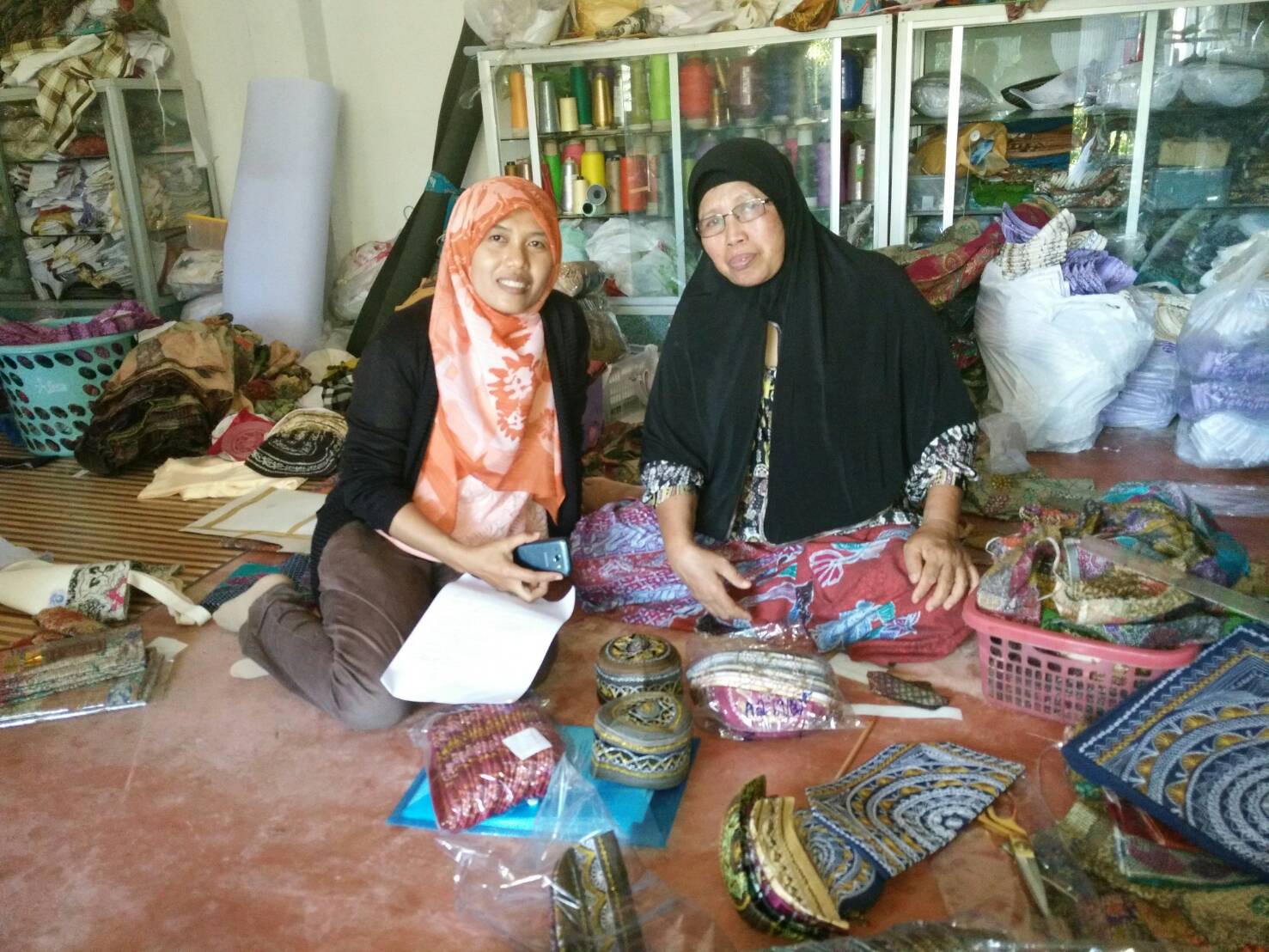 ---
Batik de Nara, Narathiwat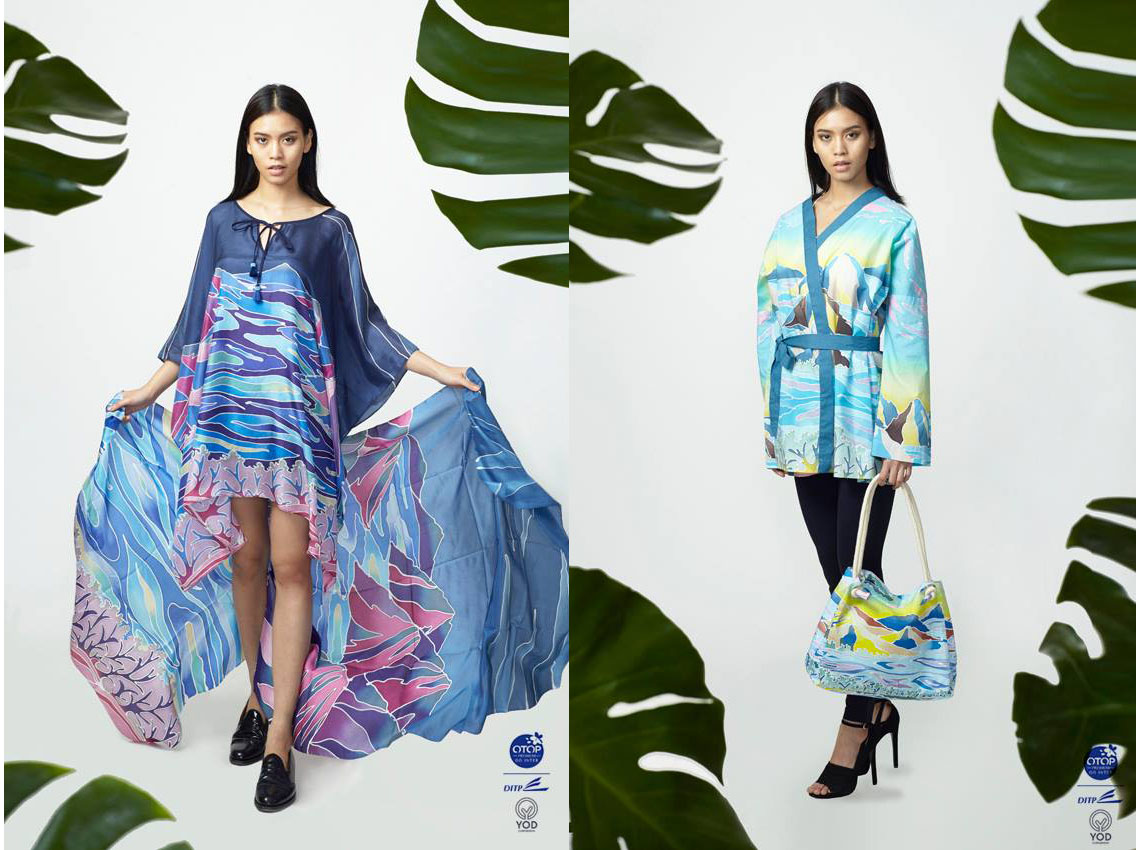 Majestic purple mountains and shining sapphire seas are splashed across the batik beachwear by weavers and dyers living on the gulf in the southernmost province of Narathiwat.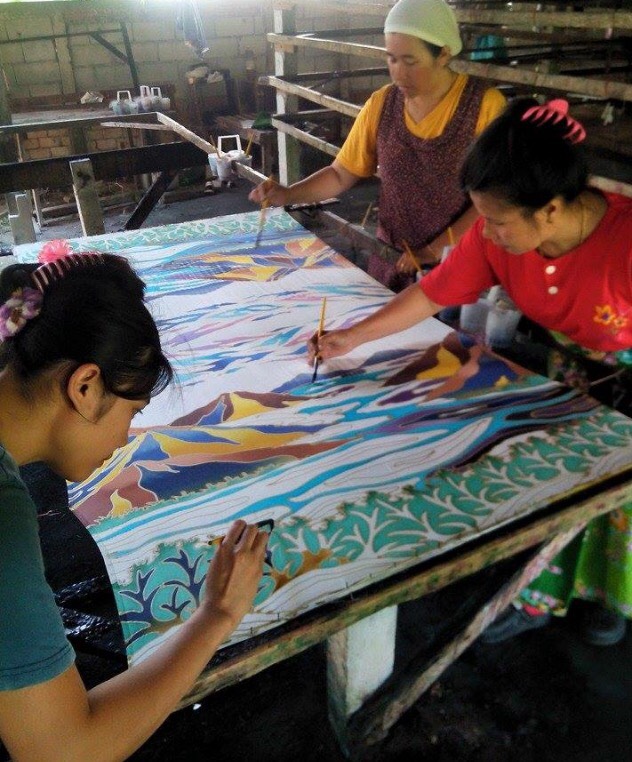 Batik de Nara, an OTOP group based in Narathiwat city's Bang Nak tambon, makes scarves, beach clothes and bags depicting natural southern beauty in tropical colors that can be found peeking out from jackets in Bangkok and Tokyo.
"The chao baan (rural folk) craftswomen that I worked with would make the same designs and patterns and refused to make something new and complicated, even if customers wanted more diverse colors and new patterns," Batik de Nara owner Rowiya Hayiyama, 50, said. "This mismatch was very hard to control."
Since business began in 2004, Batik de Nara saw flagging sales due to unrest in the Deep South and fewer orders from tourist shops as their flashy batik dresses inundated tourist souvenir shops.
After Batik de Nara was paired with Pavisa for the OTOP Go Inter program in 2015, she headed south with drawings of hard-edged geometric designs, but was met with resistance.
"The artists refused to paint anything in a straight line, because everything had to be done freehand," Pavisa said, describing one of the artisans. "They really had an artist's heart. You can't force someone who's been drawing orchids for decades to do something that goes against themselves."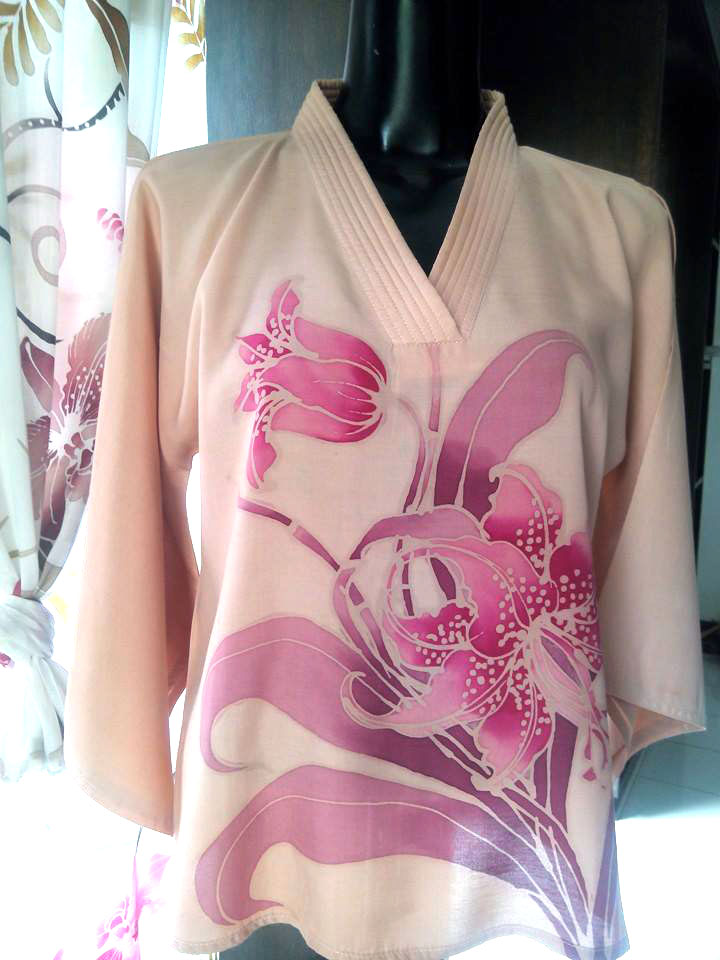 The artist-to-artist compromise resulted in freehand designs of the local landscape, but with colors adjusted for the Japanese market. Rowiya says sales are good and her proudest moment was making 14 meters of cloth for a custom batik kimono.
"We took two weeks to make the cloth, and the Japanese kimono-makers took another month to make it. It was a completely handmade work of art," Rowiya said.
Batik de Nara's products can be ordered through their Facebook, their Pattani shop and at OTOP and craft fairs held at both BITEC Bangna and Impact Muang Thong Thani.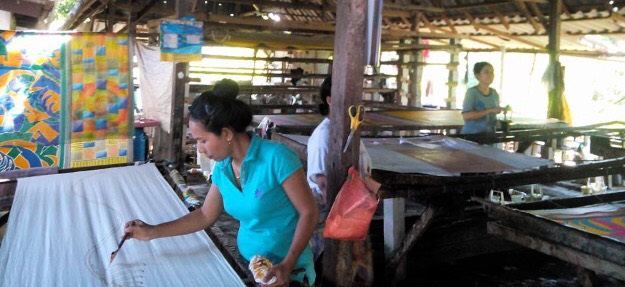 ---
Varni Southern Wickery, Phatthalung
The woven sedge grass baskets, wallets and bags of Varni Southern Wickery tell a story of a community's ties to nature and traditional livelihoods retooled for today's market.
Manattapong Senghaad, a 30-year-old Phatthalung native, used his training in design from and Silpakorn University to modernize his parents' craft in the Phanang Tung tambon of Phatthalung's Khuan Khanun district.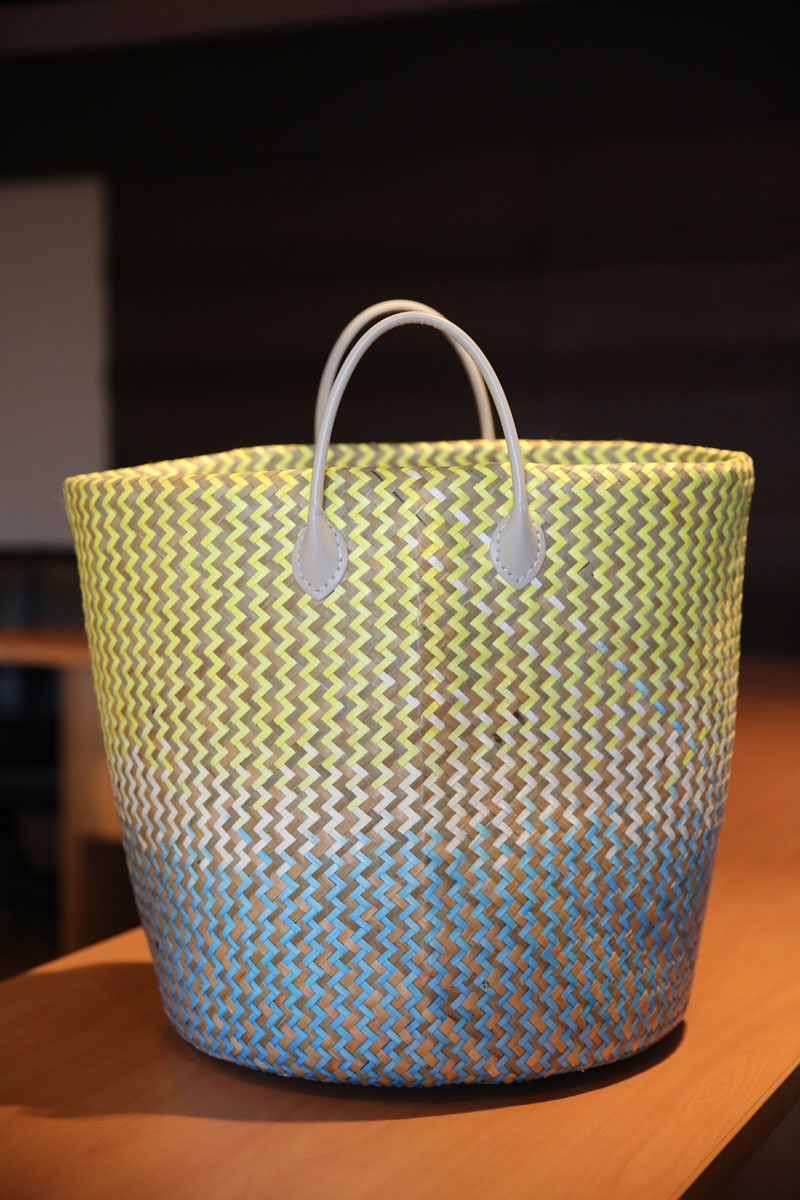 "This brand has helped so many lower-income people. Before a farmer in the area might make 4,000 baht to 5,000 baht a month. With increased income from weaving, this can triple to 10,000 baht to 15,000 baht per person. That's a lot for rural people," Manattapong said.
All 45 of Varni Southern Wickery's grass harvesters, weavers and sewers are local. Most are housewives and rubber farmers looking for extra income. They wade into the marshlands by Songkhla Lake to harvest sheaves of grey sedge, a fast-growing plant, then dry the stalks, press them with rollers, dye and press them again before the weaving begins.
In 2010, Manattapong redesigned the 100 baht mats his mother put him through school with a more modern look. "Without adapting, then weaving with sedge grass will disappear entirely," he said.
Varni Southern Wickery products are sold at King Power, Suvarnabhumi Airport, the ODS shop in Siam Discovery, Home Pro at Mega Bangna or online. Travel to Phatthalung and learn how to weave sedge for 1,200 baht a night.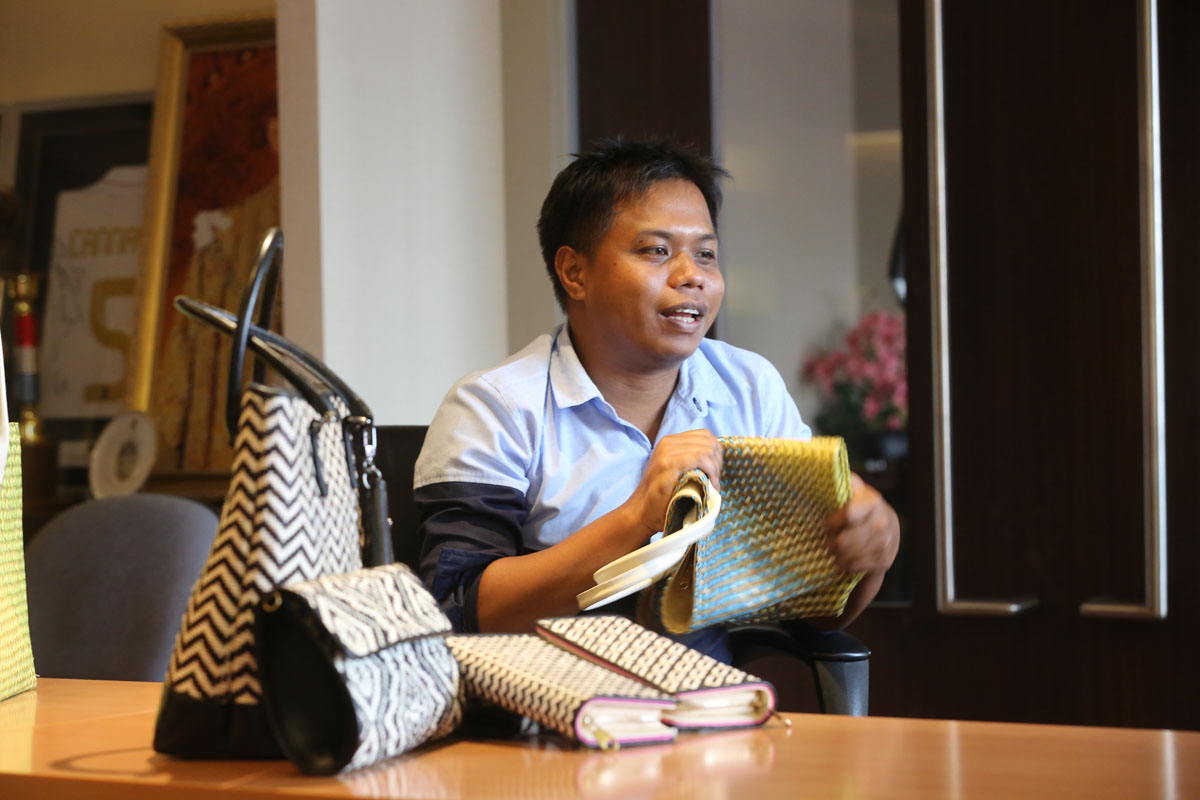 Related stories: