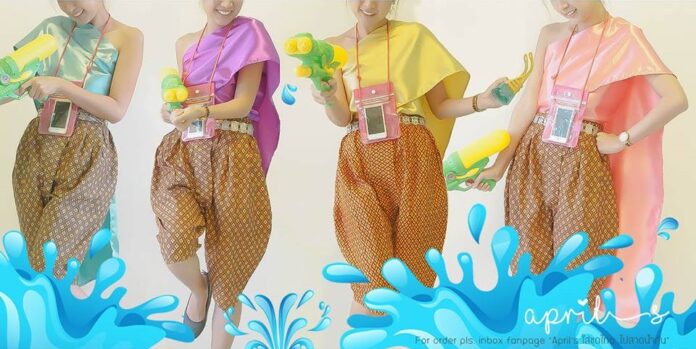 Detailed and delicate, traditional Thai patterns may look too outdated – even ancient – to wear, but young entrepreneurs are bringing them back with designs applicable to everyday life.
Thai patterns and textiles vary. While they can be worn beautifully for special occasions like weddings, wearing them daily is quite difficult. They just aren't comfortable or suitable for walking, running or riding a motorbike during rush hour – even side-saddle.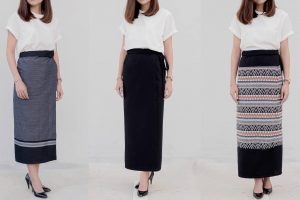 Originally hand-woven, they range from geometric shapes derived from Buddhist iconography, animals and flowers. The patterns likely can be traced north to the 12th century Lanna Kingdom. The Lanna were regarded for expertise in weaving cotton in many colors for export. These developed further during the Ayutthaya era, becoming more delicate with the use of embroidery and adoption of silk by the noble class.
An uptick in nationalism has seen a resurgent interest in traditional garb in recent years, as seen in viral photos of women proudly wearing full-length traditional dress to walk around Siam Square expressing "Thainess."
That combined with Gen-Y's entrepreneurial start-up impulse has seen people set aside desk jobs to try their luck as fashion designers, which isn't a bad idea in the social media era where storefronts are optional.
The Old Becomes Cute & Casual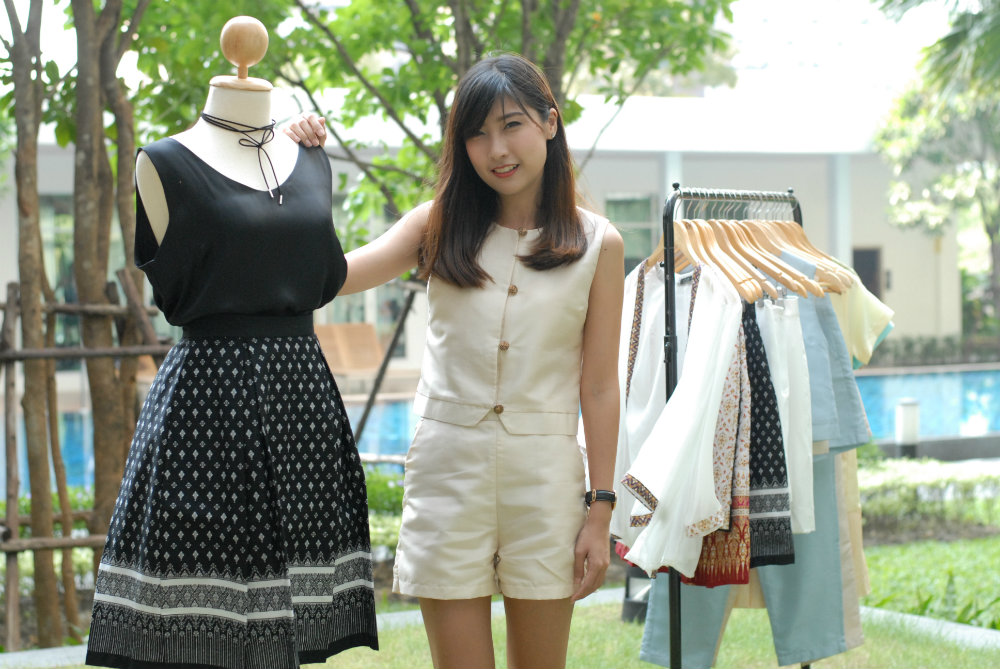 "Wearing traditional dress to a department store or for daily life activity is fleeting," said Lalada Trongtorsak, the owner of April's Thai brand. "But anyone can wear anything that gives a Thai feel or with Thai patterns daily."
First launched last year to sell traditional women's shawls and waistcloths for water-splashing use during Songkran, April's Thai now has 55,000 likes on Facebook with six adorable collections of modern clothing blending Thai patterns.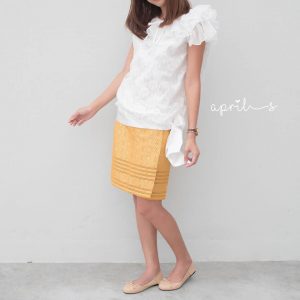 "Despite from doing what I love, I'm also proud to see more and more people wearing something Thai"
Before becoming an entrepreneur, Lalada used to work at an office that required wearing Thai traditional clothes once a week.
"I didn't know what to wear as most traditional clothes are mostly outdated and expensive," said the 26-year-old Chinese studies graduate.
Without a design background, Lalada chased her dream of starting her own brand by drafting what she wanted to wear and forwarding it to a pattern designer to realize. April's Thai aims to produce fashionable clothes with Thai patterns that fit daily life, not only to be worn occasionally, for teenagers and office ladies who face a similar situation as her.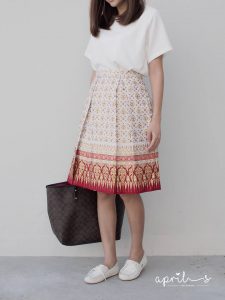 Lalada admitted at first her customers were only those who love Thai patterns, but more and more people outside the circle have bought her clothes and complimented them on the casual designs and help promote her shop to friends. Now, she's earning over 100,000 baht a month from her clothing, which runs from 390 baht and up.
Instead of stuffy long dresses in expensive silk, Lalada's designs update the look and feel to be worn comfortably.  For example, her popular knee-length skirts are printed with Thai designs on artificial silk and cotton to wear on the go in the tropical heat.
They're formal enough to wear to work and casual enough for a dinner date.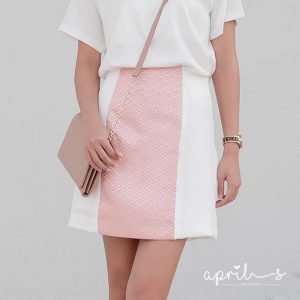 Her key to success is learning to match appropriate patterns and fabrics with her designs. For example, on skirts, small patterns are better for those seeking a slender look. For example, her A-line thigh skirt is printed with a Sukhothai design, which shows geometric forms recalling sky, forest and field in sections. For knee-length skirts, Ayodha designs – floral patterns laid out in diamond grids – look better, complimented by larger and bolder colored leaf-shaped blooms printed at the skirt's edge.
Lalada keeps the marketing friendly and creative with fun names for her collections that blend traditional Thai names with familiar modern forms. "Somsamai, I love Bangkok" is a long black skirt, "E-Yen Walking Down Red Carpet" a knee-length pleat skirt, and "Lamduan is Cute" is given to an A-line skirt.
"Aside from doing what I love, I'm also proud to see more and more people wearing something Thai," she declared.
54 Years Blending Traditional And Modernity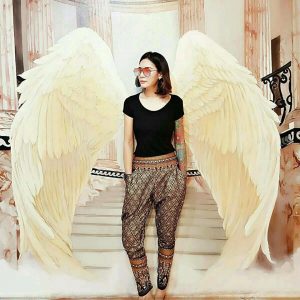 With unique styles blending traditional patterns with modern cuts at affordable prices, Luk Pa Thai has gained more than 17,000 likes on Facebook and is still going.
"Thai patterns are charmingly unique and reflects who we are," owner Sinee Chaweenual wrote in reply to an inquiry. The demands of running her business left her only the time to interview through her Facebook page's inbox. "Thais often forget our Thainess or think that it's old-fashioned. That's why we create Thai patterns with many modern designs."
Literally the "children of Thai cloth," Luk Pa Thai was founded in 1963 under the name "Pa Thai Hi-So" by Sinee's designer mom. After three years of successfully carrying on her mother's legacy, Sinee uses her management skills to sell her handmade clothing online.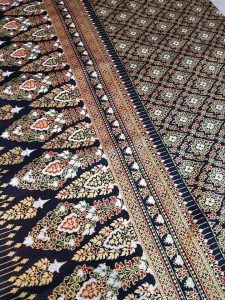 "I'm proud to preserve Thainess and will continue to do so"
With 15 different items of clothing and high-quality fabrics at prices starting from 399 baht, her wares are casual and unisex. As a result, the shop serves customers including students and government officials, who are required to wear traditional apparel. She said she also draws teenagers, especially in the LGBT community, housewives and foreigners. Her most popular designs are jockey pants and mountaineer pants.
"We have to make customers want to buy our products, so we have to adapt to their needs and trends," she said of the brand's 54-year-old recipe for success.
Still, it's a lot of work and she admits that she and her mother have to study patterns and learn by trial and error.
"We don't focus much on the profit," she admitted. "Anatta, or non-self, in Buddhism is our motto for doing business. We just give and don't hold onto anything."
Why Are Thai Patterns Great Again?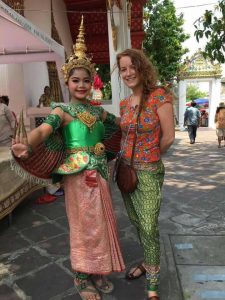 "There is a variety of Thai patterns, and it would be great to extend their possibilities in other forms, apart from clothing," said April's Thai owner Lalada. "Adapting traditional patterns into something modern helps change perspectives for the new generation of Thai clothes. They can be fashionable and show their unique charm."
Siree credits the rising stature of Thai patterns to social media, where people have been encouraged to try them or any clothes with a Thai feel.
"I'm proud to preserve Thainess and will continue to do so," she said. "No matter how great our culture and traditions are, if the new generation doesn't carry them on, they'll unavoidably come to an end."
Related articles: