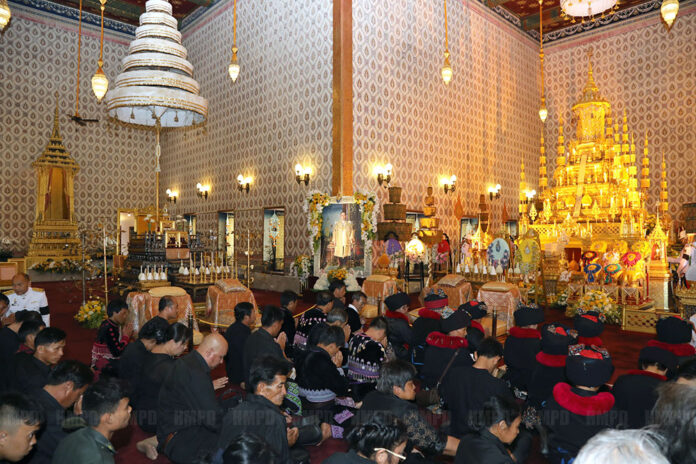 BANGKOK — When King Rama III died in 1851, all but a few Siamese including his successor were required to shave their heads. When Rama IV passed away in 1868, commoners only glimpsed the royal urn after it was brought to the pyre at Sanam Luang days before his cremation. But today, upward of 30,000 people enter the Grand Palace daily to honor the royal urn of King Bhumibol.
Over the centuries, royal funeral rites have become more accessible to the public, according to an expert on royal rituals, who said the trend is continuing with those for His Majesty the Late King Bhumibol, who died Oct. 13 at 88.
Thongthong touched on wide-ranging issues in a recent speech at Matichon Academy on the history of royal funerals, from the public's access to participating, the transition from mourning in white to black, and the scaling down of once-massive funerary structures.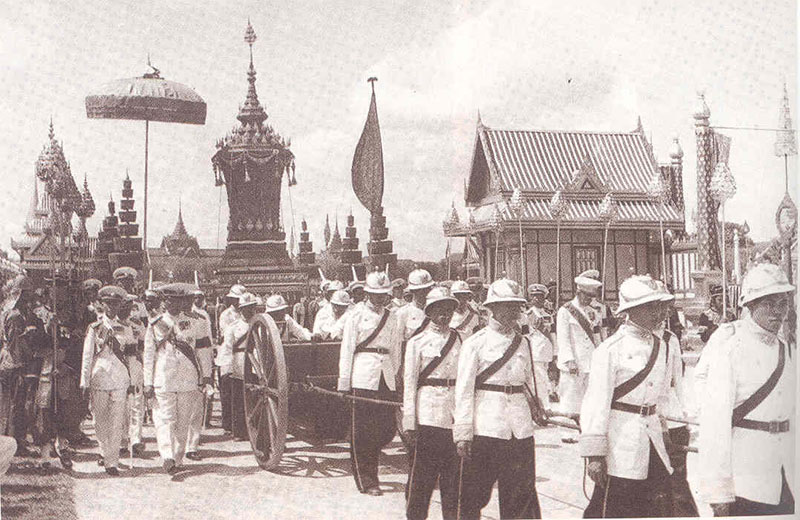 More Accessible, Less Strict
Traditionally commoners were not allowed to enter the Grand Palace to see the royal urn and coffin of a sovereign, according to Thongthong, a 61-year-old former permanent secretary to the Prime Minister's Office. What's more, the public would not be permitted to host Buddhists rites for a dead King. These changes, he stressed, are a sign of time and adaption, though the principles remain intact. Thongthong predicted more changes to come in the coming year pertaining to the rituals for King Bhumibol but didn't go into specifics.
Thongthong noted that King Rama VI, or King Vajiravudh (1910-1925), introduced a number of significant changes upon the death of his father Rama V, or King Chulalongkorn, in 1910.
He allowed commoners in to formally pay respects to Rama V's royal urn, keep their hairstyle and organize Buddhist prayers for the late King.
"This opportunity for commoners to sponsor [Buddhist prayer] had never occurred before," Thongthong said.
Since then, things have only become more participatory, he said, pointing out that an estimated 30,000 people are queuing daily at the palace. The Royal Household Bureau noted a couple days ago that some 700,000 people had passed through.
Rama VI made the change because he thought his father was much loved by his subjects and therefore thought it fitting to allow them closer to his body.
Up through the reign of Rama IV (1851-1868), commoners would only see the urn after it was transported to the funeral pyre for cremation.
Rama VI made another tangible change when he abolished mandated head-shaving to mourn the death of a king. Thongthong said when it was still practiced, commoners in the kingdom's border territories were exempt for fear of alerting Western powers which may take advantage of the situation.
Nonthaporn Yumangmee wrote in 2008's "Royal Funeral Rites" that King Vajiravudh ordered the end of the practice in 1910 upon the death of his father.
"Such mourning practices cause a lot of hardship and should be abolished at once," read a portion of his decree, cited on page 81 of the text.
From White and Black to Black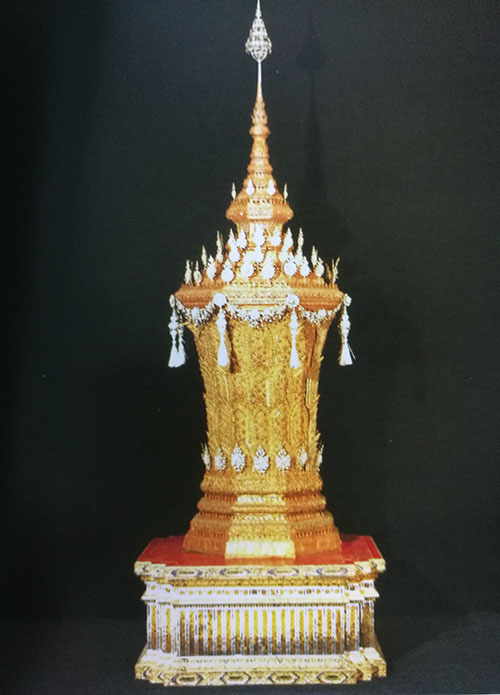 Look in old photographs and find people mourning King Chulalongkorn and other past monarchs almost entirely in white. It was not until after the end of absolute monarchy in 1932 that black gradually became the preferred color of mourning. Thongthong attributed the shift to Field Marshal Plaek Phibunsongkhram, an influential prime minister in office from 1938 to 1944 and again from 1948 to 1957.
Thongthong was unable to pin down the exact year but displayed a photograph of the King Bhumibol wearing a formal white uniform to the funeral of his brother, King Ananda Mahidol or Rama VIII, who died of a gunshot wound to the head in 1946.
In the same book, Nonthaporn noted that it used to be that people would wear white if they were younger than the deceased king and black if they were older. Other colors, including a dark blue and dark purple, were also used in some cases.
Royal Funeral Pyre Used to be Grander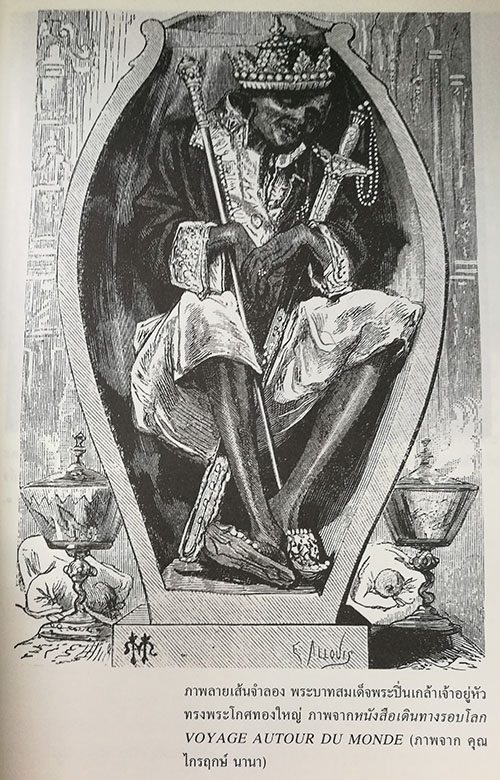 Royal cremation ceremonies are held in the Sanam Luang, which is the primary purpose of the landmark in the capital's old quarter.
Photographs of the funeral pyre for King Rama IV or King Mongkut (1851-1868) show a stupa-like main structure rising 80 meters, about the height of the famous riverside Temple of Dawn, or Wat Arun.
Architecturally, the elaborate complex erected there represents Mount Meru, the mythical and heavenly abode of Hindu Gods considered sacred to Buddhists as well. Both Thongthong and Nonthaporn noted it's a reminder that Thai kings were regarded as semi-divine and would return to heaven after their deaths. Thus the temporary funeral pyre complex was designed to cosmologically represent the gods' heavenly abode.
It was King Chulalongkorn who found the gigantic structure built his father to be over the top. He ordered it scaled down for when he died.
"Rama V said constructing a funeral pyre like during Rama IV's funeral was too wasteful," Thongthong said.
For His Majesty Rama IX
Some in the capacity audience asked about the exact ceremonies to expect when King Bhumibol is cremated next year at Sanam Luang, but Thongthong made it clear he did not know. It was clear the body of His Late Majesty was not placed inside the metal cylindrical container as was customary practice for royals in the olden days.
The last chronicled royal body to be placed inside such a phra lorng, which is then placed inside the royal urn or kot, was that of Her Majesty Queen Rambhai Barni, consort of Rama VII, who died in 1984. Thongthong said the art of placing the royal body inside the metal cylinder remains a highly guarded secret to this day. The practice has not been used in two royal funerals to take place since then.