Top: Typical 'Pim Thai Mai Dai' posts: at left, 'I'm so fat, bitch!' and, at right, junta leader Prayuth Chan-ocha and his No. 2 Gen. Pravit Wongsuwan texting. Photo: Pim Thai Mai Dai / Facebook
Click on those colorful memes mixing Taylor Swift gifs with this minute's hot topic and expect to be confused when it takes you to Pim Thai Mai Dai.
Unless you're a semi-bilingual news junkie – and likely a millennial – in which case you're probably familiar with what has become an indispensable source of lightning-quick reactions to current events and internet dramas du jour.
Pim Thai Mai Dai (Can't Type in Thai) isn't just a random name but the page's main gimmick, which despite being so very Thai, contains no Thai characters.
Behind it all is author-persona "Pimtha Pimthaimaidai," who never breaks character to write every raunchy, rude and hilarious post in phonetic "karaoke Thai," even during an interview.
Pim only agreed to be interviewed anonymously via Facebook.
"Because I have a page, it's more convenient for me if no one knows who I am, sis," she wrote.
Actually what she wrote was:
"Mai saduak interview in person ka, but interview tang this chat dai. Coz tum page bab mai me kon ru wa pen who, sabuy jai kwa ka sis ♥."
"I'll answer everything in karaoke na ka," she wrote.
It's unclear whether the page admin is male or female, but since Pim identifies as female, we'll go with it. Her responses were edited for all the ♥s appearing in every sentence.
Pim may be a knife-sharp parody of the Thaiglish-speaking, international school kids who belong to the internet more than any national identity, but it's all in the name of satirizing current events, celeb scandals and online dramas. Pim is the self-aware, ironic voice of the international Thai millennial.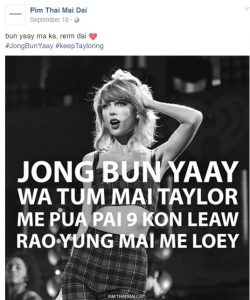 That means one day pairing a #TGIF message flippantly wishing followers a good weekend with a tired-looking junta leader or Bangkok's nightmare Friday traffic.
In two years it's won nearly 150,000 followers, most of whom embrace its conceit and post comments and messages in the same style.
"I started the page because I was annoyed at people using karaoke language, so I wanted to see just how annoying a karaoke-only page could be," Pim wrote.
Pim says she's not just poking fun at at dek nok, those Thai students educated overseas, or the Bangkok international students who struggle to speak Thai.
"I understand that some people are better at using English, so they type like this because it's faster and easier. Others, however, sprinkle in karaoke language in their posts just to seem 'suay lae ruay,' she said, using an ironic phrase literally meaning "pretty and rich."
A lot of Pim's language and content is sexually charged, involving colorful exclamations about genitalia, longings for a lover or pokes at Taylor Swift's love life – often all three.
"Keep Kareeing" is a trademark phrase. Though genuine anglophones might spell the the slang word for whore guhlee rather than karee, here it becomes a verb encouraging people in the same spirit of "Keep Calm and Carry On."
"I think sex or dirty jokes are a normal, everyday thing in Thai society, although some won't admit it," she wrote. "But I think society is becoming more and more open."
One of Pim's most popular posts – a juxtaposition of Steve Jobs with this year's 'Pen Pineapple Apple Pen' craze – shows the page's popularity isn't confined to Thai Netizens.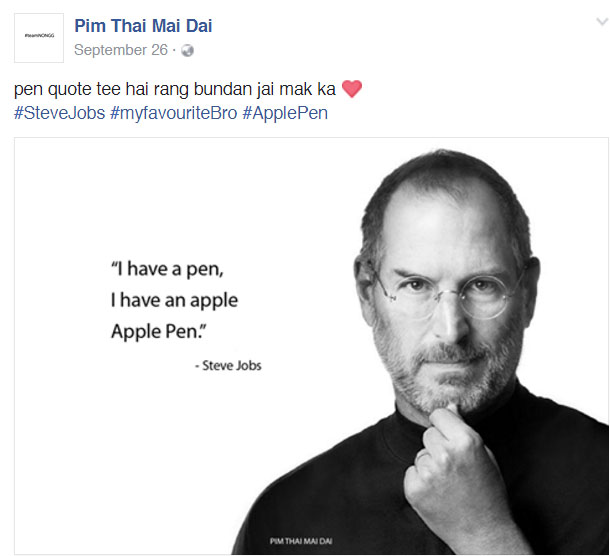 "This post went inter and lots of foreigners viewed it. Even 9GAG copied it," she wrote, ending with one of her favorite exclamations, "hee tad," roughly translated as " Very pussy."
Pim also posts political content – and her views are anything but mainstream. On the 40th anniversary of the Oct. 6, 1976, massacre this year, she posted photos with captions such as "Morning ka, we're Siam, the Land of Smiles #6Oct19 #SpreadGoodVibes #HaveaNiceDay" – a testament to her historical knowledge and tongue-in-cheek humor.
"Politics is something that you can't talk about straightforwardly ka, because people think differently about it," she wrote. "Therefore, before we judge each other, we have to educate ourselves as much as possible. Read a lot of history, and then you'll understand what's what."
So it's not all just for the sake of laughs?
"I want a society where people can think differently but still talk using reason. Thailand will be such a great place to live," she wrote.
PTMD is as much a community, with the barrage of comments often as equally hilarious as Pim is.
"For my followers, I'm something that gives them laughs or munsai," she said, using a word denoting a kind of jealous annoyance. "My followers give back to me too. I love reading everyone's comments. They're so creative! I always laugh at them. Let's smile together for a long time."
Pim says that most foreigners who read her page are ones who want to learn Thai but can't read yet.
"One of my readers with a farang boyfriend kept asking her what 'hee' meant. When he got it, he totally laughed and stuff," she wrote. "They try really hard to read."
"Khaosod English fans, come say hi on Pim Thai Mai Dai, I won't bite," she wrote finally. "I'm so pretty and rich. Keep kareeing everyone, see ya ka."