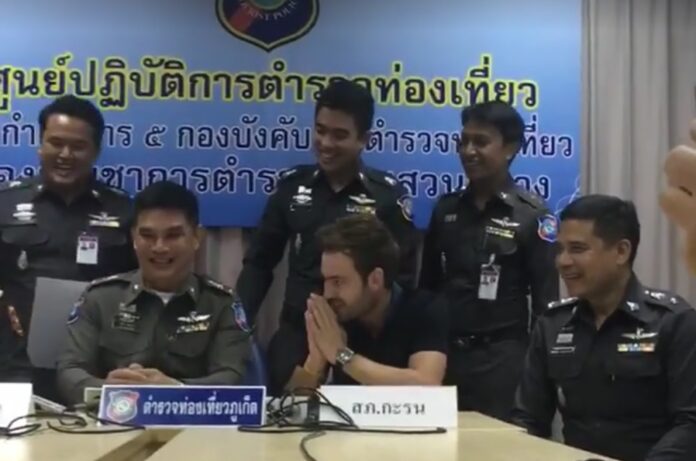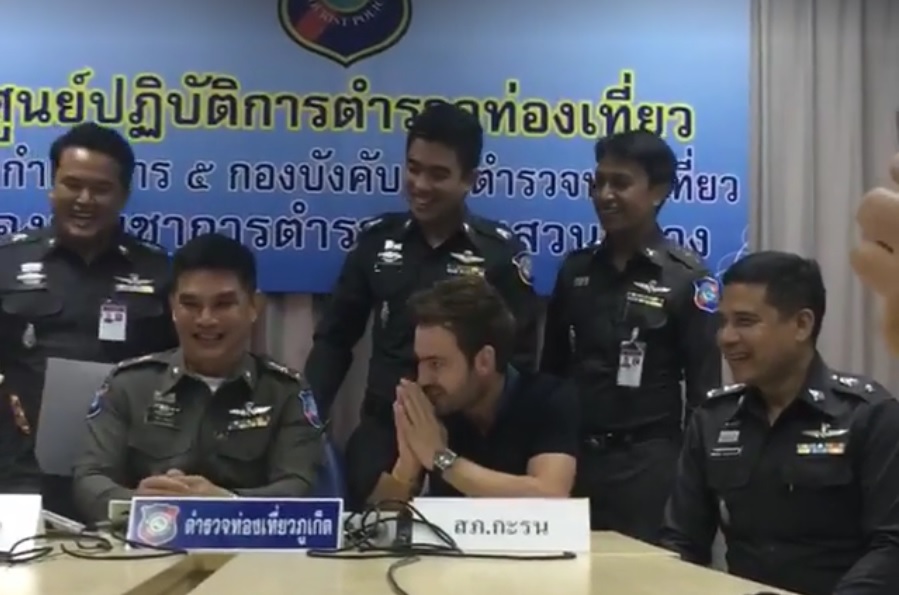 PHUKET — An expat and online personality whose rant about a Phuket tuk-tuk grabbed wide attention was called in by the authorities Monday to deliver a Thai-language mea culpa for getting it wrong.
Jack Brown, a Briton known online as Jack Dekfarang, apologized in front of the press at the Phuket Tourist Police station after authorities said there was nothing wrong with the 200 baht fare he complained about paying to travel one kilometer in a viral video posted Saturday.
"It is the maximum rate which can be bargained down," said an unidentified official from the Phuket Land Transport Office after explaining the fare was approved by provincial authorities.
In the video posted Saturday, Brown documented his two-minute journey to Kata beach for which he was charged 200 baht.
"This is not a farang price, it's for Thais as well," Brown said in the video, speaking in Thai. "I don't understand why the fare is so different from in Bangkok."
Asking social media to help raise the issue, Brown's video was shared more than 4,500 times, prompting Phuket authorities to call him in Monday.
Gouging by abusive taxi drivers ranks high among tourist complaints on Phuket, where transportation, organized crime and graft have been long intertwined.
Phuket Gov. Chamroen Tipayapongtada on Monday said the fare Brown paid was approved in 2013 and therefore not illegal and not something that should be complained about.
After the widely shared video caused massive distress in Phuket's tourism sector, Brown went on tape again Monday before a throng of reporters to publicly apologize to the taxi driver and say he did not mean to defame Phuket tourism.
"I didn't know we could bargain," he said. "I think if taxi fares were cheaper, passengers would use them more, and drivers would have more jobs."
Authorities said they would discuss adjusting the fares with drivers. They said they would also order warning signs installed in four languages for tourists saying that fares must be agreed to in advance.
Related stories:
Axe-Wielding Phuket Taxi Driver Arrested (Video)