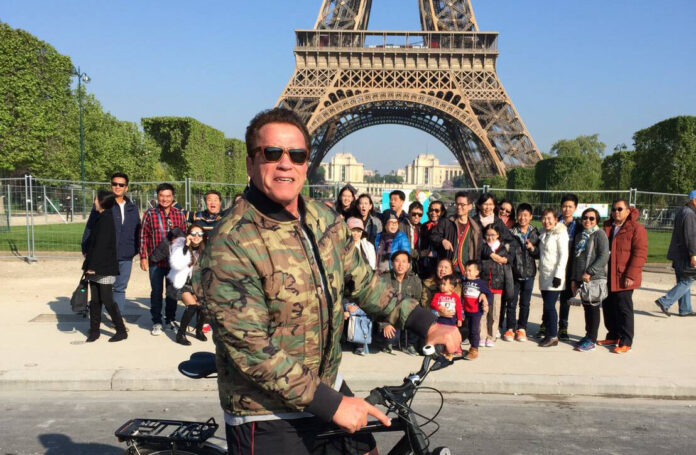 PARIS — A group of Thai tourists were floored when the Terminator himself rolled up on a bicycle to block a group photo in front of the Eiffel Tower, according to a Pantip post posted Tuesday.
Arnold Schwarzenegger himself wheeled in front of a group of Thai tourists who were just about to smile for the camera Tuesday in front of the Eiffel Tower.
"Thank you to the tourists at the Eiffel Tower for letting me crash your photo!" Schwarzenegger wrote Tuesday on Instagram.
Pantip user Y-G2006 wrote that his tour group was about to say "cheese" for a group photo in front of the Eiffel Tower when "a farang rode his bike in front of our shot. I thought to myself, 'Hey, what a badass!'"
He had no idea it was the '80s action star turned politician.
Only when Schwarzenegger biked away and the tour guide yelled, "Arnold!" did everyone in the group express their inner fanboy and fangirl.
The 69-year-old former governor of California was flanked by five or six bodyguards on bicycles and a motorcycle, he wrote.