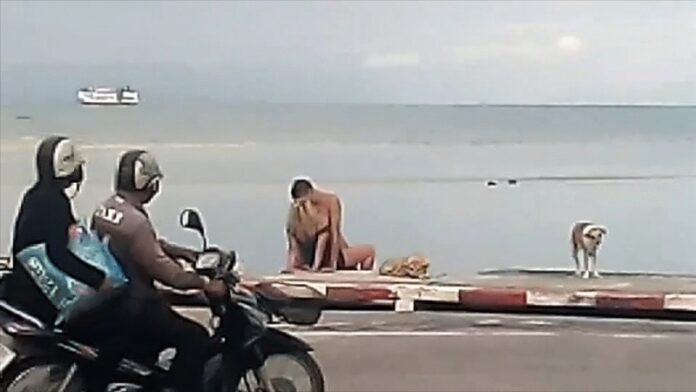 KOH SAMUI — Police said Tuesday they were confident they would file charges against a foreign couple today for engaging in a public sex act along a Koh Samui beach road.
After video capturing the roadside intimacy went viral online Monday, Koh Samui Police Commander said they have identified the man as a Spanish tourist. They expected to bring him in to hear a charge of public obscenity today.
"We will be able to identify the woman once we have him," said police Col. Paithoon Krajajang.
In the video posted to a Samui-related Facebook page, a man and a woman appear to copulate under the morning sun on a public sidewalk as humans and street dogs look on. It was said to have been filmed at about 8:30am at a seaside road at Nathon Beach.
The video drew massive criticism on social media, where many expressed their disgust and urged the police to take action.
It comes two days after another video of a Russian couple engaging in a sex act aboard a Phuket minibus provoked an outpouring of anger. They were found and fined for public obscenity on Sunday.
The Koh Samui police commander said they checked with nearby hotels and were convinced the man in Monday's incident was a Spaniard who had just checked into the Grand Sea View Hotel at midnight the night before.
He was not there when they went to investigate. Police said they found his friend, who had booked the room for the two to share. After talking to his mate, Paithoon said police assumed the man didn't want to bother his friend when he came back with a woman in the morning, so he took her out to the beach instead.
Paithoon said they have the man's name and will wait until he returns to the hotel to take him into custody.
Though many assumed the two were having sex, Paithoon said it was unclear from the video.
"But it was surely public obscenity, which is a misdemeanor," he said. "We will just fine them and explain to them."
The maximum fine for public obscenity is 500 baht.