BANGKOK — Considered a major milestone for many luk thung stage singers, Lumyai Hai Thongkam – the teen singer criticized recently for her sexual dance moves and stage costume – released a music video Tuesday in which she reveled in her status.
In the video she emerges from a van in a very Lumyai, steel-blue bustier and shorts, at which point she is joined by other women from different professions, who are then replaced by women in halter tops, shorts and pink chokers. Much of the video is shot in a standard community market, playing up her modest credentials.
Lumyai does none of the twerking that caught the eye of junta chief Prayuth Chan-ocha in her new video, "Fierce Girl," opting to perform other feats such as bending over backward. At one point, a Prayuth look-alike gives her act a solid thumbs-up.
"These days, I'm so fierce. Look for yourself and compare me to her, who's fiercer? If I'm not fierce enough, don't need to press Love or Like," Lumyai sings confidently in a voice which buzzes at lower-than-usual registers yet remains youthful. "If you check out my Facebook or warp on over to me, you'll see that I've changed."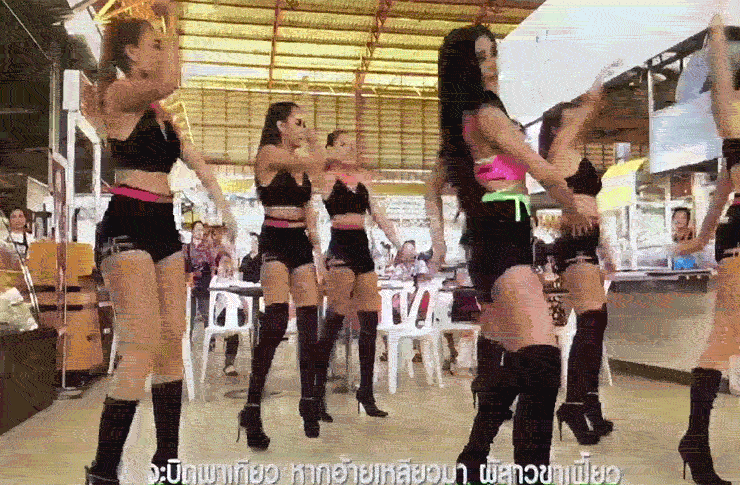 This month Prayuth has repeatedly panned the 18-year-old singer's dance moves for their suggestiveness – especially her "Nine Floors" routine in which she twerks upward from the ground nine times – blaming "farang influence." Such was was the magnitude of the general's frustration, that police were sent to her concerts to demand she cover up and insure she only twerked three times as promised – as opposed to nine.
Read: LumyaiGate: Teen's Golden Hot Pants Overheat Culture Wars
Catalyzed by the prime minister's preoccupation with her signature gold hot pants, people discussed, debated and defended Lumyai and Prayuth's criticism online and off in the continuing conflict over who gets to define the culture. While critics described her as cultural "trash" and damaging to "Thainess," fans kept watching her "Party Girl" video until it hit 251 million views on YouTube.
Lumyai Hai Thongkam, whose real name is Supansa Wetkama, grew up in a poor family who immigrated from Roi Et province to Bangkok. She started singing in the fourth grade, enrolled into the Salaya Performing Arts school after sixth grade and started working as a luk thung singer to support her family before she was discovered by her current manager, Prachakchai Navarat, owner of Hai Thongkam Records.
Related stories:
LumyaiGate: Teen's Golden Hot Pants Overheat Culture Wars
Police Sent to Cover Up Teen Country Singer 'Lumyai'
Prayuth Criticizes Teen Singer's Sexy Dancing, Blames Farangs