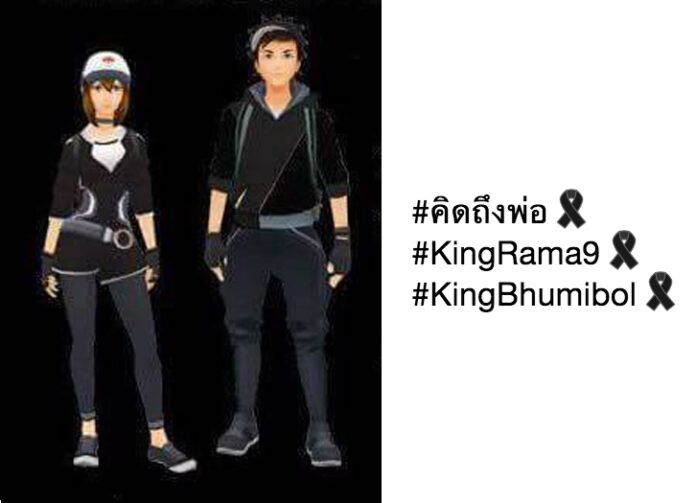 While state or organization-sanctioned merit-making rituals bloom across the country, regular folks and netizens on Friday found other ways to mourn King Bhumibol on the first anniversary of his passing, from mass nun ordinations and Twitter emojis to an organized attempt to turn Pokemon Go gyms yellow.
89 Seconds of Silence
On the anniversary of Rama IX's death Friday, an image was being passed around on the nation's most popular messaging app Line asking for people to stand for 89 seconds of silence in the afternoon starting from 3:52pm, or the late king's time of death at Siriraj Hospital.
Rama IX, who died at 88, would have been 89 in December.
Twitter
The top three trending hashtags on the anniversary of King Bhumibol's death were #MissingDad, #KingBhumibol and #SendingHeartstotheSkytoMournFather, with users tweeting photos of Rama IX. Twitter automatically adds a black ribbon emoji to tweets tagged #MissingDad, #KingBhumibol and #KingRama9.
Time we cannot suspend. You'll be ever and ever, still on my mind #คิดถึงพ่อ pic.twitter.com/4Lf1pnzo4A

— P p 🌱 (@pungpinkk) October 13, 2017
One year so fast, always beloved king #คิดถึงพ่อ #KingBhumibhol pic.twitter.com/15G50FM0ev

— FARO_SMILES (@FARO_SMILES) October 12, 2017
Pokemon Go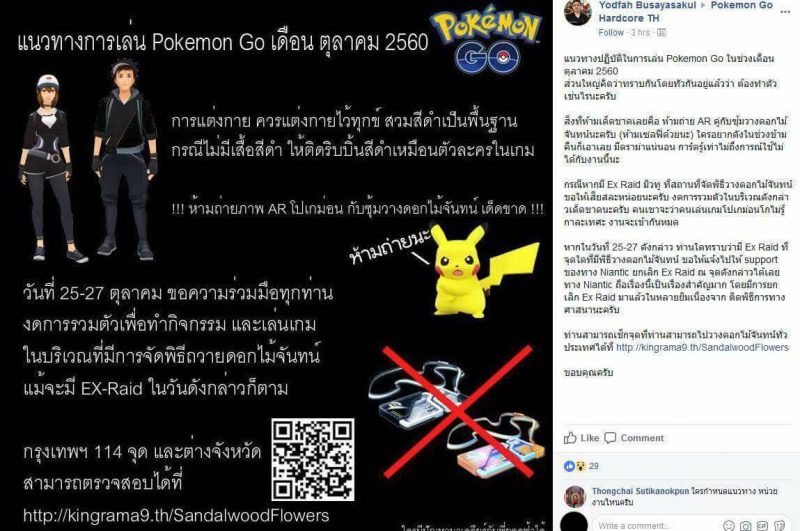 In Rayong, Pokemon Go-heads were coordinating efforts to turn local "gyms" – or hotspots where players can battle other players – yellow while wearing black on their in-game avatars.
On the Pokemon Go TH Facebook page, user Saruth Lifepartner posted Friday asking players in Rayong to turn local gyms yellow on Oct. 13 and Oct. 26, the cremation date.
There are three teams a player can join in Pokemon Go. When a team wins a gym, the gym turns that team's color. Yellow is King Bhumibol's color – as well as Team Instinct's color.
Earlier in October, user Yodfah Busayasakul posted in the closed group Pokemon Go Hardcore TH telling players how to mourn in-game: wear black on their avatars, refrain from taking pictures of Pokemon next to mourning sites and refrain from gathering with other players from Oct. 25 to 27.
Mass Nun Ordination in Bangkok
On Friday morning, 239 nuns including soap actress Panita Tumwattana, participated in a mass ordination at the Sathira Dhammasathan Buddhist meditation center. The event originally called for 199 women to ordain themselves and make merit for the past king.
Related stories:
Where Were You? Thais, Expats Recall the Death of a King
#KingBhumibol, #Crematorium Reign Online as Mourning Month Gets Underway