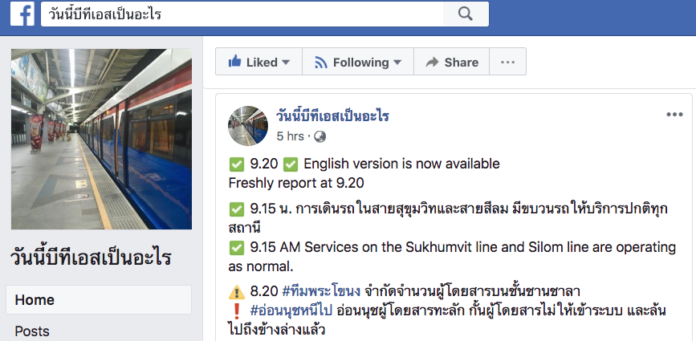 BANGKOK — Rage-tweeting at the official BTS Skytrain Twitter for information every time the trains break down gets old. Now there's a Facebook page for it.
What's Wrong With the BTS Today offers reports and updates on BTS breakdowns, which as of Thursday, is also available in English.
"BTS public relations don't do their job like they should, so I started this page to inform people of BTS news and situations and give travel advice," wrote the page admin in a message and declined to be identified.
The page, which launched Sunday, has already gained more than 21,000 followers.
It contains frequent updates on situations at various BTS stations. For example, when the system suffered another breakdown early Tuesday evening, the page posted updates about commuters at an overcrowded BTS Asok were barred from entering the connected MRT subway system, as well as which escalators were out of service. The page also posted alternate travel recommendations using other MRT stations and public buses.
The updates come directly from commuters sending messages to the page from the field.
The admin said he personally likes and relies on the rail system which has suffered near-daily breakdowns since Friday.
Related stories:
BTS to be Fined 1.8M Baht for Failures
Broken Again, BTS Told to Compensate Commuters