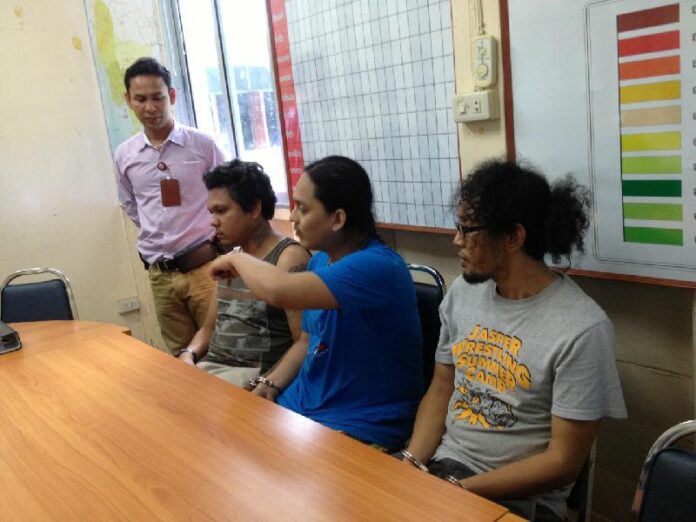 (31 July) An American
tourist was stabbed dead while his son was critically injured after they reportedly got in fight
with a group of bar musicians on a popular beach in Krabi province.
The incident happened
shortly after midnight on Ao Nang Beach, near a bar called Longhor Saloon. The dead man was
identified as Mr. Bobby Carter, 51, originally from Texas. Police said the injured man is Mr. Adam
Carter, 27.
Mr. Ratikorn Romintr, 27, and his two band mates, Mr. Sathit Somsa, 40 and Mr. Nopnan
Yoddecha, 26, were later arrested.
Witnesses told police the 2 Americans were visiting
Longhor Saloon bar before the incident. The older Mr. Carter reportedly joined the live band
on stage, but refused to get off the stage when the band asked them to, resulting in a loud argument
between him and the band.
The band then left the stage and went outside, police said, and Mr.
Carter and his son followed them. The group had another heated argument before Mr. Ratikorn grabbed
a sharp metal stick from the ground and plunged it into Mr. Carter′s body, according to the
police.
Mr. Ratikorn also allegedly beat Mr. Carter′s son with the same metal
stick.
The 3 suspects confessed to their crimes, but insisted that they had been enraged by
the 2 tourists.
The police charged them for manslaughter and causing harm to others. Mr.
Satit is also charged for carrying a weapon without any appropriate reason, after police found a
handgun among his belongings.
Ao Nang is dotted with bars and nightclubs, which were
subjects of complaints about late opening and loud noise from some locals. Police also receive
reports about attacks or other crimes on tourists in the area from time to time.