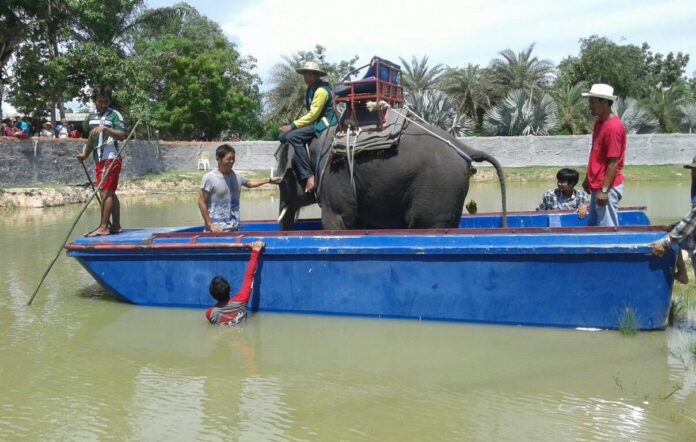 PATTAYA — A tycoon whose business involves pushing boatloads of tourists into a pond full of hungry crocodiles issued a hearty challenge Friday to those safety-obsessed naysayers on the internet.
If they come to his attraction and can make the raft sink within five minutes, he will hand over 5 million baht. If it doesn't, they must publicize the fact online – and accept a free year's membership to the attraction.
"They're only good at writing, tapping on keyboards and criticizing me," said Uthane Yangpraphakorn, owner of the Elephant Kingdom theme park near Pattaya. "That is not fair. They only use their fingers. I want them to come here and exercise their judgment for themselves!"
Chinese Tourists Tempt Fate For Crocodile-Baiting Fun
He issued his challenge after he personally demonstrated his raft's robustness by unloading 40 rounds from a handgun into it, only half of which passed all the way through. He also loaded a small but heavy elephant onto the raft and had members of his staff beat it (the raft) with metal pipes to simulate a crocodile attack.
'If you …  can sink my raft in five minutes, you get the money!'
Uthane said he made the dare to prove his crocodile-feeding adventure is safe, and authorities were wrong to order it shut down Sunday after videos of Chinese tourists hooting and hollering over frenzied croc feeding sessions went viral online.
According to Uthane, when officials from the Fishery Department inspected the site Thursday, he clearly demonstrated to them that his raft can carry 24 people, many more than its officially registered limit of 15 people.
Uthane's family owns two other crocodile farms, including one in Samut Prakan where a trainer nearly died after being chomped in the head during a 2013 show.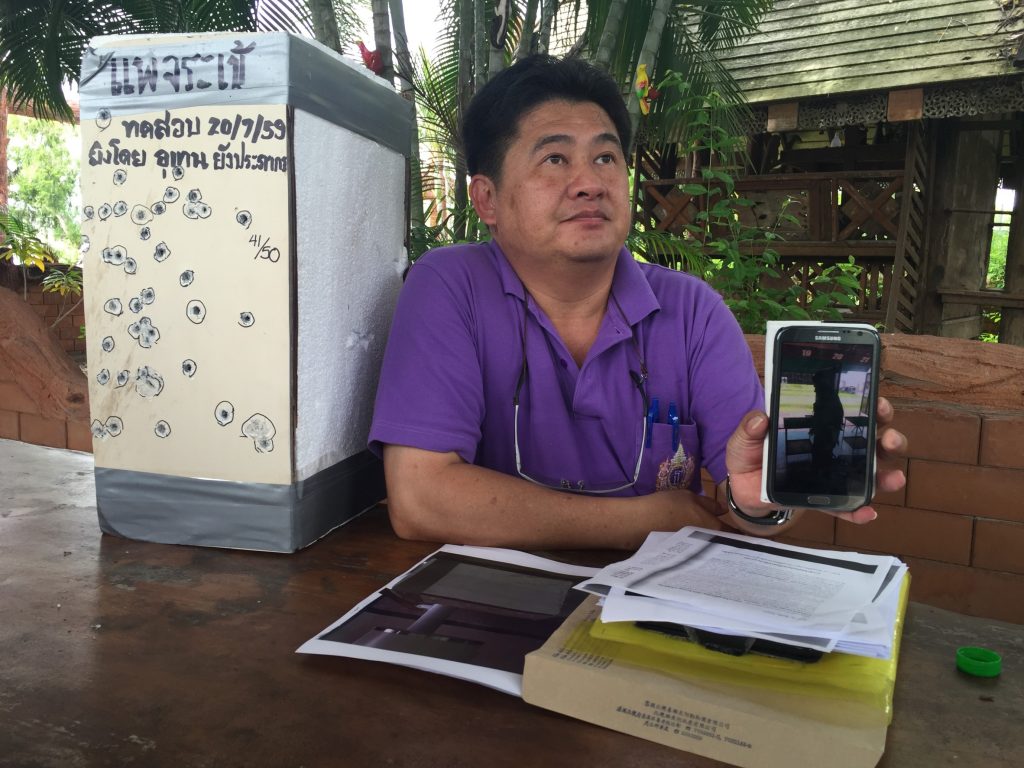 He doesn't expect internet critics to be convinced by his photos, so he wanted them to test it themselves.
"If you get together in a group of 17 people and can sink my raft in five minutes, you get the money!" Uthane said. "But if you cannot, you have to accept that it's safe, and if you're a real man, you should correct the news. That's all I want. By the dignity of mankind, I ask you, if you prove that it's safe, publish the results on your Instagram. That's all I ask."
Fight to Get License Back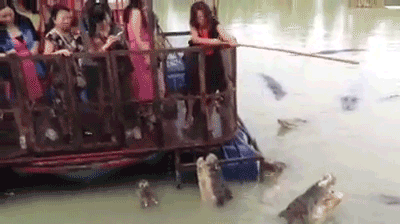 Although the crocodile attraction at Elephant Kingdom had operated many years – 12, according to Uthane – the authorities only moved to suspend its operating license and review safety standards on Sunday after the images went viral.
Rewat Kongpradit, an official from the Fishery Department, said Thursday that he had instructed Uthane to submit detailed safety protocols, such as age restrictions, staff training, and the engineering specifications of the raft.
'By the dignity of mankind, I ask you, if you prove that it's safe, publish the results on your Instagram'
"All of these must be compiled, in order to be submitted to the director-general of the Fishery Department for consideration," Rewat said.
Uthane said he would submit the documents by Monday, and he hopes it will be enough for the officials to restore his license.
The tycoon said he got the crocodiles from his father many years ago, so he came up with the idea of turning a profit from them. Uthane said all of the reptiles are properly licensed.
"So I had a pond full of elderly crocodiles, but I thought I could turn it into tourism, let the tourists feed them for us," Uthane said. "We are a private company. We aren't an NGO. We don't get any donations. We have to do business!"