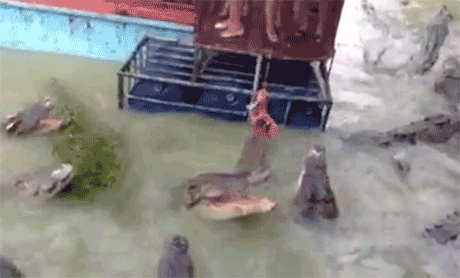 PATTAYA — Apart from ziplining at break-neck speed and riding trample-prone giants, here comes another tourist attraction to savagely tear at safety conventions.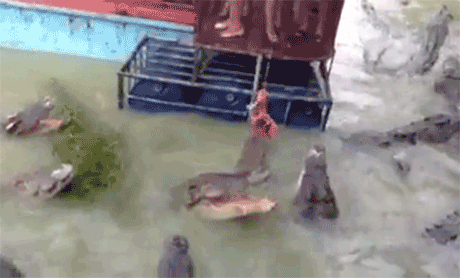 At Elephant Kingdom near the coastal enclave of Pattaya, guests are loaded onto rafts without safety vests and pushed into a pond full of hungry crocodiles, who are best placated by hurling dead chickens to.
Photos of water churning with enormous, toothy jaws snapping at Chinese tourists floating on bamboo rafts went viral this week, drawing attention to an attraction that has reportedly been in business several years.
This led officials to express words of concern.
"The owner has to take care of safety, but tourists should exercise caution," said Suladda Sarutilavan, a local tourism official. "They should ask themselves, are they willing to take that kind of risk?"
Not even her organization, the Tourism Authority of Thailand, is interested in promoting the place.
"We have a policy not to promote a venue with such high risk," Suladda said.
เห็นข่าวเลยไปหามา ช็อค!ใครชอบความตื่นเต้นก็ลองไปนะคะอาณาจักรช้าง พัทยา เที่ยวทั่วไทยไม่ไปไม่รู้ แต่ที่นี่พี่คงไม่ไป pic.twitter.com/ikFIwOPP42

— ❤️ของแบม (@janjiaaa) July 14, 2016
No one picked up the phone Friday at Elephant Kingdom, but owner Uthane Yangpraphakorn, has said the venue is perfectly safe.
"There has never been any danger," Uthane told Spring News. "In the past, many TV programs did shows about us, but it only became big news after the photos went on social media."
Chakorn Kanjawattana, district chief of Banglamung, said in the same report that officials are investigating whether Elephant Kingdom complies with relevant safety regulations.
Adventure-style tourism sector suffers from a lack of oversight and occasional accidents.
A spate of injuries and deaths involving zipline stations in Chiang Mai last year revealed there are no specific licenses or safety regulations required of those attractions.
Related stories:
Chinese Tourist Falls to Death From Zip Line in Chiang Mai
Police Charge Employees in Zipline Tourist Death
Elephant Kills Longtime Mahout at Chiang Mai Zoo