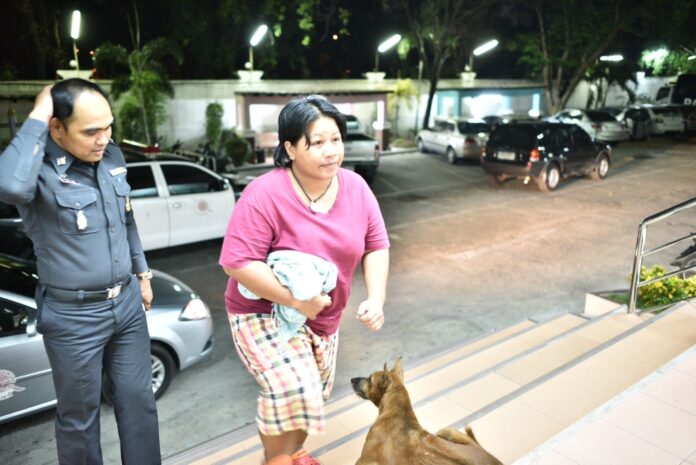 UPDATE: The military prosecutors agree to postpone indictment of Patnaree Chankij to Aug. 1
BANGKOK — Military court prosecutors Friday moved to indict a 40-year-old woman on a charge of royal defamation, despite a recent recommendation by police the case be dropped.
The decision means Patnaree Chankij, the mother of a high-profile activist and junta critic, will be tried by a military tribunal for not admonishing another party who sent allegedly offensive remarks about the the Royal Family through private chat.
Read: Activist's Mother Defamed Monarchy With Her Silence, Police Say
"I just learned about this today," said Arnon Nampha, a lawyer representing Patnaree, the mother of Sirawith Seritiwat, an activist whose criticism of the military regime persists despite several charges filed against him.
The decision came one week after investigators said no charges should be filed.
Arnon said the indictment meant Patnaree will have to go through a bail hearing at which the military judges may order her jailed to await trial. If found guilty, she faces up to 15 years in prison.
"I am trying to contact someone to post bail for her, but right now it's still really chaotic," said Arnon, who's also an activist in the same group with Patnaree's son. "We just knew about this just this morning."
Her prosecution comes two weeks before a public referendum on a new constitution written by junta-selected drafters is held. The regime has aggressively attempted to suppress criticism of its controversial charter, and Patnaree's son has openly campaigned against it in defiance.
Arnon said he was surprised military prosecutors took up the case even though police investigators already recommended no indictment in a July 14 order signed by national police chief Chakthip Chaijinda.
"It's possible under the law that sometimes the prosecutor disagree with the police, but usually prosecutors will agree," the lawyer said.
On May 6, Patnaree was arrested and charged with insulting the monarchy, a crime also known as lese majeste.
In the police report of Patnaree's arrest, which was later circulated online, investigators said she didn't raise any objection when someone sent critical remarks about the Royal Family to her over Facebook chat. Instead, police said, she responded with the word "jaa," an acknowledgment similar to "uh-huh."
Patnaree's case marked a new precedent of what's considered offensive to the monarchy under the military government, which has zealously prosecuted lese majeste cases since its royalist generals seized power in the May 2014 coup.
Related stories:
Activist's Mother Catapulted into Political Fame and Fray
Wife of Foreign Critic of Monarchy Held Incommunicado
Military Denies Knowledge of Missing Anti-Monarchy Dissident