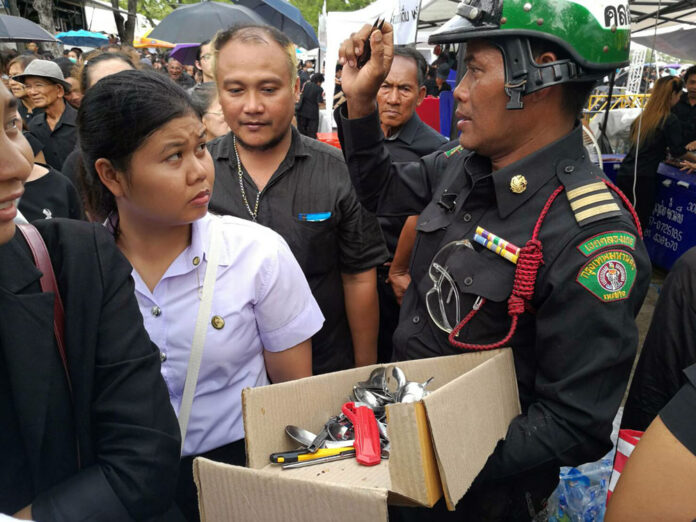 BANGKOK — To describe the lines outside the Grand Palace on Saturday as very long would be an understatement.
In four rows, lines of mourners waiting to be among the first 10,000 allowed in to pay their respects snaked naga-like outside.
The lucky ones would wait just eight or nine hours before being ushered with 99 others into the Grand Palace's Dusit Maha Prasat Throne Hall to spend two to three minutes with the royal urn and coffin of King Bhumibol, who died Oct. 13 at 88.
Read: The Resting Place of Flowers for King Bhumibol (Photos)
Suratchada Phuengphaophan, a 43-year-old office worker, and her friend Tunyaporn Teerateekanuwong, a banker, looked close to fainting.
"We're not going to quit," said a visibly frail Suratchada, who had arrived at 5am to the Sanam Luang and by 1pm had spent eight hours exposed to the sun.
Still, as they sniffed herbal inhalers and squatted, they admitted the line ahead was just daunting. They hoped to make it in before the throne hall closed at 9pm but could not be sure.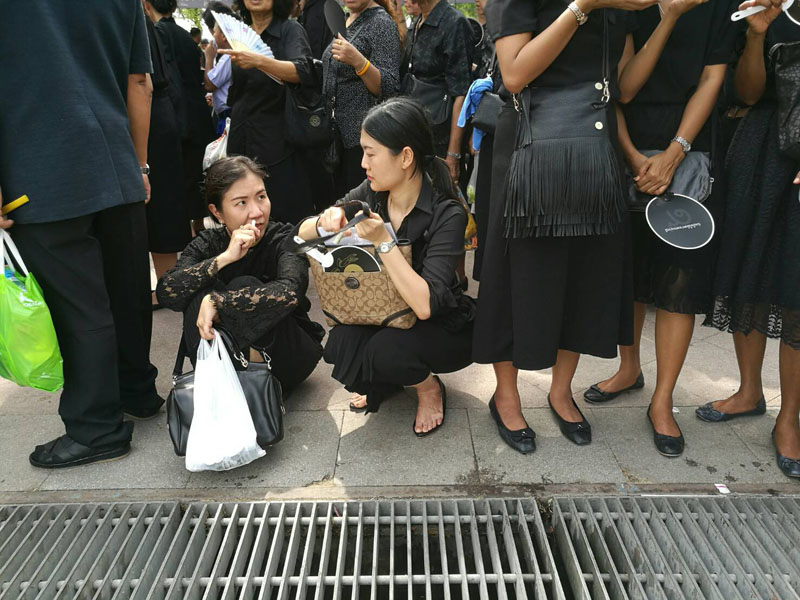 A plan to hand out tickets was abandoned early in the morning as officials decided the logistics of it became too complicated.
Tunyaporn said that as the late King had worked tirelessly for the people, she would't give up.
"I didn't expect it to be this long, however," she said.
Surachada complained some were cutting in line and hoped it would be better organized in the future.
Things were generally better organized two weeks after the passing of the King. Siam Cement Group constructed clean toilets with wash basins and soap for not just men and women but for people with disabilities as well.
Security was tight with knives, cutters and even metal eating utensils such as forks confiscated.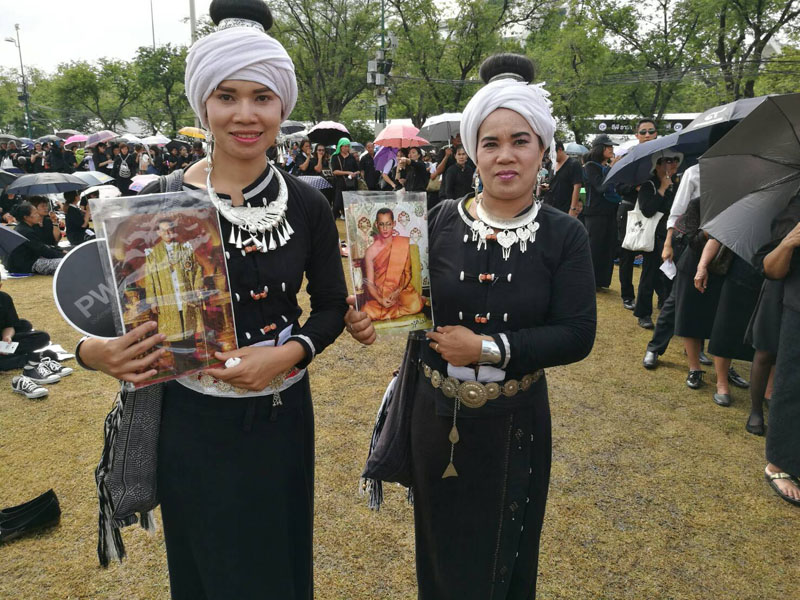 Free food, drinks and medical booths including psychiatrists were available and more permanently situated in various booths, including one run by soldiers serving directly under the heir apparent, Crown Prince Vajiralongkorn.
But this was the first day commoners could pay their respects inside the throne hall, where the royal urn and coffin are kept. No officers seemed to know if all those waiting in line would get a chance to enter the palace by 9pm.
Seated near the Wiset Chaisri Gate on the northwest side of the palace, a female military officer reminded the 100-strong mourners entering that no pictures were allowed inside and woman wearing trousers, even if black, would not be allowed in.
By 2pm, another officer predicted many would not make it inside.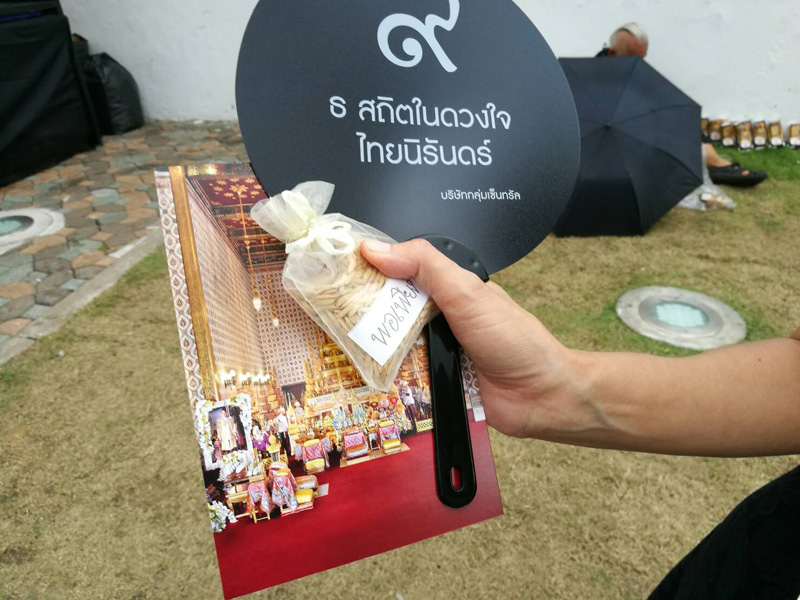 Over at the Thewa Bhirom Gate, Naripat Kiewthon emerged from the palace with her four family members. She queued at 4am.
"It was worth it," said the woman, as she showed a tiny plastic envelope containing a commemorative grains of unhusked rice given to each mourner as a memento.    
It was just before 4pm when rain began to patter lightly, but none appeared ready to give up. The line was long. Yet some said they would just come back if they didn't make it in today.
Related stories:
Dozens of Roads Closed This Weekend Around Grand Palace
King's Death Left 'Hole in Heart' of Loyalist Critic Sulak