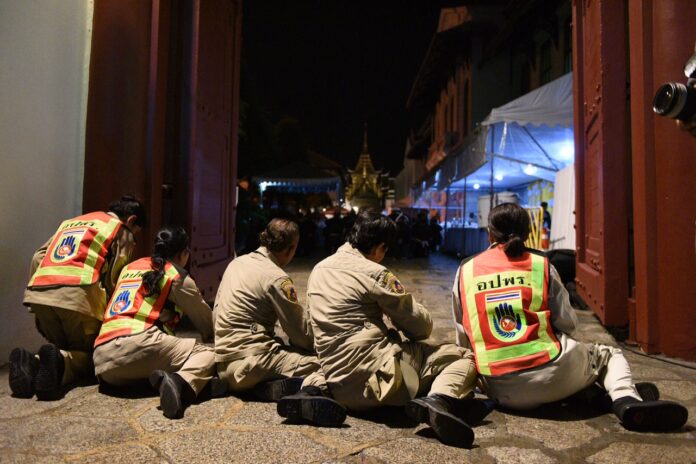 BANGKOK — The final group of public mourners bid farewell to His Majesty the Late King Bhumibol early Friday morning and the Grand Palace closed its door to prepare for his funeral.
Officials say there were 12 million visits to the late monarch, who was lying in state at the palace for nearly a full year since his death at 88 on Oct. 13. He will be cremated in a complex series of ancient rituals on the grounds of the Sanam Luang in less than three weeks.
The ceremony will be rehearsed Saturday, requiring roads around the Sanam Luang to be closed.
After two days of lines that snaked at one point all the way to Democracy Monument – some two kilometers away – the last group of mourners was admitted to the palace just before 2am on Friday. The palace initially planned to close its doors by midnight.
Five rescue volunteers were the very last to pay tribute to the late king, who ruled the country for more than seven decades. One of them, Mahassajak Sodee, told reporters he dedicated his work to the king's memory.
Officials said 882 million baht has been donated to the royal household by mourners throughout the year.
King Bhumibol is set to undergo a royal cremation ceremony on Oct. 26, which has been also declared a national holiday.
Police said 13 roads will be closed from 10 pm on Friday to midnight on Saturday for rehearsal of the funeral procession.
They include Ratchadamnoen Avenue and Lak Muang, Kalayana Maitri, Charoen Krung, Phra Pipit, Thaiwang, Maha Rat, Phra Chan, Setthakan, Chetupon, Phraya Petch, Na Phra Lan, Na Phra That, Rajini, Phra Athit and Saranrom roads.