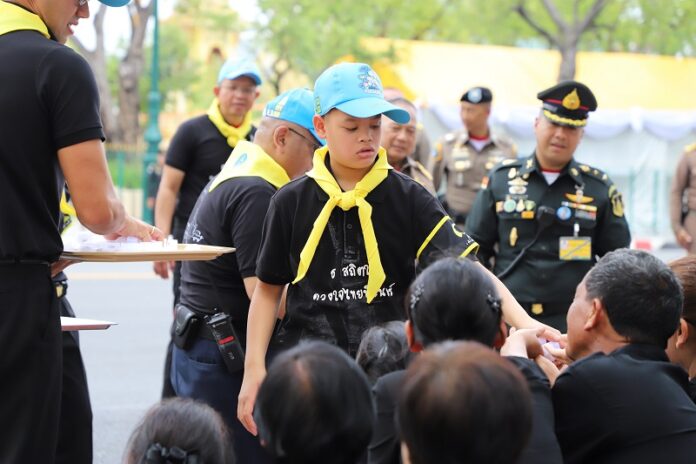 BANGKOK — Mourners waiting inside the royal cremation grounds Wednesday morning were treated to a surprise when Prince Dipangkorn Rasmijoti appeared to hand out supplies.
Dressed in a volunteer uniform, the 12-year-old son of King Vajiralongkorn distributed water, snacks and inhalers to people waiting in front of the City Pillar Shrine for Thursday's processions. It was the prince's first public appearance since he came from Germany to attend the cremation of his grandfather, King Bhumibol.
The prince walked past the Supreme Court building before entering the Sanam Luang to see the crematorium.
Prior to that, Prince Dipangkorn worked as a volunteer at Wat Ratchabophit where the royal cemetery is located, as he reportedly vowed to contribute upon his return to the kingdom.
A video given by the king to press on Sept. 4 previously showed footage of Prince Dipangkorn making merit and doing volunteer work at a Thai temple in Germany during his days off from school.
"I will do the same when I return to Thailand," read a slide shown in the clip.