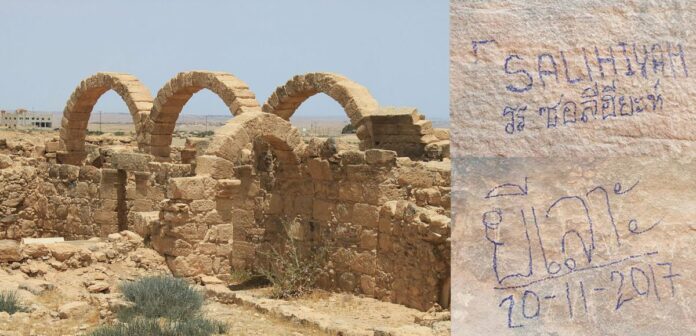 MADABA, Jordan — A Thai high school made its mark on an ancient historical site in Jordan, inviting an outpouring of shame that prompted the principal to return to the scene to erase the graffiti.
Students of Salihiyah School in Pattani province on a field trip to Jordan on Thursday erased the graffiti they – or maybe their principal and other adults – left scrawled on walls of the 1,500-year-old Umm ar-Rasas, a UNESCO Heritage Site in central Jordan, after a historian posted photos of the handiwork.
"At the site of prehistoric artifacts over 2,000 years old, just one day before I arrived, people of some unknown nation wrote some messages on the walls," Paothong Thongchua, a former Thammasat University historian, wrote sarcastically of the Thai-language graffiti. "The Jordanian authorities have asked the people who wrote them to erase them. Otherwise, Thailand and that school will be shamed, and the whole world will know that Thailand does not raise quality citizens."
In response to being called out by Paothong, the director of the school located in Khok Pho district reported taking action, but played down the seriousness and blamed the internet.
"The area that the students wrote on was outside of the historical site's gate. There were messages written by other people in many other languages too," Abdullah Yeelaw, director of Salihiyah School reportedly said by phone to the director of the Pattani Private Schools Association. "After we erased it, we told the Jordanian authorities, so it's all done and over with. The online world just blew this out of proportion. Anyway, I'd still like to apologize."
Abdullah's name, as well as that of the school, are clearly visible among the graffiti, which is dated Monday.
Paothong's post led netizens to berate the school on its Facebook page, which as of Friday has been deactivated. Some commentators said that the vandals may have been their supervisors or a graduate since the students were visiting an olive oil factory that day.
"How embarrassing," wrote Facebook commenter Juroon Chaisathan. "I bet the walls in your school's bathroom are just as messy."
Abdullah said that he and his party erased the messages on the rocks as of Thursday but blamed his students rather than himself.
Members of the Salihhiyah School students were on a field trip to Jordan to visit historical sites and alumni.