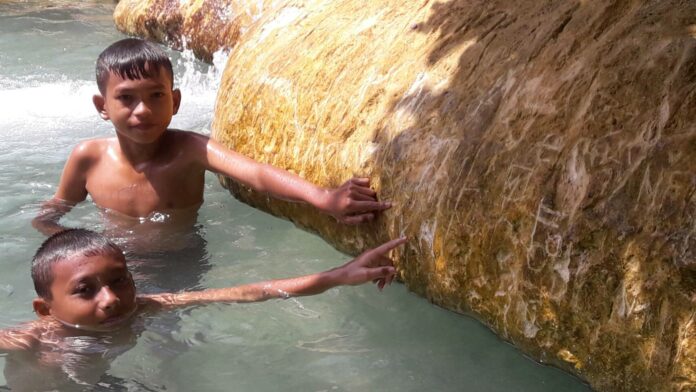 KRABI — Another natural attraction in the southern province of Krabi has been found defiled, leading local officials to vow stepped up surveillance.
The limestone rim of Emerald Pool, a natural swimming spot located in a wildlife reserve, was found to be gouged with graffiti consisting of letters, random shapes and visitors' names.
"It's a shame and very depressing. This kind of thing should've never happened at all," said Wuttipong Chusangrat, head of the Khaopra-Bangkhram Wildlife Sanctuary, expressing his disappointment.
Wuttipong acknowledged that the sheer number of tourists has overwhelmed their capacity to protect the pool. He has ordered officers to step up surveillance and make clear that such vandalism is unacceptable.
"If we catch someone the first time, we will issue a warning, make a record and expel them from the area. If we find someone has repeatedly committed the offense, we will press charges against them accordingly."
The damage will fade over time if people can be prevented from leaving further "mementos" of their visits, Wuttipong added.
It's peak season in the south, where 1.89 million tourists poured into Krabi from April to June last year, according to the tourism ministry.
Last month, park officials announced they would close popular attraction Maya Bay on Ko Phi Phi Leh to all visitors for four months annually to allow its battered ecology to recover.
Related stories:
'The Beach' Beach on Phi Phi Leh Gets Vacation From Tourists