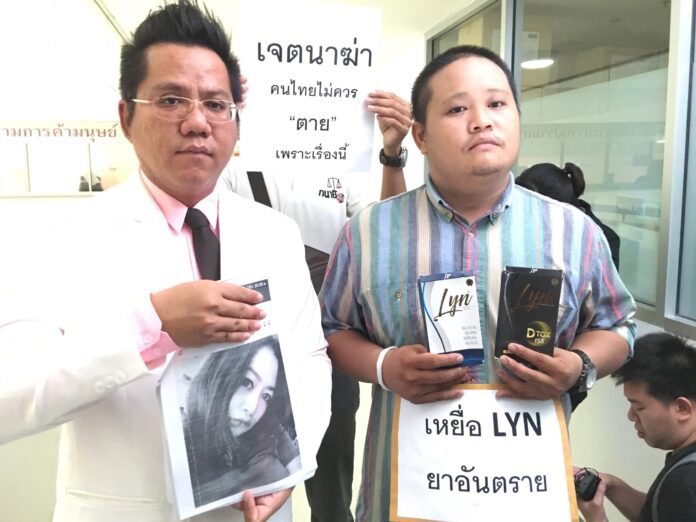 BANGKOK — A bereaved brother who lost his sister to deadly diet pills is suing, while an exec of another unapproved food supplement company ditched his car at a massage parlor a day after police declared they would seize "Magic Skin" executives' assets on Thursday.
Wuttikorn Mhon-ing, 30, filed a complaint to Consumer Protection Police Thursday after the his older sister, Pimlawan Mhon-ing, 31, died March 28 due to using the diet pills suspected in several deaths. Soon after, their mother died April 3, which their family is blaming in grief.
Wuttikorn also said a Lyn representative who refused to identify themselves offered him 1 million baht in compensation but did not send him any money during the funerals for his mother and sister.
"This is a life. You can't determine how much it's worth. I want society to know that the company must be responsible for this," Wuttikorn said.
A bank teller in Kanchanaburi, Pimlawan died from heart failure due to sibutramine hydrochloride, a widely banned appetite suppressant found in the Lyn pills definitively linked to two deaths, according to an autopsy from Ratchaburi Hospital.
"My mom broke down. She couldn't sleep. I told her to rest and I would go back to see her. I wasn't in time," Wuttikorn said.
Wuttikorn was accompanied by Ronnarong Kaewpetch, a lawyer from the Network of Campaigning for Justice. Together they submitted a complaint to police Col. Paitun Phoonsawat. The bereaved brother said he would also work on helping relatives of other Lyn victims file criminal cases.
Police have already shut down Lyn factories and seized the pills from the market, Paitun said.
Lyn isn't the only dangerous item on the market: Magic Skin diet supplement products have affected thousands due to their fake FDAs and celebrity endorsements, which police have already summoned dozens in for questioning.
Thursday, police examined a car supposedly left by a Magic Skin exec in a massage parlor a day after police declared they would seize the assets of company owner Wannapha Phuangson and her husband Kon Phuangson. The pair own 30 cars totalling 68 million baht.
Tongpol Sangiamsak, a security guard at Chao Phraya 3 massage parlor on Arun Amarin Road reported a parked luxury car to police on Thursday after someone left the car with the keys and ownership documentation in the car early Thursday morning.
Police Lt. Gen. Weerachai Songmetta said that according to police investigation, the car belongs to Apiwat Pongpattanakul, one of the seven who have been summoned by police for being involved in Magic Skin. Apiwat is a director of POS Cosmetics in Samut Sakhon, a company that police raided this past April 24.
"We will investigate why Wannapha and Kon's car is in Apiwat's possession, and who parked the car here," Weerachai said. "I suspect Apiwat was afraid of being liable for money laundering so he left his car here."
In the car police also found his name cards, Magic Skin serum samples and three bank account books that show that he has millions of baht in circulation.
On Tuesday, "Dokjik v.3" page posted a clip of Wannapha showing off her home's luxurious home theater, luxury bags worth 300 million baht, jacuzzi, sauna, Chanel and Hermes accessories and luxury watches from Pathe and Rolex, which Wannapha said were worth 30 million baht.
"This is what the life of a salesperson is like," the camerawoman can be heard saying in the clip supposedly used to attract distributors to Magic Skin. "This is the home that everyone wants."
Wednesday, police also summoned the next set of celebrities for hawking Magic Skin products: Sririta "Rita" Jensen, Phuphoom "Ken" Pongpanu, Esther Supreeleela, Cheranut "Namcha" Yusanonda, Kaneungnich Jaksamithanon and Nissamanee Lertworapong.
Although other products in the market may not be as deadly or averse as Lyn or Magic Skin, celebrities who hawk such products are still in hot water for peddling products that do less than their advertised.
One of the most popular actresses Ranee "Bella" Campen accompanied by Virakarn "Maprang" Seneetantikul turned themselves into police to give testimony for false advertising for their food supplement brand "Be Curve" Wednesday, to much media fanfare.
Bella's appearance in the ads for "Be Curve" – a drink powder advertised with the tagline "Brew and get slim" – are liable for false advertising but have been tested and found not to have harmful substances, police said.
"I did take photos for that ad. But after that, it was in the power of Maprang's company to continue to do the marketing for it, and forward the ads to redistributors," Bella said.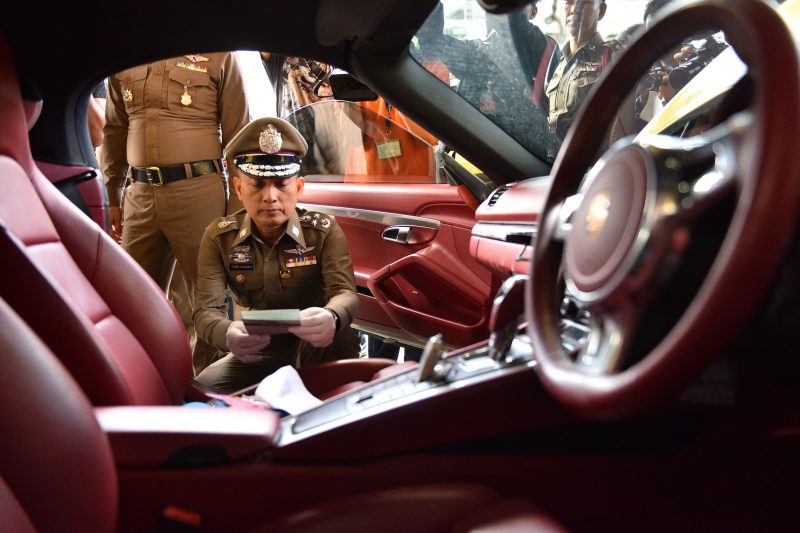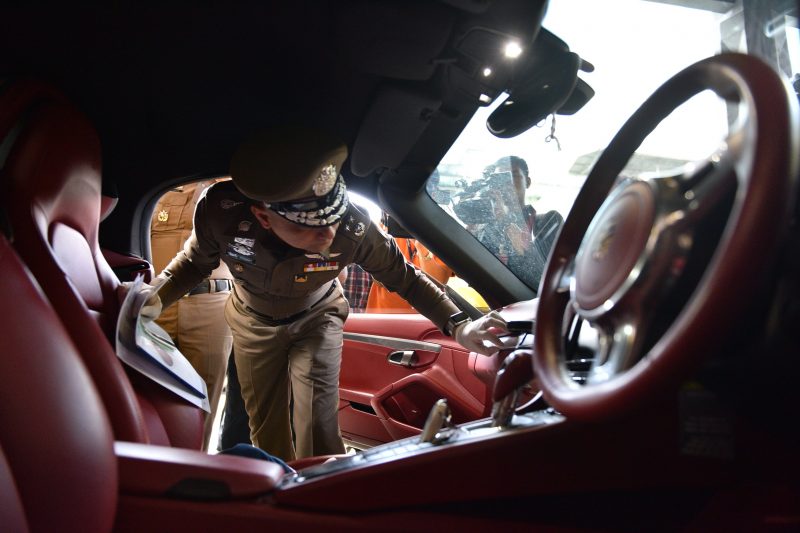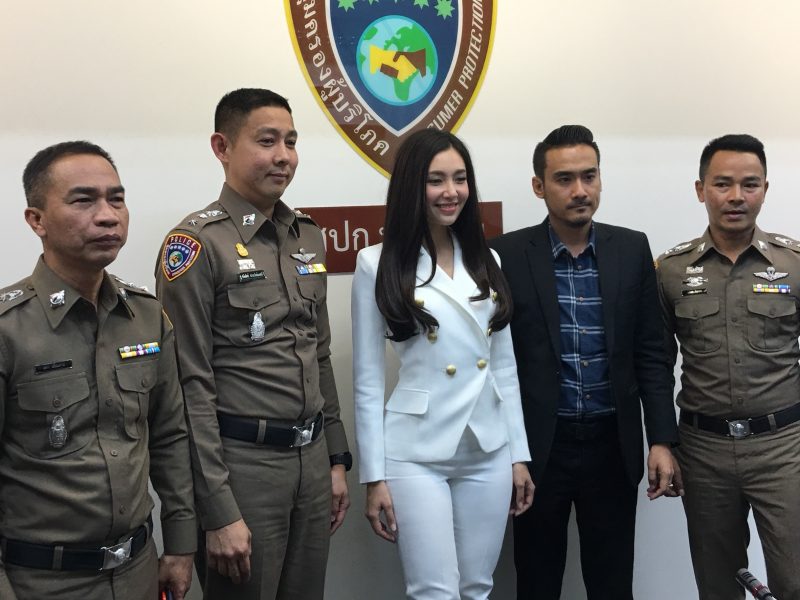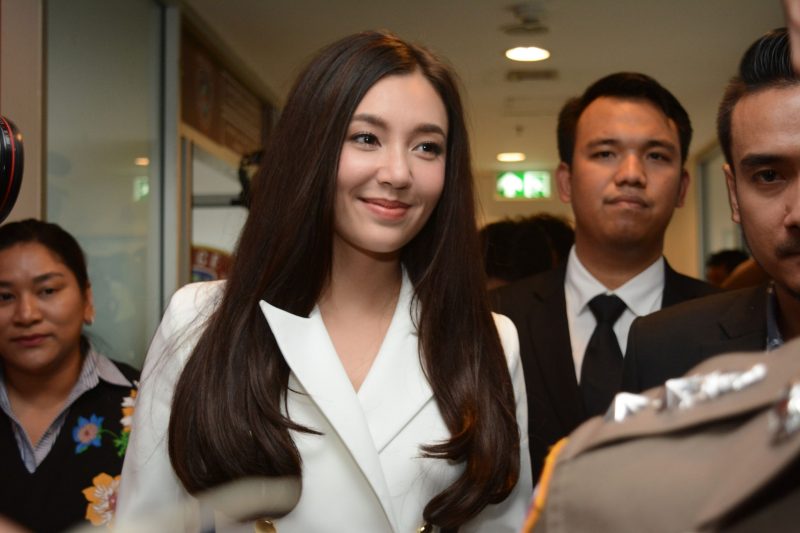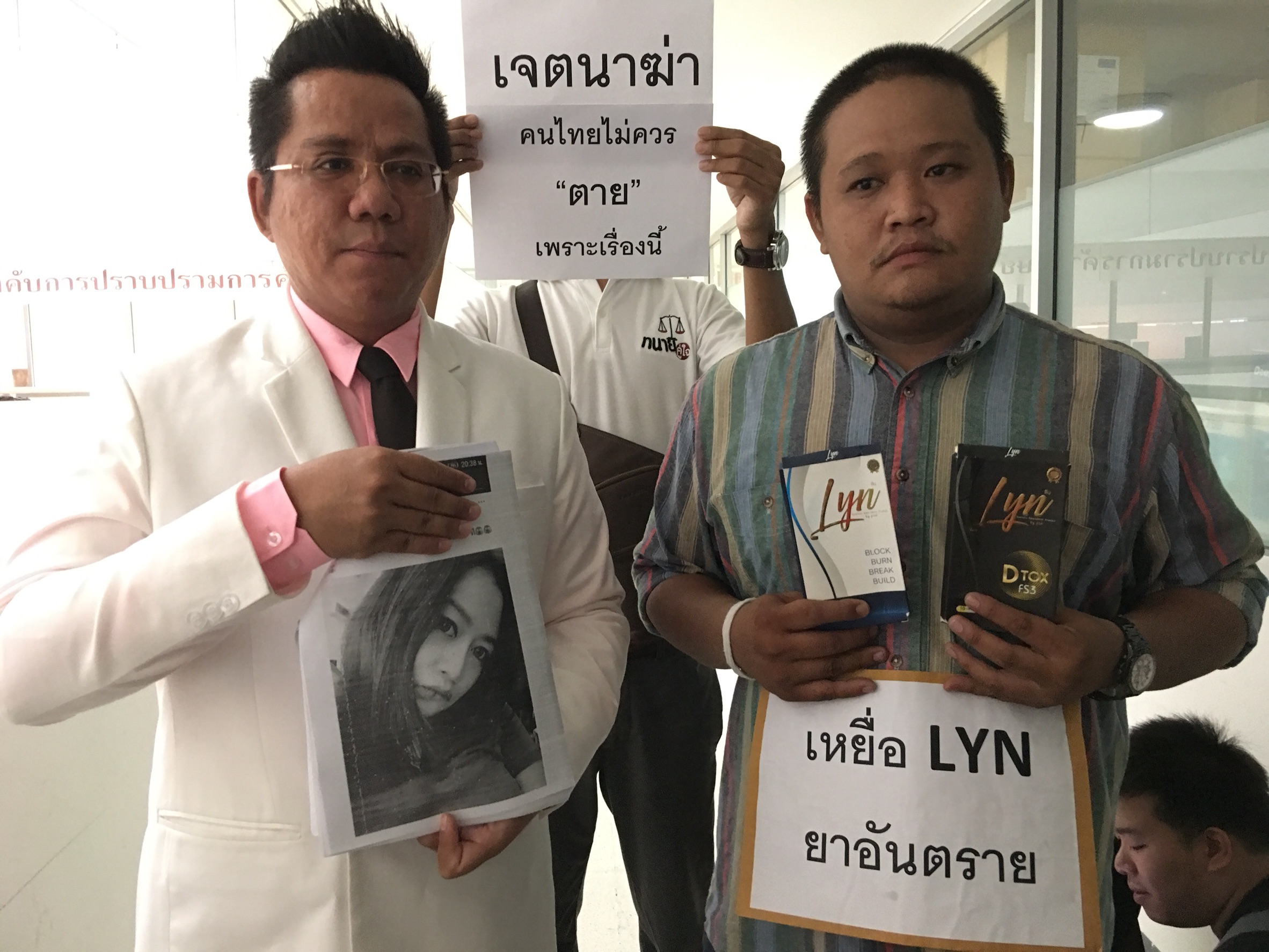 Related stories:
Celebs Unlikely to Stop Hawking Deadly Supplements: Expert
Celeb Sues for Fake Endorsement After Diet Pills Kill 4
Celebs Say They Were Fooled by Fake Makeup Firm
9 More Celebs Summoned for Advertising Fake Cosmetics