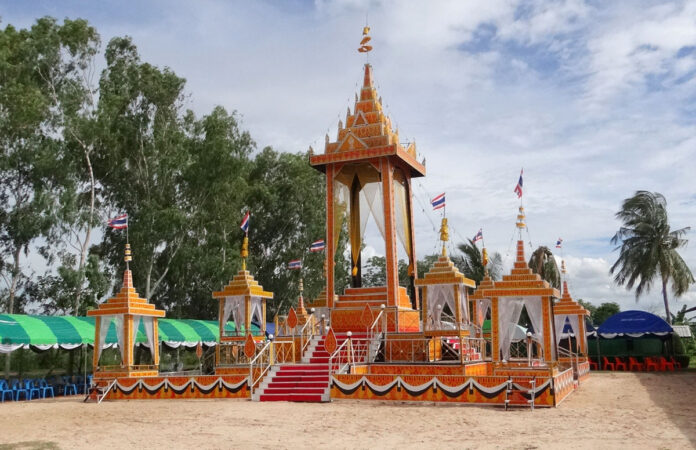 ROI ET — The structure for the funeral of an ex-Navy SEAL officer, who died delivering oxygen to the 12 boys and football coach trapped in a northern cave, was completed Tuesday.
Work was completed on the crematorium for Lt. Saman Kunan, aka Sgt. Sam, at Wat Nhong Koo in Roi Et province, who died during a Friday morning mission to resupply oxygen along the evacuation route. He was 38. The cremation will be held Saturday, a local monk said.
"He is a hero who helped the Wild Boars football team," Athikarn-um Angsusilo, a traveling monk who sets up removable crematoriums, said. "He went to help but had to give his life. … I feel honored and proud to be a part of his cremation, to honor the Hero of Tham Luang Khun Nam Nang Non," he added, referring to the cave where the 13 were trapped.
Read: 'Sgt. Sam,' Cave Rescue Hero Who Wanted to 'Bring Boys Home'
Athikarn-um said the structure – transported from Surin province – is a new, special model with nine auspicious peaked roofs.
The 15sqm structure cost about 300,000 baht, Athikarn-um said, adding that the cremation itself will last two hours and will be fired by a royal flame. Rather than a permanent structure, the crematorium is constructed of removable scaffolding, as crematoriums are traditionally dismantled after a funeral.
Saman's family has been holding memorial services for him at the temple, with residents dropping by to pay respect to the fallen officer.