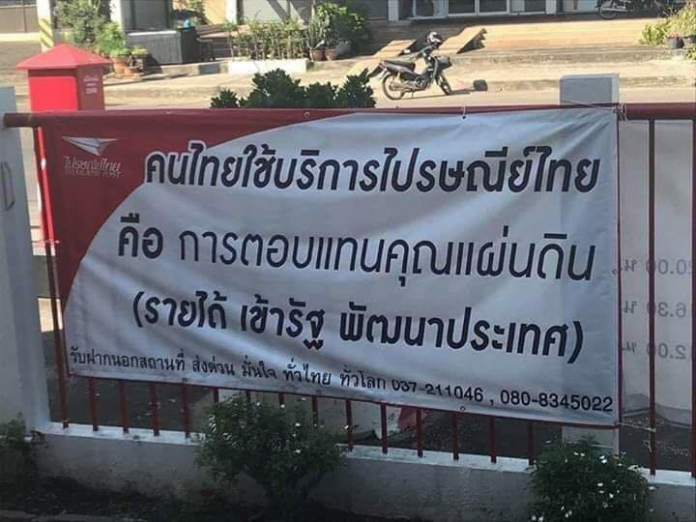 BANGKOK — In the face of growing competition from private courier companies Kerry and Lalamove, the official post service unveiled a new marketing message evoking patriotism.
"Using Thailand Post service is showing gratitude to the country (Revenues go to the state to develop the nation)," the agency declared in a Tuesday banner which was quickly ridiculed on the internet.
The message drew salty criticism from netizens who say they are fed up with Thailand Post's track record of delays, mishaps and even occasional damaged parcels.
A few of the many responses included:
"I sent a package to Phuket. It ended up in Lampang and Nakhon Pathom," Praphan Changklom wrote in a reply to the photo.
"When is Thailand Post improving its quality of services to match the private companies in terms of speed and safety of packages?" Chanyaphat Surakkhaka said.
"The Kerry package in my hand is shaking!" Kornravitch Tampetch wrote in another thread.
"Paying the staff to vandalize my mail packages is showing gratitude to the country?" Pison Rukjinda fired off.
"Revenues to the state so that the state can buy watches and submarines?" Alicee Cnx mocked.
Thailand Post, a state enterprise, is still reeling from a recent controversy in which a passer-by discovered undelivered mail including dozens of packages abandoned in a wooded area in northern metro Bangkok.
After the news invoked internet fury, the service admitted the items were left there by a mailman who would be subject to discipline.
In September, a woman in Chonburi complained to the media that boxes of chocolate mailed by her Canadian husband were opened and damaged by Thailand Post staff, who reportedly refused to pay compensation.
Related stories:
Thai Post's 12 Hilarious Reasons Not to Google Translate Thai