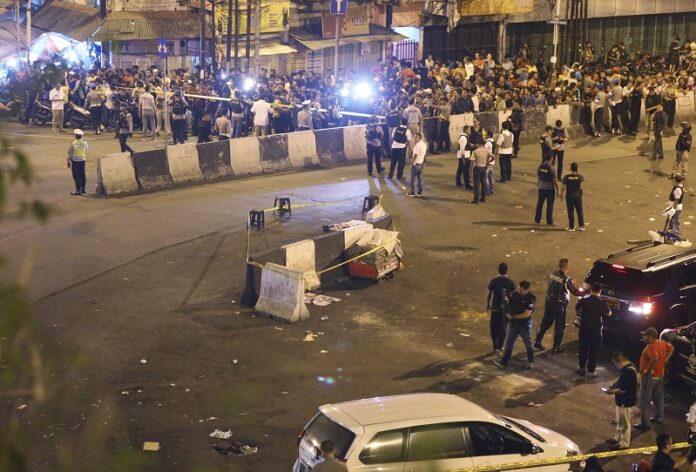 JAKARTA — Two suspected suicide bombings near a bus terminal in Indonesia's capital Wednesday night killed three policemen and injured ten other people, including five officers, police said.
National police spokesman Setyo Wasisto said there were two explosions by two suicide bombers.
"I expressed my deep condolence, in fact three policemen were killed," Wasisto said. "There were explosions and latest investigation found that there are two suicide bombers, all men."
He added that ten other people – five policemen and five civilians – were wounded and were taken to several hospitals.
Earlier, Vice National Police Chief Syafruddin, who uses one name, said an initial investigation showed there were two explosions and a suspected suicide bomber had also died.
"Tonight, to Indonesian citizens and all of us who are here at the scene, I express very deep concern. There have been bomb explosions at the Kampung Melayu bus terminal and for now they are believed to have been a suicide bombing," he said.
Syafruddin said the officers had been guarding a parade by a group of local people.
The explosion occurred in a parking lot next to the bus terminal in eastern Jakarta.
A bomb squad was investigating the explosion as heavily armed police and soldiers guarded the area.
TV channels showed people helping a victim lying on the ground, and three policemen carrying another victim away from the scene.
Police sources said an anti-terror squad had immediately raided two houses believed to be owned by the perpetrators in neighboring provinces of Banten and West Java, but the results have not yet been known.
Indonesia, the world's most populous Muslim-majority country, generally follows a moderate form of the faith.
The government has carried out a sustained crackdown on militants since the 2002 Bali bombings by al-Qaida-affiliated radicals that killed 202 people. A new threat has emerged in the past several years from extremists who sympathize with the Islamic State group.
Story: Ali Kotarumalos