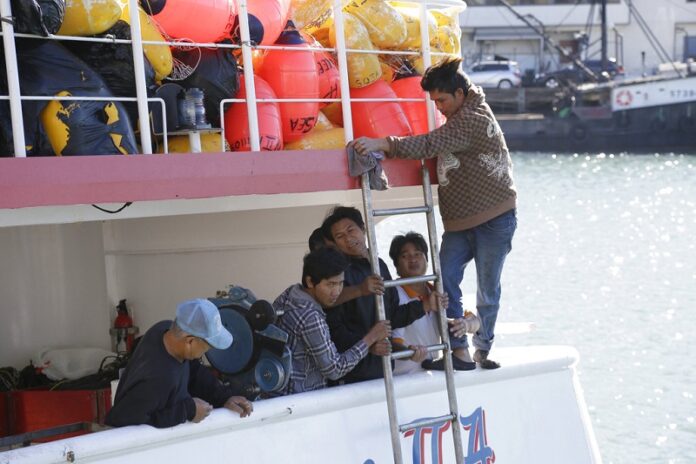 JAKARTA — Two Indonesian fishermen who say they were enslaved on an American fishing boat have settled their lawsuit against the vessel's owner seven years after escaping and receiving special U.S. visas as victims of human trafficking, their lawyers told The Associated Press on Wednesday.
The attorneys said Sorihin, who uses just one name, and Abdul Fatah settled their lawsuit for an undisclosed sum against Thoai Van Nguyen, the California-based owner and captain of the Sea Queen II.
Nguyen denied all allegations of abuse but agreed to provide a detailed list of rights to anyone fishing on his boats.
The lawsuit, filed in U.S. court in San Francisco, claimed the men were trafficked through the Hawaii longline fishing fleet and forced to work on the boat around Hawaii and off the shores of California.
Citing federal and international human trafficking laws, the suit sought an unspecified amount of money for fees they paid and compensation they were promised along with damages for mental anguish and pain.
The lawsuit was being prepared as a 2016 Associated Press investigation revealed the Hawaii fleet operates under a loophole in federal law that allows owners to use foreign laborers with no work visas or the ability to legally enter the United States.
The workers, mostly from impoverished Southeast Asian and Pacific nations, are required to hand over their passports and confined to boats while working in the U.S., even when docked in Honolulu or San Francisco.
Boat owner Jim Cook of the Hawaii Longline Association said Wednesday the settlement wont impact their fleet, made up of about 700 foreign fishermen on about 140 boats. He said they are separately preparing their own documents detailing rights which they will distribute to workers.
Honolulu attorney Lance Collins said it's unlikely more lawsuits will follow – even if they wanted to sue, most of the fishermen in Hawaii can't get a lawyer because they're not allowed to leave the docks when they come to shore.
"Two poor fishermen from another country who were brave enough, or frightened enough, to run from their boat can't be expected to enforce regulations for an entire multimillion industry," said Collins.
A broader solution has been proposed in Washington, where Hawaii's elected officials are backing legislation that would allow foreign fishermen to come onshore when they're not fishing.
Hawaii's foreign fishermen are generally paid a fraction of what other U.S. commercial fishing crews make, some receiving as little as 70 cents an hour while working up to 20 hours a day.
Conditions on the boats vary. While some vessels are clean and relatively safe, the AP found some crews living in squalor with sores from bed bugs. There also have been cases of active tuberculosis and low food supplies.
Ken Bass, Nguyen's son-in-law who is acting as his attorney, said the dispute between Fatah, Sorihin and Nguyen began with the fishermen getting different contracts from an Indonesian employment firm in 2009.
He said Nguyen never had any direct dealings with the Indonesian firm but used a middleman in Hawaii who knew how to get workers from Indonesia. The contract Nguyen was given from the Hawaii-based recruiter was different than the paperwork given to Fatah and Sorihin, Bass said.
"So, they basically had different contracts but no one at the time knew that, so that's immediately going to lead to misunderstanding," Bass said. "If anybody was culpable, it was the broker in Indonesia."
Lawyers for Fatah and Sorihin say it doesn't matter if there were differences in the contracts.
"The trafficking claims do not rely on the contract provisions," said Agnieska Fryszman, one of the attorneys. "The trafficking statute provides basic protections that apply regardless."
After the men ran away from the Sea Queen, Bass said Nguyen was forced to pay hefty fines for letting the men escape and that U.S. customs agents threatened to suspend his ability to use foreign workers.
Under the settlement, Nguyen must give fliers to his foreign crew members, written in their native languages, outlining their rights and ways to get help. His crews must have at least 77 hours of rest a week, and access to their passports.
"This settlement should be a wakeup call to the commercial fishing industry," Fryszman said. "There's simply no excuse for turning a blind eye to human trafficking, and we look forward to continuing our efforts to hold others in the industry accountable."
Sorihin, who has settled with his family in the San Francisco Bay Area, said in an email that the settlement has given him "a sense of peace."
"I hope it will bring better treatment to seamen on the Sea Queen and in the fishing industry," he said.
"I feel more certainty after the settlement," Fatah said in an email. "I work in retail, and I want to start a new life in San Francisco and create a better future for my family. I hope the captain treats the seamen like what he agreed to."
Story: Martha Mendoza, Caleb Jones