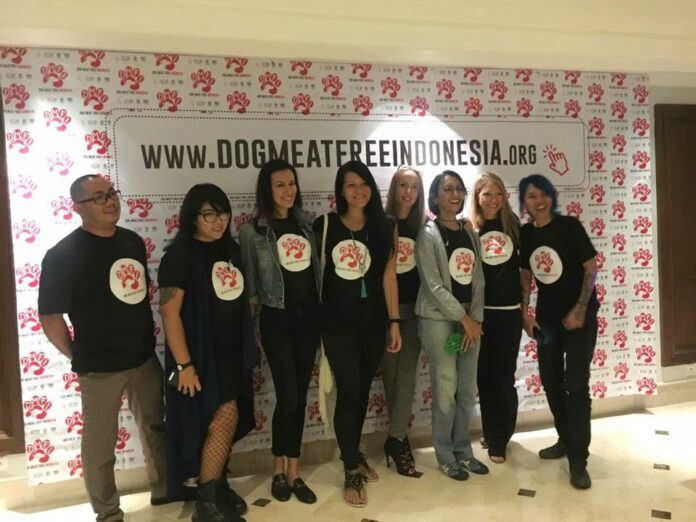 JAKARTA — International stars of acting, music and sports have urged Indonesia's president to ban what they say is a brutal trade in dog and cat meat for human consumption.
The appeal comes after Indonesian campaigners against animal cruelty and Humane Society International in January exposed markets on the island of Sulawesi where dogs were bludgeoned by the thousands and blow-torched alive to remove their hair before onlookers including children.
The letter to President Joko "Jokowi" Widodo released Monday said if Indonesia joined other Asian nations that have already banned the cruel trade, it would be "celebrated globally" and end a stain on the country's reputation.
The coalition of campaigners, calling itself Dog Meat-Free Indonesia, also warned of health risks posed by the trade due to its potential to spread rabies.
"These animals, many of them stolen pets, are subjected to crude and brutal methods of capture, transport and slaughter, and the immense suffering and fear they must endure is heartbreaking and absolutely shocking," the letter said.
Actress Cameron Diaz, talk show host Ellen DeGeneres, talent spotter Simon Cowell, comedian Ricky Gervais, Indonesian pop singer Anggun and musician Moby are among the more than 90 celebrities listed in the letter.
Dog meat is eaten by only a small percentage of Indonesians but in a country of more than 250 million people it still represents a significant trade.
Thousands of dogs and cats are slaughtered weekly in North Sulawesi, most of which are imported from other provinces in Indonesia, according to the anti-animal cruelty groups.
After the blaze of bad publicity in January, the infamous Tomohon Extreme Market in North Sulawesi stopped the public slaughter of dogs but video shot by campaigners showed dog carcasses were still being delivered from other locations.
"We are so grateful to these global and Indonesian superstars who have come together to support Dog Meat-Free Indonesia's efforts to end this cruel and dangerous industry," Humane Society International President Kitty Block said in a statement.
"We respectfully urge President Widodo to work with us on a solution that protects not only Indonesia's dogs and cats but also the health of its people," she said.