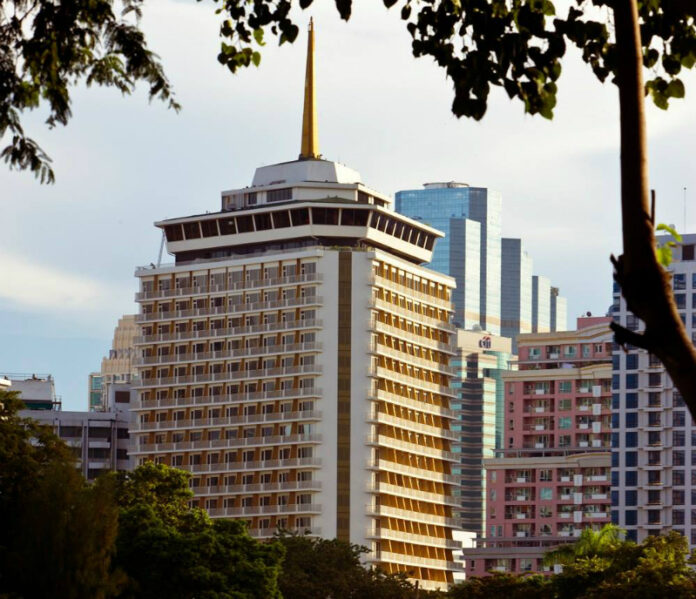 Update Jan. 4, 2018: Dusit Thani Bangkok postponed its closing date to Jan. 5, 2019. 
Update Nov. 23, 2017: The Dusit Thani announced today it will cease operations two months earlier than expected. The hotel will close in April and be knocked down two months later in July.
BANGKOK — A shopping mall, condos, green space and more are coming to replace a 47-year-old landmark on the corner of Silom Road, which will be redeveloped into a mixed-use property, the Dusit Thani Group announced Monday.
Once the tallest building in Thailand, the Dusit Thani Hotel will be demolished and replaced with a complex consisting of a hotel, residences, an office space, a shopping mall and green space, according to the announcement. The 36-billion baht project is a partnership between the hotel group and Central Pattana, which owns 30 shopping malls nationwide under the Central brand.
Read: Virtual Thailand: Check in to the Dusit Thani Hotel (VR)
Dusit Thani said the hotel will continue operating through June 2018. Development will then begin on the same land, the lease for which was recently extended another 60 years by the Crown Property Bureau. The new lease agreement will also add another 5 rai (8,000sqm) of land to the property.
"We assure the company has no plan to lay off even a single employee," the company said in the statement.
Dusit Thani Group said it will continue to run a hotel on the shared land with the other development projects.
When it opened in 1970, the 23-story hotel was the tallest building in the kingdom until the 29-floor Chokchai Tower was completed in 1978.
It's known for its distinctive Thai modernist design, which the hotel group says will be reflected in the design of the new Dusit Thani Bangkok Hotel.
Related stories: