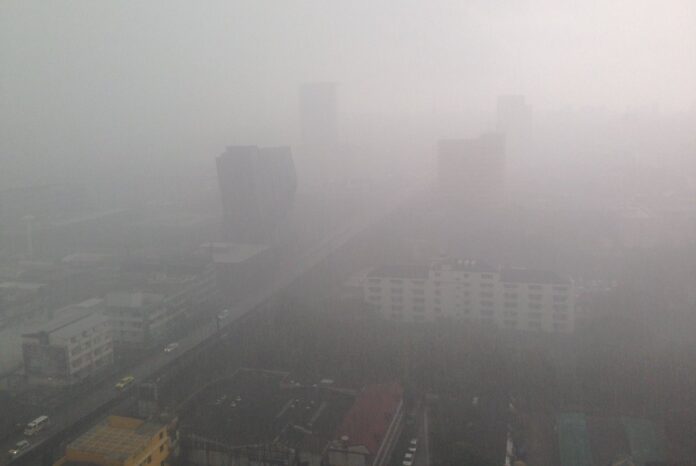 BANGKOK — After days of sweltering heat, Bangkokians woke up Friday morning to see rainstorm all over their city.
The rain brought some relief to the capital city, which had been under the summer heatwave since last week, but it also complicated travel plans for millions of commuters during the morning rush hour.
Two accidents have been reported so far; a passenger van flipped over on Vibhavadi Rangsit Road close to the air force base, while a motorcycle struck a taxi in Din Daeng Tunnel. Preliminary reports from the scene indicate there were many injuries.
10:14 ถ.วิภาวดีรังสิต ช่วง ดอนเมือง >แยกฐานทัพอากาศ ตรงข้ามคลังสินค้าดอนเมือง รถตู้พลิกตะแคง อยู่ในร่องทางระหว่างคู่ขนานและช่องทางด่วน pic.twitter.com/AIVeQsJcIE

— JS100 (@js100radio) March 17, 2017
Twitter user @chonikand in Ramkhamhaeng said it rained so hard in the neighborhood that some motorcycle taxis stopped running. Another user, @motorwars, tweeted that car traffic on Lat Phrao Road barely moved because of the rain.
The Meteorological Department forecast that rain will continue to blanket over 40 percent of Bangkok for the next 48 hours.
@js100radio ตอนนี้รามคำแหงฝนตกหนักมาก มืดฟ้ามัวดิน pic.twitter.com/W5lsjJxiCZ

— taechin (@Sony1678Sri) March 17, 2017
Related stories: 
Hot Haze in Bangkok, Hot Hail in the North