BANGKOK — Malai Rakphuengamarit spent a recent Friday directing her husband and two hired men on where to put pieces of the steel roof and wood structure torn down from her riverside home.
That house and seven more in the Wat Chat Kaew Chongkonnee community were among 273 households in 14 communities due for the wrecking ball by month's end. Their eviction was deemed necessary to pave the way for construction of a controversial redevelopment project that critics say amounts to a "highway on the river."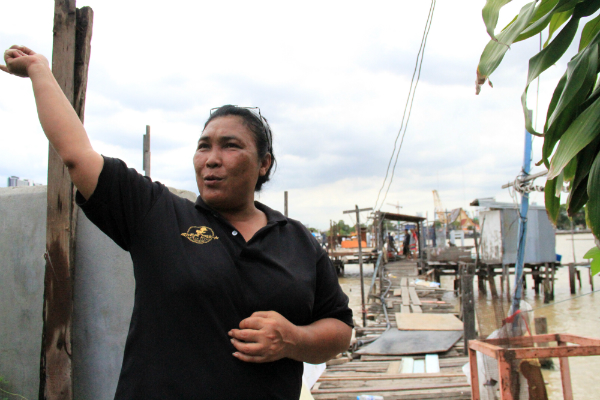 The 49-year-old woman, who works as a maid, said she is willing to abandon her home of 32 years because she's always known it encroached onto the Chao Phraya River, and she never had any legal right to it.
Like all her neighbors, Malai once lived on a boat at the same spot back decades back, before it was developed into a raft and finally became a house on the river.
Read: Friends of Chao Phraya Explain Why They Hate 'Highway on the River'
Undertaken by the junta as a national landmark, the project's first phase will be concrete walkways and bike lanes stretching along both sides of the Chao Phraya between the Rama VII and Phra Pinklao bridges. It has come in for heavy criticism for its design and the impact it will have on the landscape, environment, local heritage and tourism.
Before being told to move out by City Hall to build the boardwalk, Malai said she had been told to leave before, as her community sits across from the site of the new parliament building expected to be completed about when the promenade is complete in 2019.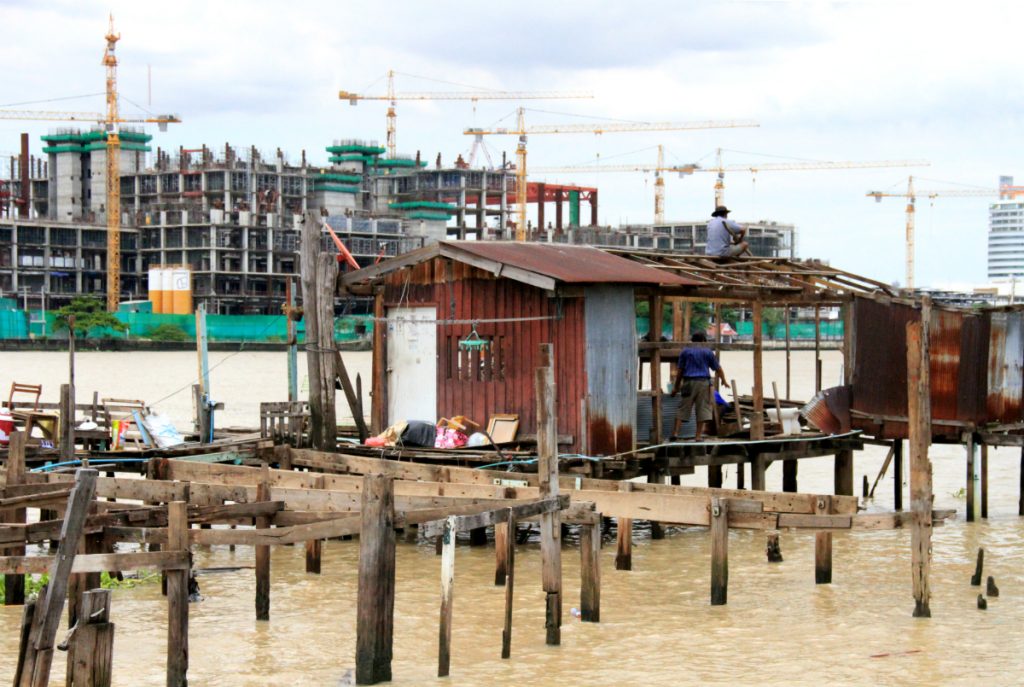 Malai said the compensation offered to her was fair for the fact she would have to relocate and begin life anew away from her current workplace and her fourth-grade daughter's school.
"I thought I would get 30,000 [baht] to 50,000 baht, but when I saw the document, it was a six-digit number," said Malai, who refused to disclose the exact amount she was offered. "It's good that I can have some money to start over somewhere else."
Though the eviction process began early this month, residents of all affected communities will receive their compensation Wednesday. Most, like Malai, had to find money to pay for workers before receiving the compensation.
They were motivated to tear down their own homes to make use of the materials.
As for the project they were leaving to make way for, the mother of three said she genuinely did not agree with it was a good idea and believes there could have been better ways to spend 8.3 billion baht.
"They said they want a clean river," she said. "But then they will build a road onto the river, I don't think it's going the right way."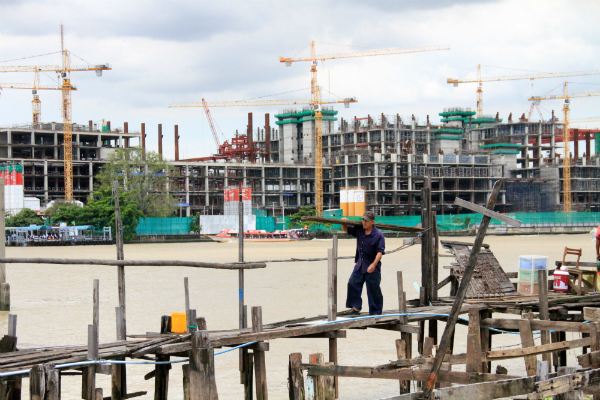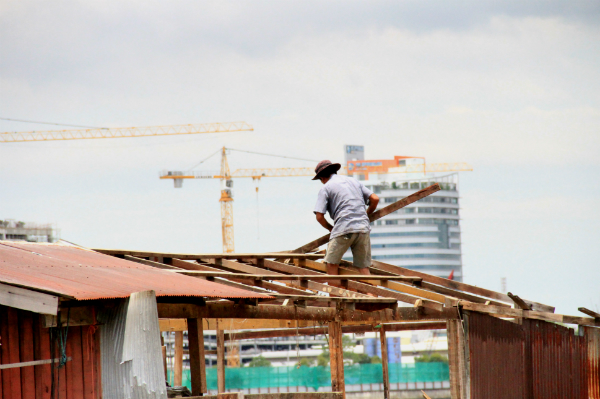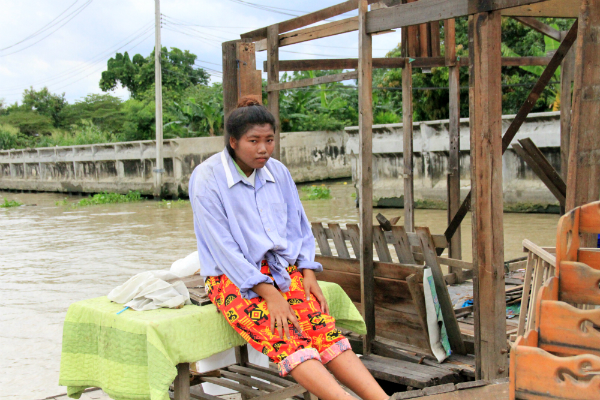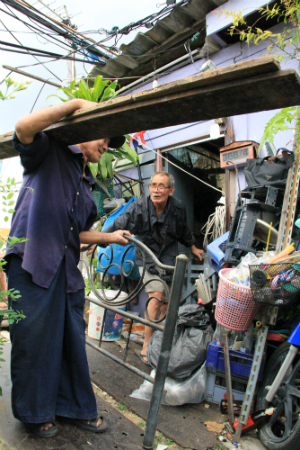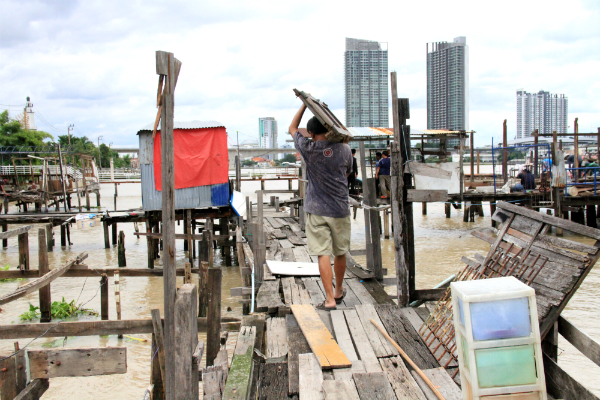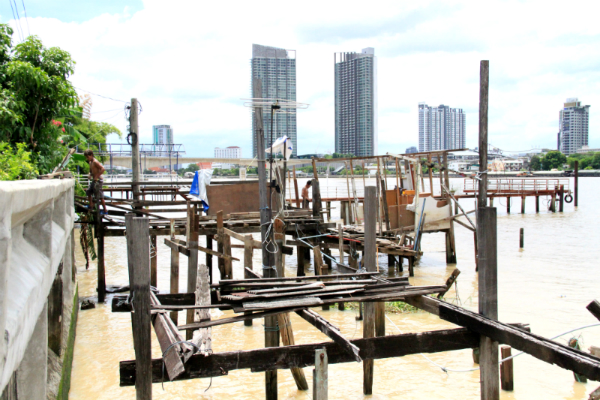 Related stories:
Evictions Continue as Funds Set for Chao Phraya Promenade
Friends of Chao Phraya Explain Why They Hate 'Highway on the River'
Chao Phraya Promenade Project to Make Progress in April
Lacking Leverage or Clout, River Residents Give Up Homes For Boardwalk
Riverside Communities Evicted for Chao Phraya Makeover
Architect Council Says University Can't Actually Design River Project
Riverside Design Dropped Under Cloud of Plagiarism Charges
Top Architect Says River Project Plagiarized Design
Opponents, Proponents of Chao Phraya Boardwalk Open Fire
Locals Ready to be Evicted for Chao Phraya Boardwalk, Official Says
River's Friends Float Hope for Public Hearings on 14B-Baht 'Promenade'
Radical Makeover of Chao Phraya River Delayed
Chao Phraya Promenade Should be Sent Back to Drawing Board, Architects Say