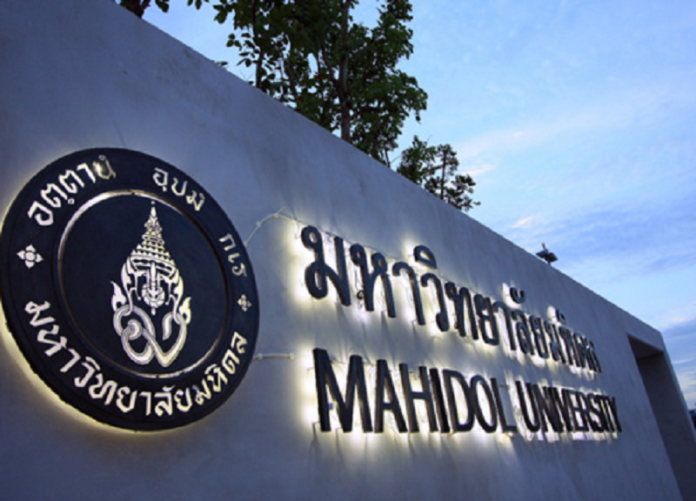 BANGKOK — Five Thai universities are among the world's top 1,000 according to this year's Times Higher Education World University Rankings.
Mahidol University ranked the highest in the country and was classed in the world's top 601 to 800, while Chulalongkorn University, Suranari Technology University, Chiang Mai University and King Mongkut's University of Technology Thonburi made the 801 to 1,000 bracket.
Thammasat University, Khon Kaen University, Srinakharinwirot University, Kasetsart University and six other Thai universities were ranked outside the top 1,000.
Mahidol received an overall score of 32.92 out of 100. It scored 29.1 percent for teaching quality, while Chulalongkorn University and Chiang Mai University received 28.9 points and 19.8 points respectively.
Chulalongkorn University topped Thai universities on research, with 20.5 percent, while Mahidol scored 18.2 compared to Chiang Mai University's 13.6.
Mahidol's academic papers were the most cited among Thai universities and received a score of 44.8 percent, while Chulalongkorn University scored 20.4 percent. Mahidol also topped the industrial income score.
Mahidol scored 45.6 percent on International Outlook, followed by Chulalongkorn University at 38.4 percent.
In Southeast Asia, the best university was National University of Singapore, or NUS, which ranked No. 23 worldwide.
In Asia, the report noted that Japan has overtaken the United Kingdom as the second most-represented nation in the world, with 103 institutions compared to 93.
At the top of the chart were the English universities of Oxford and Cambridge respectively. The rest were American, with Stanford University at No. 3, Massachusetts Institute of Technology at No. 4 and California Institute of Technology at No. 5. Harvard University came sixth, followed by Princeton University.
"This year's list of the best universities in the world is led by the University of Oxford and the University of Cambridge for the second year in a row. Yale University is the only newcomer to the top 10, joining at eight place. Tsinghua University is now the top university in Asia, after rising eight places to 22nd, becoming the first Chinese institution to lead the continent under the current methodology since 2010," the online report said. The University of Tokyo came at No. 42 while Seoul National University ranked 63rd.
The report also noted the rapid rise of Chinese institutions.
"The data also shows that the average teaching reputation score for China's 10 leading universities is now on par with the best higher education institutions in the UK and Germany, while China's average research reputation score among this group is higher than that for the best-performing institutions in both France and Australia."